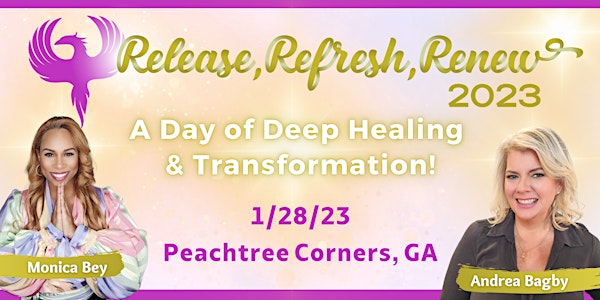 Release, Refresh, Renew 2023
This is the transformation you've been waiting for! Remove what's holding you back, reset your energy system and start reaching your goals!
When and where
Location
Unity Atlanta Church 3597 Parkway Lane Peachtree Corners, GA 30092
About this event
It's time for you to find REAL Happiness. The New Year is around the corner and what better way to start it off than by making a commitment to your happiness and well-being? 💖
Join us for a day you'll never forget as we help you release what's holding you back, reset your energy system and start experiencing real happiness. Sounds amazing doesn't it?! Yes! This is the transformation you've been waiting for! 🤩 🙌🏽
Saturday, January 28, 2023, Energy Healer & Spiritual Teacher, Monica Bey and Metaphysician & Teacher, Andrea Bagby, are hosting the 2nd Annual one-day retreat to Release, Refresh and Renew! This event will be held from 10:00am - 6:00pm EST in Peachtree Corners, Georgia.
People are traveling from all over to attend this life-changing event, so don't miss your chance. Get your tickets now!
ACT NOW to get your ticket TODAY for ONLY $150! (Prices will be going up 10/31/22!). Act fast!
We can't wait to see you there. ✨ Manifest YOUR BEST YEAR YET!
What to expect:
• A full day of transformation, including energy healing workshops to help you become your best self, meditations, sound healing, guest speakers and opportunities to create great connections with like-minded people.
• Interactive & Powerful Ceremonies: Immersive and interactive ceremonies that will take you on a journey of powerful change, both in the ether and the physical planes! These are energetic ceremonies that will help you let go of the various things that no longer serve you and allow the new you to emerge powerfully!
• Self Discovery and Deep Insight: You will embark on a journey of self-discovery and gain profound insights into who you are and what you want in life. This exciting adventure will help you get in touch with your deepest desires, values, and aspirations. By the end, you will have a greater understanding of yourself and what you need to do to create the life you truly want to live.
• A freshly prepared lunch will be included that will feed your mind, body and soul!
• Special gifts for participating!
ARE YOU READY TO STEP OUT OF YOUR OWN WAY AND INTO YOUR GREATNESS?
Get your ticket!
Learn more at: Releaserefreshrenew.com