RELAY FOR LIFE (Hunters Creek)

Saturday, November 11, 2017 from 10:00 AM to 10:00 AM (EST)
Event Details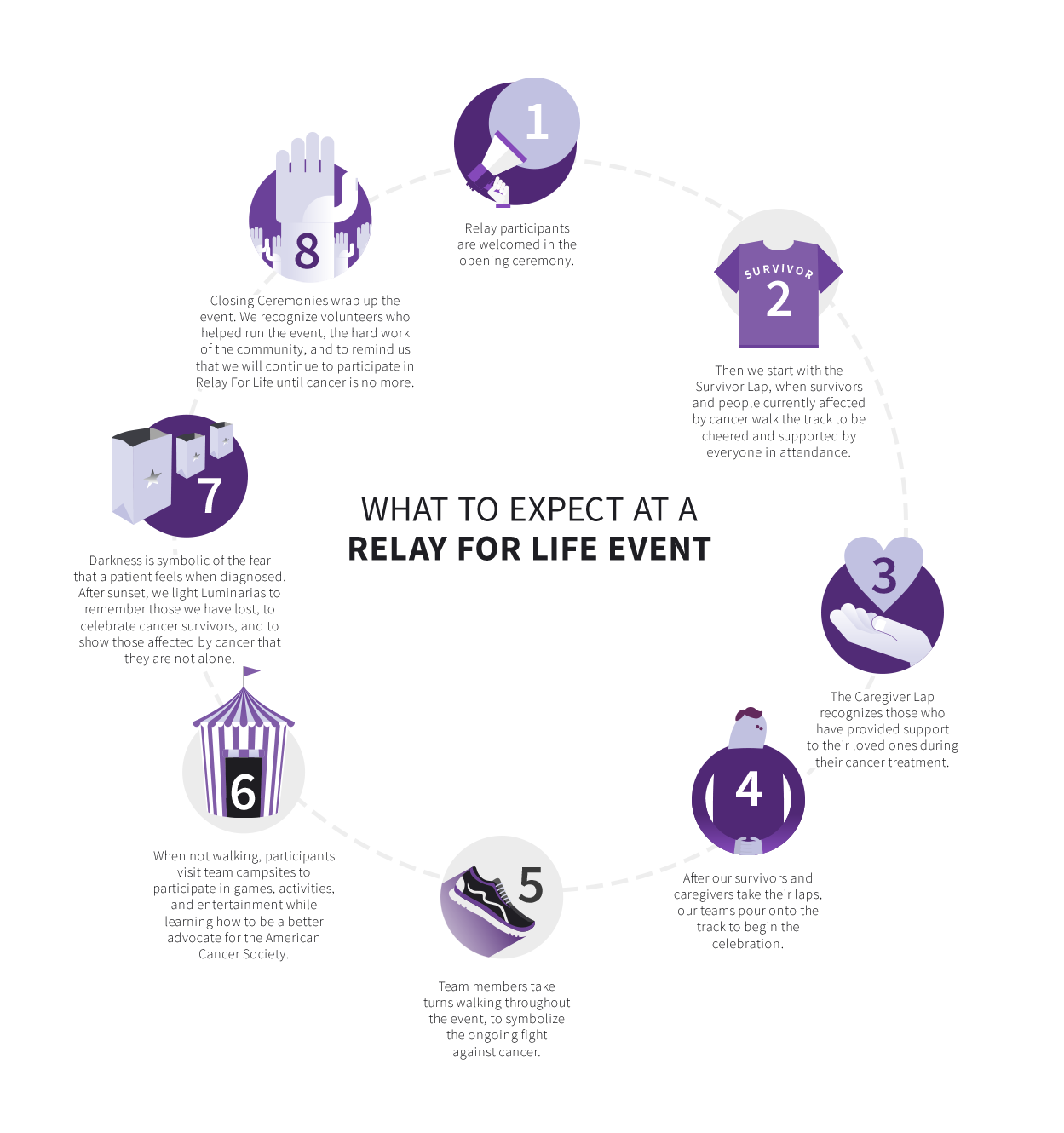 Relay For Life is the signature fundraiser for the American Cancer Society. It's time to take action against cancer!
How many people can we have on a team?
We recommend 10-15 people per team. More than 15 members can be difficult for team captains to manage and give everyone an opportunity to take to the track. If your team is growing, consider splitting it into two and have more members to join in the fun of Relay! With fewer than 10, it can be hard to keep someone on the track for the whole event.
What does my registration fee cover?
Your registration fee includes a Relay For Life shirt and a free breakfast. And all the fun that comes with Relay, of course!
How do I register a team?
You can register online.
Can I show up on the day and join a team?
Yes. All Relays have a registration table, so if you have missed the online registrations, don't fret! Just head on down ready to Relay and look for the registration table.
Is there a minimum age for team members?
No, however, all youth teams (under 18 years) must have two adult supervisors at the event at all times.
Do we have to fundraise?
All donations, no matter how big or small, are greatly appreciated. There are also awards presented to the highest fundraising teams. Your local Relay Committee and Cancer Council staff member can support you to achieve your fundraising goal. Read more about fundraising ideas.
What happens on the day, and what should I bring?
Search for your local Relay to see what happens on the day. If you want specific information about the Relay you are participating in, click the 'On the Day' heading in the right-hand column of your Relay page.
Where can I collect my shirt and registration pack from?
Most commonly, you can collect these from your Relay's information night or at your local Cancer Council office. If you are unsure, please contact the event organizer.
What is in my Team Captain pack?
Receipt books, donation tally sheets, return slips, deposit slips, team information, event information, Survivor and Carer registration, fundraising ideas, brochures and posters, and authority to fundraise cards.
Does everyone dress up?
We encourage teams to have a theme and decorate their campsite. Dress up and make Relay colorful and fun! You could also win prizes. If you don't want to dress-up, that's completely fine too. Your contribution to the day is still really important to us, and we'd love to see you there.
Do all team members need to stay overnight at the track?
No. We understand that some people won't be able to be at the track for the whole event. We ask that team members try to stay at the track for as long as possible to support each other and share the Relay roster, particularly late at night.
Do I need to do a minimum number of laps or hours?
No. Relay isn't a race or endurance test; we simply ask that teams have at least one person on the track at all times. Some team members may set personal goals and end up doing more laps than others. You can also walk in pairs or groups to make it more enjoyable.
How does lap counting work?
Some Relay events will offer prizes to the team/individual completing the most laps. Check with your local organizing Committee to see if this applies. Lap counting is an "honor system", with each team and team member counting their laps. Teams must advise their participation at registration. A lap refers to the "baton" only and not the number of people. One person equals one lap. Two people at the same time equal one lap.
Are vehicles, roller blades, bikes, scooters, etc. allowed on the track?
All vehicles are prohibited from the track without permission from the Committee. Child strollers and wheelchairs are allowed. No roller blades, bicycles or scooters are allowed. We suggest you contact the Committee before the event to determine restrictions.
Can I take part in the Survivors and Carers lap and Candlelight Ceremony without being on a Relay For Life team?
Yes. These ceremonies are the highlight of Relay For Life and we want to see as many people as possible taking part! Read about registering for your nearest Survivors and Carers lap.
Can I bring my pet?
Dogs and other pets are not permitted at any Relay For Life event. Naturally, guide dogs and service dogs are an exception.
What money is tax deductible?
All donations of $2.00 or more are tax deductible when the donor receives nothing of value in return. However, should you purchase a raffle ticket, an entry ticket to a fundraising event or merchandise, this is not tax deductible. For more information about taxable donations, please contact the Australian Tax Office.
What happens if it's raining?
The event will generally go ahead, rain or shine. In extreme bad weather the organising Committee will decide if it's safe for the event to continue.
Are there any rules we should be aware of?
Each event has different rules specific to the event location, however there are some universal Relay For Life rules which include but are not limited to:
- No pets allowed (guide dogs and service dogs are an exception)
- No generators, BBQs or live flames
- No glass is to be brought to Relay
- No vehicles, roller blades, bikes or scooters are allowed on track
- Relay For Life is a smoke-free event 
Will food be available?
Breakfast is provided by the Relay For Life organizers, but please bring your own plate, cutlery, and mug. Most venues will have food vendors present who will have meals and snacks available for sale, but otherwise, we suggest you bring your own food. Free tea, coffee, and water will be available throughout the event.
Will first aid be available?
All events will have qualified first aid officers in attendance for the entire event. Messages may be available.
When & Where

Florida National Guard Hhb
Town Center Boulevard
Orlando, FL 32837


Saturday, November 11, 2017 from 10:00 AM to 10:00 AM (EST)
Add to my calendar
Organizer
Relay For Life is a community-based fundraising event of the American Cancer Society.[1]Each year, more than 5,000 Relay For Life events take place in over twenty countries.[2]Events are held in local communities, campus universities and in virtual worlds.[3] As the American Cancer Society's most successful fundraiser and the organization's signature event, the mission of Relay For Life is to raise funds to improve cancer survival, decrease the incidence of cancer, and improve the quality of life for cancer patients and their caretakers.[4]