About this Event
Embody peace, mindfulness and radiance. Come experience the vibrational power of Sound Healing with Andrea Snetsinger and Guided Meditation & Reiki Energy with Jamie Cabaccang as they take you on this mind, body and spirit healing journey. No previous experience necessary!
This unique holistic healing experience deeply quiets the mind and relaxes the body leaving you centered and renewed. Become even more magnetic and an energetic match for the life you love, desire and deserve.
WHAT IS SOUND HEALING?
A sound healing session is an immersive healing practice. A session involves using sound that produce tones and vibrations around and on the body to create a healing effect. The sounds that come from these healing instruments induce a soothing and entrancing experience leaving you with a feeling of deep tranquility and openness. Note: Not recommended for pregnant women.
WHAT IS REIKI?
Reiki is a safe and natural healing technique that treats the whole person, body, mind and spirit, to achieve balance, restore optimum health and ultimately assisting in your journey of becoming your most authentic self. It has been studied as a healing method for all sorts of pain, chronic illness, anxiety, emotional issues, fatigue and depression. The technique is based on the principle that the practitioner can channel energy into the patient by means of light touch or hovering of the hands to activate the natural healing processes of the patient's body and restore physical and emotional well-being. For more info, visit Pure Reiki Wellness FAQ.
WHAT TO BRING:
Dress comfortably. Your comfort is very important! It is necessary to bring 2 blankets for warmth, a yoga mat and pillow. You can also bring an eye mask. Don't have a yoga mat? Let us know ahead of time so we can bring an extra one for you.
ARRIVAL:
Doors open at 6:45pm. Arrive early to set up your space. We will be starting PROMPTLY at 7:00 pm.
THE VENUE:
The Cabana is located in the Spiritridge neighborhood near Eastgate Bellevue. Parking info will be emailed to those who RSVP.
BENEFITS OF SOUND HEALING & REIKI:
-Deeply relaxing
-Stress relieving
-Renewed energy and vitality
-Improved quality of sleep
-Clarity of mind, leaving you open to insights and self discovery
-Deepens connection with higher self
-Helpful in letting go of old patterns of thinking and behavior that are no longer of service
-Clears negative energy and emotion
-Increases creativity
-Heightens awareness and intuition
-Eases stress, depression, anxiety and anger
-Lowers blood pressure
-Removes toxins
-Decreases physical pain
-Helps in the recovery of injury, illness and trauma
Learn more about our events and join our Facebook group at Techies + Wellness or visit our web site at www.techiesandwellness.com.
CANCELLATION POLICY
If you are unable to attend, 72 hour advanced notice is required for a full refund. Anything less than 72 hours will not be refunded.
ADDITIONAL QUESTIONS?
Email us at techiesandwellness@outlook.com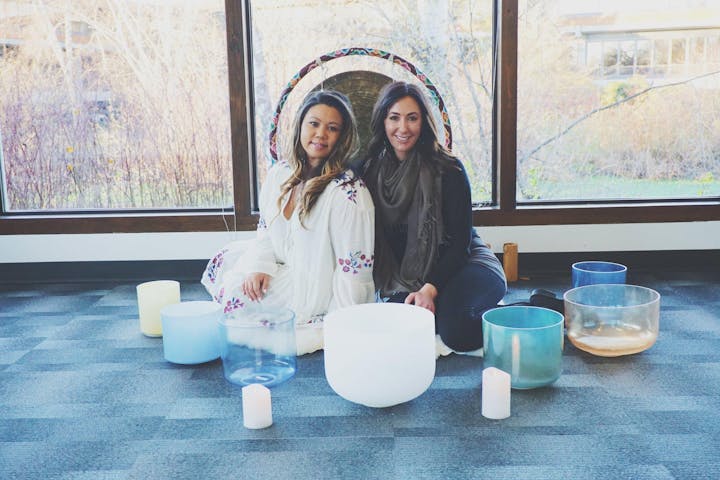 Jamie Cabaccang (left) is transforming lives through technology, Reiki and holistic healing events. Founder of Techies + Wellness.
Andrea Snetsinger (right) is a Licensed Massage Therapist and Certified Sound Healer.