Description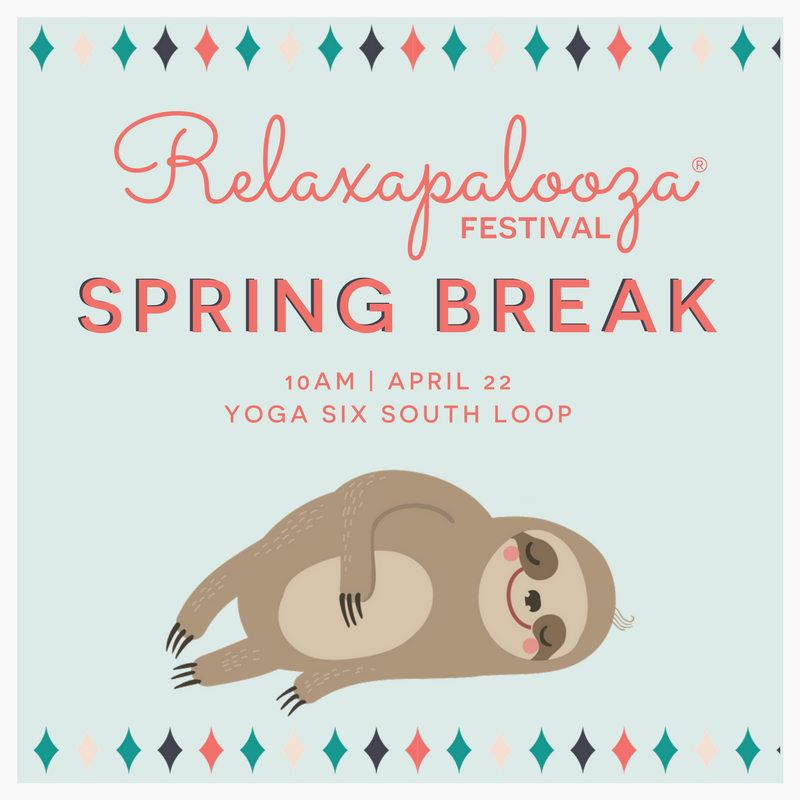 Feeling burnt-out and in need of a vacation, but didn't book a Spring Break getaway?
Never fear, the creators of Relaxapalooza® present you with Relaxapalooza® Spring Break: a half-day yoga and relaxation event on Saturday, April 22nd at Yoga Six South Loop. Six of the best gentle yoga, massage and sound healing teachers across Chicago join forces to lead you through an extraordinary morning of introspection and rejuvenation.

Each ticket includes three classes of your choice, and admission to "Lounge Time" where you will enjoy complimentary light refreshments such as fresh fruit and hot tea, peruse the Relaxa gift shop and socialize. Lunch from Lyfe Kitchen available for purchase (must order with your ticket).

Tickets must be purchased in advance. Join us; this will be the easiest Spring Break vacation you ever plan!
Check out the Spring Break Schedule
What is Relaxapalooza?
What if you could indulge in a variety of relaxation techniques at one event?
You may be feeling stressed out and out of touch with your true peaceful nature. You need to wind down and reconnect but you're not sure where to begin.
The Relaxpalooza Festival experience is designed to transport you into a transformative realm of peace and tranquility. You pick which yoga, massage, and sound healing classes that you want to take ahead of time, and at the festival you will experience a customized variety of relaxation techniques under the guidance of leading area relaxation experts.
Relaxapalooza is a personalized choose-your-own-[relaxation]-adventure. It's is a yoga and relaxation festival for stressed-out, hard-working people. On the surface? It's a couple days of self-care. But really, It's a weekend of deep inner transformation. In 2017 there will be two festivals: a half-day event, Relaxapalooza Spring Break on April 22nd, and Relaxapalooza in the fall.