Description
How are you feeling?
Are you lacking energy, feeling overwhelmed and stressed, out of balance and struggling with life?
When was the last time you enjoyed fully time for yourself and relaxed?
Are You still on Track to achieve your 2017 resolutions?
We are in the second half of the year and you haven't done any lifestyle changes yet, still following the same unhealthy habits.
It still isn't too late to make a conscious choice to let go of negative patterns and replace them with healthier rituals and routines.
Are you ready to live more conscious, whole and abundant with yourself and fellow beings?
Today's world is so busy that we risk loosing sight of what living means. Stress is one of the main causes of burnout, relationship issues, and health problems.
Are you suffering?
Back Pain, lacking of energy, headaches, anxiety, panic attacks, depression, feeling exhausted, digestive problems and tensions, seems to be common companions of our life.
Are you aware that all the symptoms go one hand with mental imbalance caused of unconscious and stressful living?
Are you ready for some "time-out" and mental detox to relax, revive and recharge?
YES!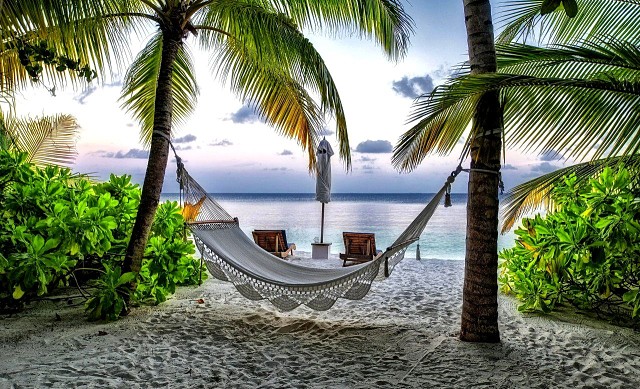 Let's dive into a journey
TAKE A DEEP BREATH...
JUST IMAGINEwaking up on a quiet, predawn morning, stepping out on your terrace, for an alone moment before the day begins. The silent stillness around you is filled with possibility and positivity. Breathing deeply of the fresh Koh Phangan air with the turquios ocean in front of your eyes. Birds and butterfly mingle and singing you a "Good morning" song.
TAKING ANOTHER FULL BREATH, you draw in the peace and space all around you while allowing the present moment to pull you into even deeper imaginings about the retreat ahead.
You can't stop smiling as you watch yourself enjoying the kindness of authentic Thai culture while soaking up the inherent sacred lightheartedness of this island.
IMAGINE YOURSELF in your first Yoga class on the wooden platform overlooking the WokTum Bay with crystal clear water. Take your first deep breath in Yoga, you realize that you have arrived. And finally, you feel yourself sinking into a space of such deep authenticity that you begin to embody the true connection with the world and profound healing energy of this transformative oasis itself.
It is time to relax ,revive and recharge your senses with the connection of Mother Nature, a feast of healthy delicious food, daily Yoga& Meditation practice and activities for your soul.
It is a WHOLISTIC experience

WHAT DOES WHOLISTIC MEANS?
Wholistic: that which is whole, balanced and therefore, complete. An essential word that lays the strong foundation for healthy and mindful living.
"The only impossible journey is the one you never begin." Tony Robbins
WHAT IS POSSIBLE BY THE END OF THIS WHOLISTIC JOURNEY?
You will feel relaxed, revived and recharged.

You will be grounded and aligned with your authentic self and in balance with your body, mind and soul.

You will take home new healthier rituals and routines which will juice up your daily life.

Make new friends and be inspired to continue the journey of wholistic living.


This Retreat will immerse you fully into a healthy lifestyle and highlight the differences between your lifestyle choices at home and those of a healthy lifestyle through daily yoga practice, meditation, nature connection,relaxation and a personalized consultation session along with healthy and nutritious feast of the freshest food will ensure you get the most out of your stay with us and get a good start towards a more Wholistic way of living.
Living a Wholistic lifestyle is a lot healthier than most styles of living. It basically means you're choosing to live your life and heal your body through natural remedies and your self-healing ability.
WHY KOH PHANGAN?
Simply, because Koh Phangan is full of Magic. The island is sitting on Rose Quartz, the energy of love, that's why this magical energy full of love is all around.
This island will swallow you whole with her beauty within seconds of arriving. Justclose your eyes and picture the most beautifully photoshopped image of the tropical island of your dreams, and step inside that 360 reality. Feel the gentle crunch of crystal and rose quartz beneath your feet, and inhale all the greenery through your five senses. More than 70% of the land is still unspoiled and undeveloped, meaning there is a lot nature for pure healing.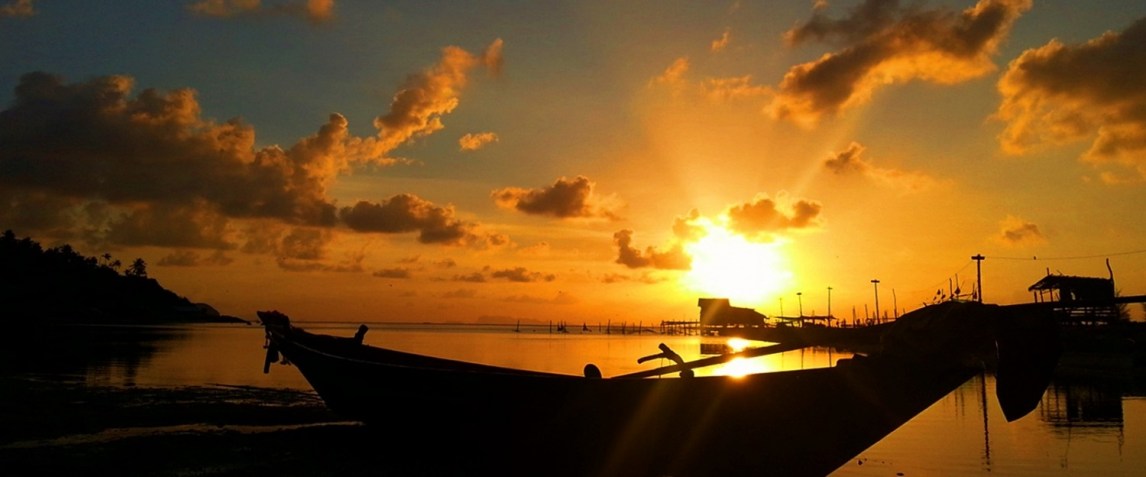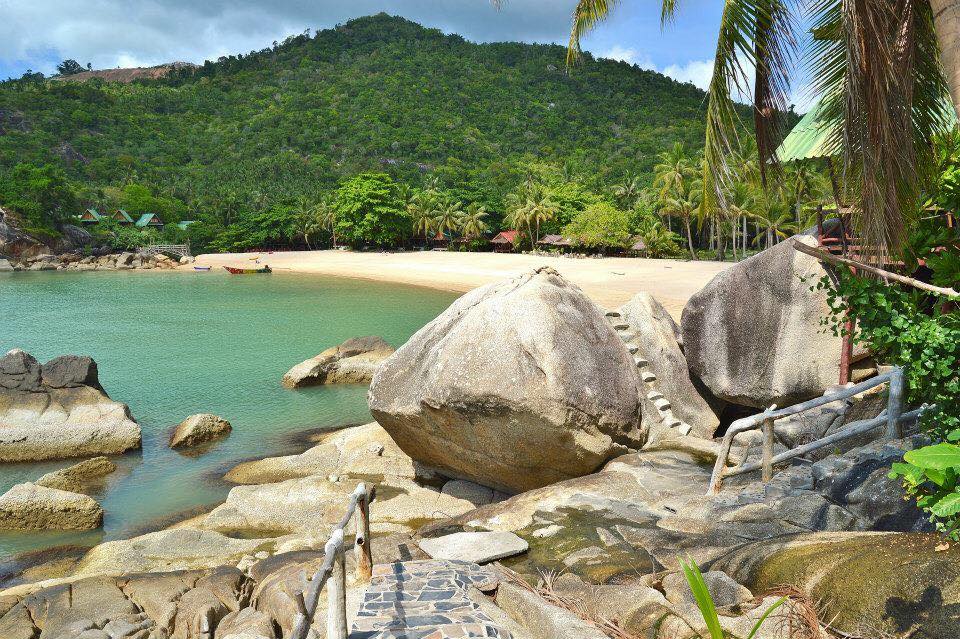 THE VENUE
A charming,warmhearted Thai style Resort nestled within the tropical gardens of Koh Phangan.
Woktum Bay its quiet and idyllic tropical location with a beautiful small white sand beach right on your doorstep.
The Beach Resort offers beautiful , cozy bungalows, all with great ocean or tropical garden view, and private terraces. The swimming pool invites to relax and recharge with a fresh coconut or healthy juice.
The bungalows are well-appointed with a private safety deposit box, individual air-conditioning & fan with remote control, mini-bar & refrigerator ,hairdryer, Wifi , Coffee & Tea facilities and a flat-screen TV with DVD player.
During Yoga Birds and butterflies will mingle with your view of the turquoise sea .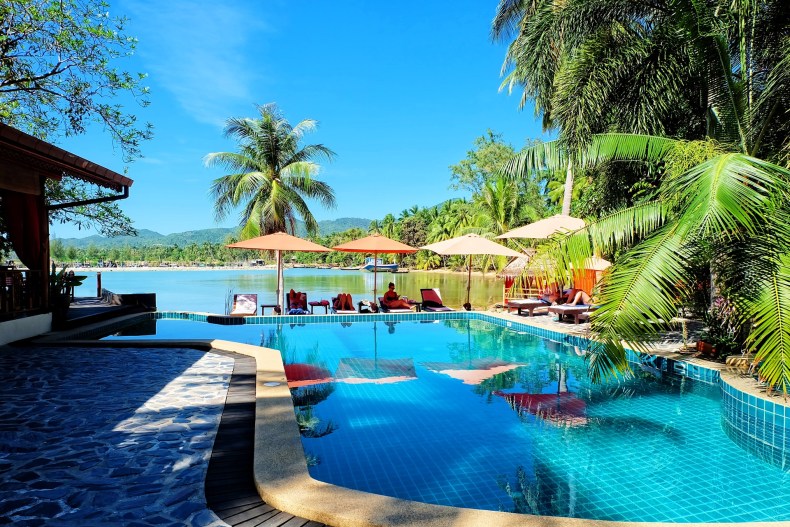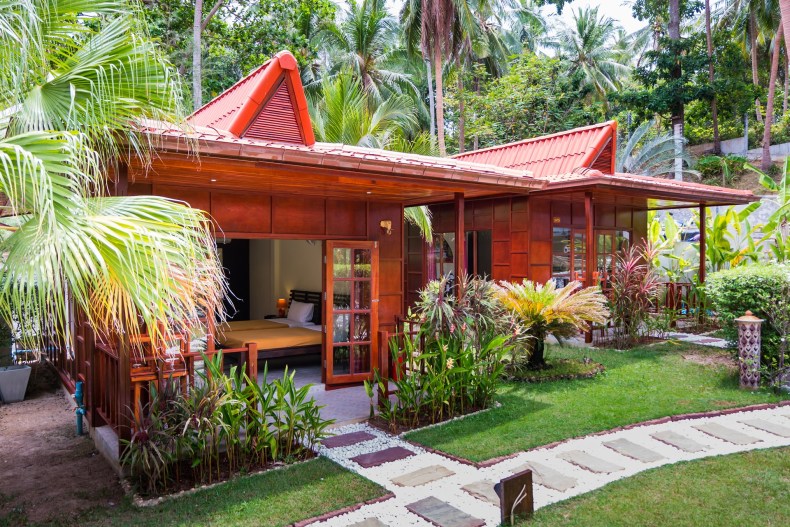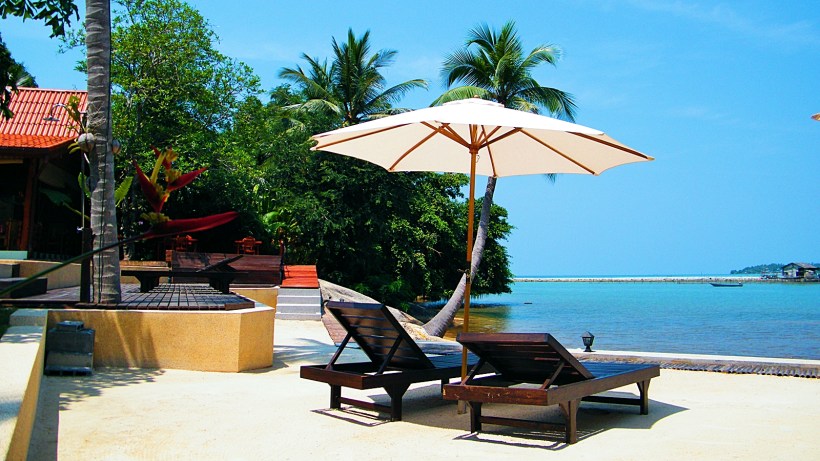 THE CUISINE
A balanced whole food diet ensures healthieness and happiness.
You won't miss out on "Foodgarsm" of the cuisine variety the island has to offer- brusting with flavor in it's simplicity.
A healthy and delicious feast of the freshest exotic fruits just off the tree, juices, greens cooked full of flavour, fresh fish from the ocean with a nice glass of vino in your hands and guilt-free desserts.
Let us surprise you with the variety of food creation which will activate your tastebuds with an explosion of flavors.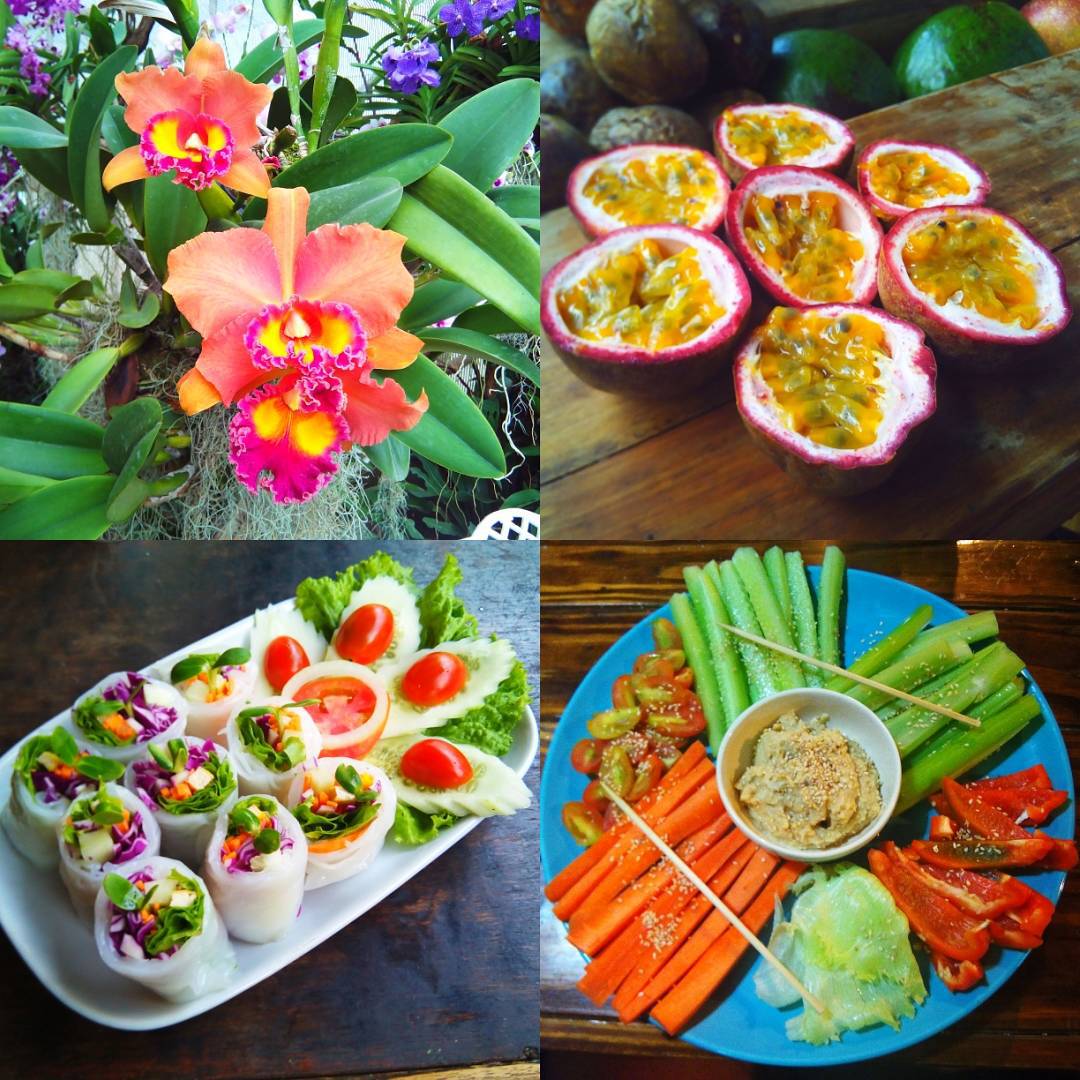 THE YOGA
Bringing in balance to your day - Keeping you really present - to experience Koh Phangan's magic.
Nancy's calm voice takes you on a journey of inner peace, connection to your true self and awareness of your breath, even you are in the middle of chaos. Her teaching is from the heart and brings you to your sacred place, calm and within you, so that you don't have to look anywhere else. Nancy's strong focus is on the right alignment of the posture. Practicing Yoga with awareness of proper alignment is intrinsically linked with better coordination, balance, stability and prevention of strain or injury. When we are comfortable in our Yoga asana, everything is relaxed, we are calm and aligned. We create space to look inside and deeply connect to ourselves.
If you are a beginner - no worries! Classes are fulfilling for beginners and advanced alike - from gentle to yin to power!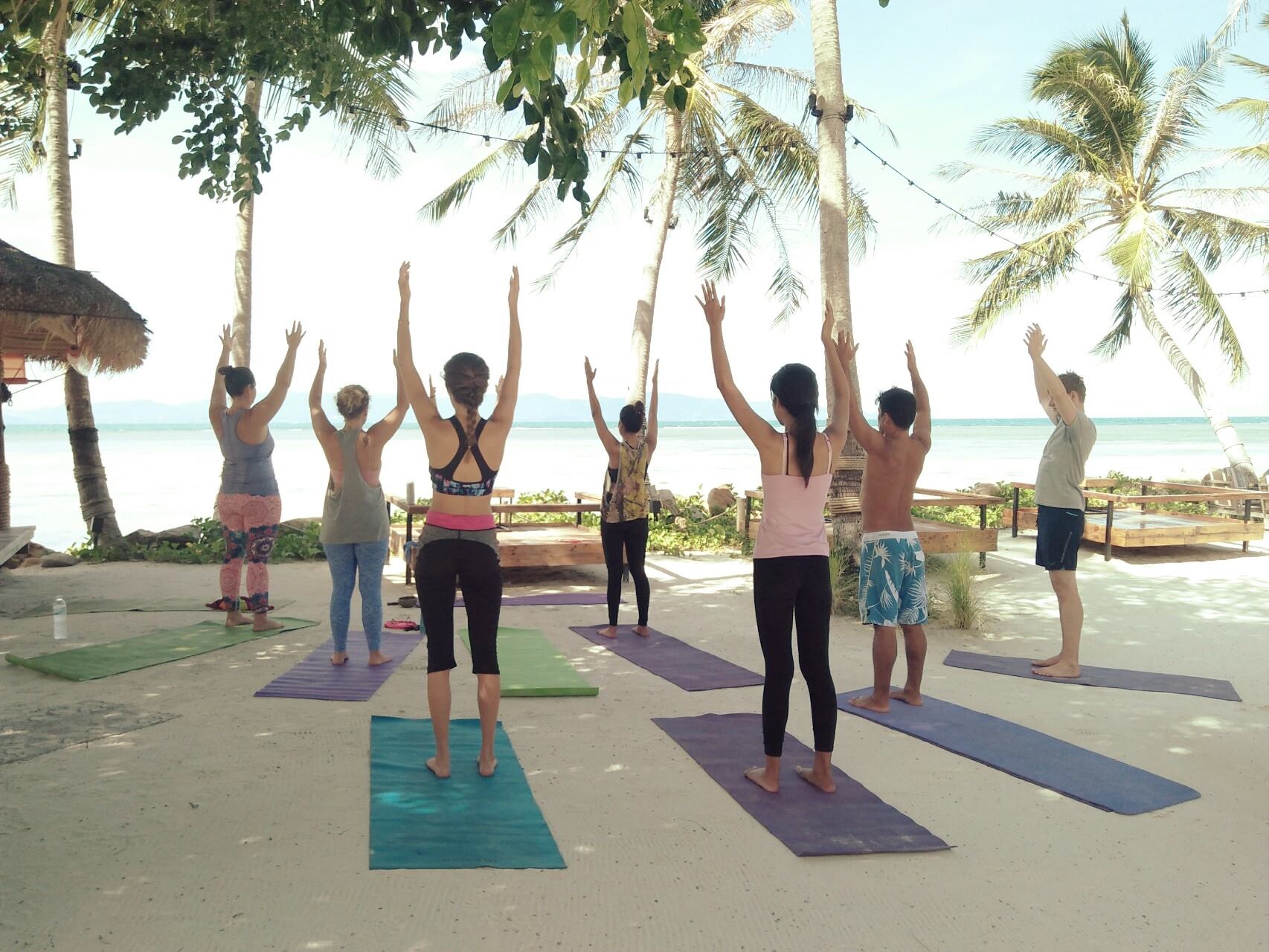 AYURVEDA- THE ANCIENT KNOWLEDGE OF LONGEVITY
Ayurveda place great emphasis on prevention and encourages the maintance of health through close attention to balance in one's life, right thinking, diet, lifestyle and the use of herbs. Knowledge of Ayurveda enables one to understand how to create balance of mind, body and consciousness according to one's own individual constitution and how to make lifestyle changes to bring about and maintain this balance.
We will hold a basic course in ancient Indian science of Ayurveda. Simple Ayurvedic rituals and tools can have a big impact in your lifestyle change.
THE ITINERARY
You don't have to think about a thing! Every detail is meticulously planned for you!
All you need to do is….SHOW UP….BE PRESENT…..and ENJOY!!!
Weaving in the perfect blend of yoga, activities, nature and free time for self exploration and bonding with your new friends. There are also lots of surprises along the way.
You will receive so much more than your expectations!
UPON ARRIVAL...
You arrive at Tongsala Pier on Koh Phangan to be taken to your resort and greeted by Nancy and your new friends who have already arrived with a fresh coconut. Take your time to sit down, enjoy your fresh coconut and suck in the first impression of the tropical island life, you are part of for the next days. Once you finish your coconut, you will have time to unpack, check out the resort, and put your feet in the ocean or jump for a swim in the swimming pool. In the evening we meet up with the group for the opening circle and our first group dinner!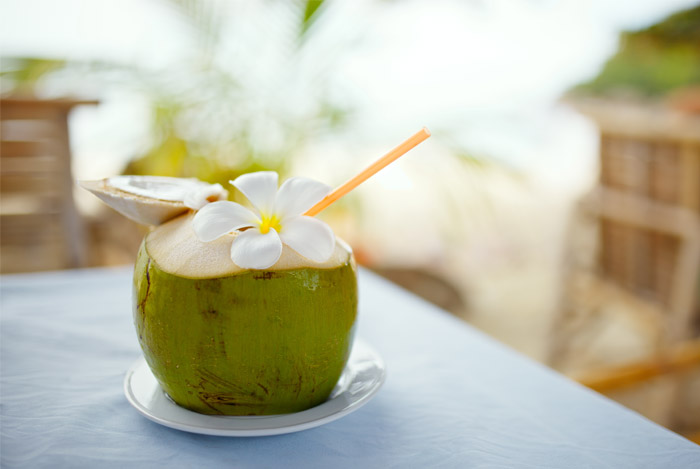 UPON AWAKENING THE NEXT MORNING...

We kick off the day right with Yoga with spectacular ocean view, purification(Kryias) rituals , like oil pulling and others, followed by an amazing healthy Breakfast!
After Yoga, you have some time to relax , chat, walk on the beach,swim or hang around the pool.
Adventures we have in store for you...
Nature hikes

Cooking class

Wellness- pampering-spa

Fun water activities

Ayurvedic workshop

Trash Hero collaboration
Each following day greets you with yoga and breakfast...
and then onto our next adventure!
Breakfasts are all included as well as a five light lunches and five dinners. On Saturdays is the Koh Phangan local street market, where you can indulge into the local deliciousness and one day after Yoga and Breakfast you have free time to explorer the island on your own with all her variety of international cuisine. The dinners we have together, Nancy will bring you to her favorite restaurant s on the island.
Here's what a typical day looks like:
Daily Yoga, Kryias, Meditation
Daily healthy Breakfast Buffet
Relaxing and processing time
Workshop & excursions
Dinner
THIS WHOLISTIC JOURNEY IS TOTALLY FOR YOU IF...
You are always do too much and find it difficult to slow down and practice presence

You are already on the path of Wholistic living, but wish to deepen your knowledge OR wish to implement what you already know into daily action

You put your career first and wish to create more work-life balance through healthy and Wholistic activities

Find it difficult to let go

Your career choices take priority over your health and you wish to re-evaluate this position

Have a difficult time creating boundaries for healthy habits and quality alone time

Curious about the perspectives and practices of Wholistic living, including Ayurveda, Yoga, Breathwork, and Meditation

At a crossroads in your life and READY to create quality YOU time

Ready for a big change in your life

Also interested in learning about how to better manage a stressful lifestyle

You simply wishing to take time out to nurture yourself.
You deserve
to be surrounded by nature,fascinating culture and like-minded friends on this magical islandand reconnect fully with the most important person you know…YOU!!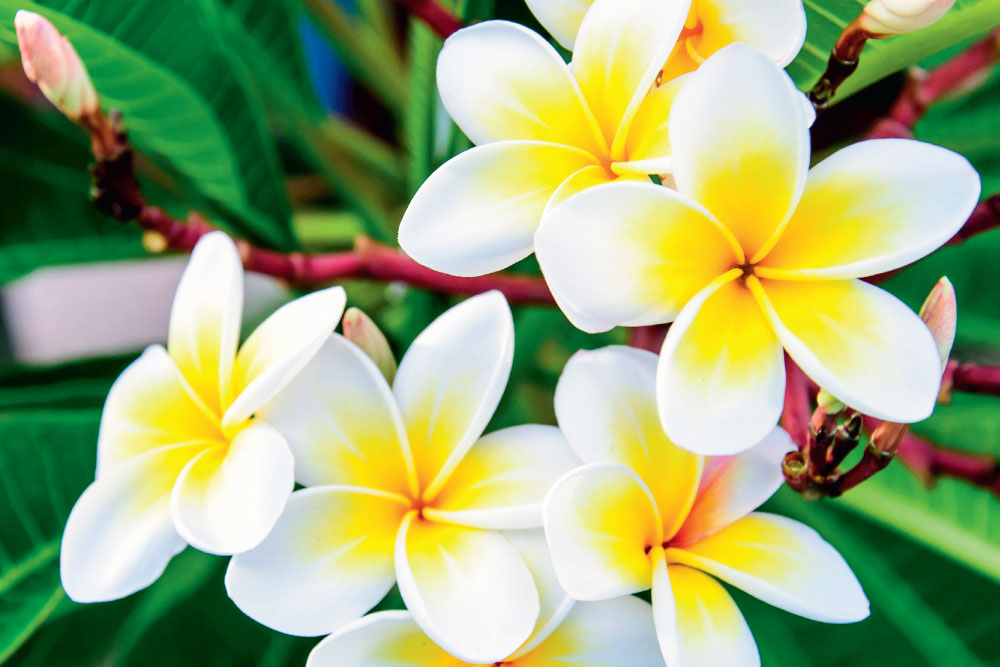 WHAT'S INCLUDED
transfer ferry port on start and end dates of retreat

6 nights accommodations single occupancy at the beautiful Thai style Beach resort
Daily Yoga, Kriyas and Meditation

Daily (6) breakfast

Four Lunch

Three dinners

All group activities

Vegan/ Raw Food cooking class

Ayurveda Workshop

Nature Hike

Wellness- Treatment

personalized session with Nancy

24/7 guides/retreat leaders
WHAT'S NOT INCLUDED
Your round-trip airfare from home to Koh Phangan

Alcoholic beverages not included in meals

Other non-included items would include souvenir shopping, personal phone calls, extra spa services, taxis, laundry, bell-boys, mini bar and tips

Personal, medical or trip cancellation insurance
OPTIONAL EXTRA
Reiki treatment

Thai Massage

Chi Nei Tsang Abdominal Massage
THE BONUSES
Before you even arrive at your Wholistic Island Retreat, you'll be invited to join a private Facebook group as soon you register so you can get to know your retreat mates, ask questions and share in the pre-tip excitement. What's even better is that when you get home after the retreat you can keep in touch with everyone, share pictures, swap stories, keep everyone in the loop with your path and stay updated for the next retreats.
A virtual meet and greet meeting before the trip to get to know each other, learn all the juicy details about the trip - what to pack, what to expect, travel logistics, etc.
You'll also have an optional FREE 30 minute Wholistic session with Nancy one month after the retreat, so together we can make sure you're still on track with everything you learned.
TRAVEL INFO
The nearest airport is on Koh Samui. You can get a connecting ferry from Koh Samui to Koh Phangan (Thong Sala Pier) which can be arranged at the information desk at Koh Samui Airport.
Another option is to fly to Surat Thani Airport. From there you have to take a bus to Donsak pier (1,5hr). Ferries to Koh Phangan running frequently and it will take you 2-2,5 hr.
You must arrive into Koh Phangan on October 19th and depart October 25th, 2017 after Breakfast.
If you want to come earlier or stay later for some exploring – contact Nancy. She can help you design something fabulous as well as make sure that you actually end up on Koh Phangan at the right time and in the right place! Feel free to ring her at +66 61200710. (whatsapp available)

ADDITIONAL QUESTIONS?
Contact Nancy! We're happy to help!
Email: wholistic@nancyhuettig.com
Phone: +66 612270010 (whatsapp)
www.nancyhuettig.com
http://nancyhuettig.com/relax-revive-recharge-october-retreat/
Date and Time
Location
Refund Policy