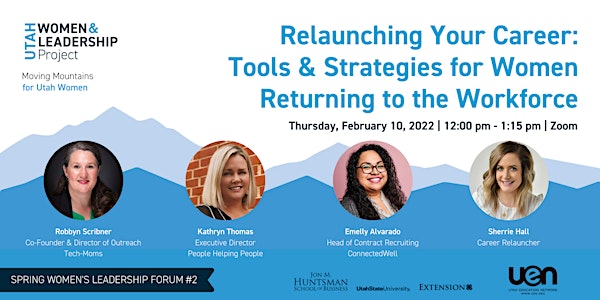 Relaunching Your Career: Tools & Strategies for Women Returning to Work
The UWLP invites you to join us for our second Spring Women's Leadership Forum focused on women relaunching their careers.
About this event
Relaunching Your Career: Tools & Strategies for Women Returning to the Workforce
Many Utah women take career breaks for various reasons, including raising children, assisting with elder care, and managing other responsibilities. Eventually, many women want to relaunch their careers, whether it is full-time, part-time, or even contract work. Yet, relaunching is intimidating for so many women. Often, we feel that we are not prepared for professional work after being at home and outdated in terms of skills, competencies, and professional networks. Don't lose hope because you are more prepared than you think! This engaging panel of experts and relaunchers will provide experiences, insights, tools, tips, and strategies for women returning to the workforce—whether you are thinking about it or already have a "job" but want a "career." Join us as we discuss how to be successful in relaunching your career!
Sponsors: Jon M. Huntsman School of Business and Extension at Utah State University & Utah Education Network (UEN)
Panelists
Robbyn Scribner is a women's labor force expert, consultant, and career coach. She is Co-founder and Director of Outreach for Tech-Moms, a workforce reentry program that helps women transition into the tech industry. Robbyn is also a regular keynote speaker and presenter focusing on women's professional development. A prolific researcher and writer on women's issues, she has published more than 50 reports, articles, or snapshots on a wide variety of topics, including labor force participation, the gender wage gap, male allies, workplace flexibility, and women's careers. She holds a Master's and Bachelor's degree from Brigham Young University, and she is a Gallup Certified Strengths Coach.
Kathryn Thomas is the Executive Director of People Helping People, a local grassroots non-profit employment program that teaches women how to navigate barriers that hold them back from workplace success, how to increase their confidence, and how to reach self-sufficiency through successful employment. With more than 20 years of entrepreneurial experience, Kathryn understands firsthand the challenges faced by single mothers and working women. She owned and operated Utah's first coworking shared workspace, was the recipient of the Holladay Chamber Small Business of the Year award, helped launch the WNG Women's Entrepreneurial Conference, and received the 2020 Soroptimist Ruby Award.
Emelly Alvarado is Head of Contract Recruiting at ConnectedWell, a Talent Advisory firm based out of Silicon Slopes, Utah. Emelly's passion for Talent Acquisitions started 10 years ago when she shifted from a career in Sales to Recruiting. She is on a personal mission to help ensure there is proper representation at all levels of tech by evangelizing Equity & Inclusion within her own teams and clients. When she is not working (or networking) Emelly enjoys spoiling her dogs, exploring Utah's food and entertainment scene or trying to learn something new.
Sherrie Hall was born and raised in a small town in northern Utah. At college, she struggled to find the right major, so she put her education on hold while she and her husband started a family. Last year, she enrolled with Tech-Moms where she learned she has a place in the tech world and that she has capabilities with visual design. After working for Tech-Moms as their social media manager, she was recently hired by a small tech company where she continues to expand her skills and increase her abilities in a relevant, growing, and fast-changing industry.