Description
Join us to converse with Keith Carlson, CTO at Relativity as he discusses the road ahead with unstructured data and machine learning applications. During the event guests will also have the opportunity to tour our space and inquire about available positions with our team.
5:30 PM – 6:00 PM | Networking, light food and beverages
6:00 PM – 6:45 PM | Hear from our Chief Technology Officer, Keith Carlson
6:45 PM – 7:30 PM | Networking and tours of the office
Learn More About Keith: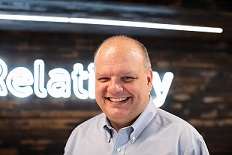 Keith Carlson is the chief technology officer of Relativity. As head of technology and architecture strategy, Keith oversees the Engineering Delivery, Engineering Operations, and Production Engineering functions. In his career, Keith has been a co-founder, programmer, team lead, principal engineer and chief technology officer. He most recently spent 7 plus years at Amazon Web Services where he developed one of the first cloud fraud prevention and detection organizations and grew it to where it was evaluating ten trillion pieces of data a day. Keith is excited to apply his extensive developer experience to help mature RelativityOne's SaaS delivery model and expand Relativity's reach into the unstructured data realm.
Registration closes at 5 PM the day prior to the event.
*Please note this event is not open to vendors or recruiters.