Description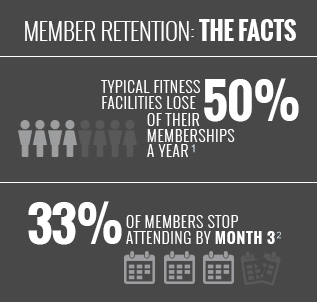 Retention is a constant battle. And we know it's hard to attract new members.
But by month three, 33% of those have stopped visiting your facility. By month six, that figure rises to 50%.
That's one half of your January-joiners who stopped attending your facility last month!
How do you plug the whole in your bucket to improve the health of your business?
Members need motivation, and you need motivated members. They're the ones who visit more often, stay for longer and bring along their friends & family.
Join us in Charlotte for our Relationships Beyond Memberships business insights seminar. We'll explore industry trends and drivers of change, plus a variety of strategies to turn challenges into opportunities. We'll cover topics from member acquisition & rentention through to effective marketing & promotion.
This is a complimentary thought-leadership session.
Lunch is provided, and seats are limited.
Register today!
SCHEDULE
11:45 AM
Check-in – please bring your registration confirmation, either printed or on your smartphone.
12:00 PM - 2:00 PM
"Relationships Beyond Memberships" seminar – we will share a variety of insights, but don't hesitate to come with questions.
This is a complimentary information session. Lunch will be provided.