Description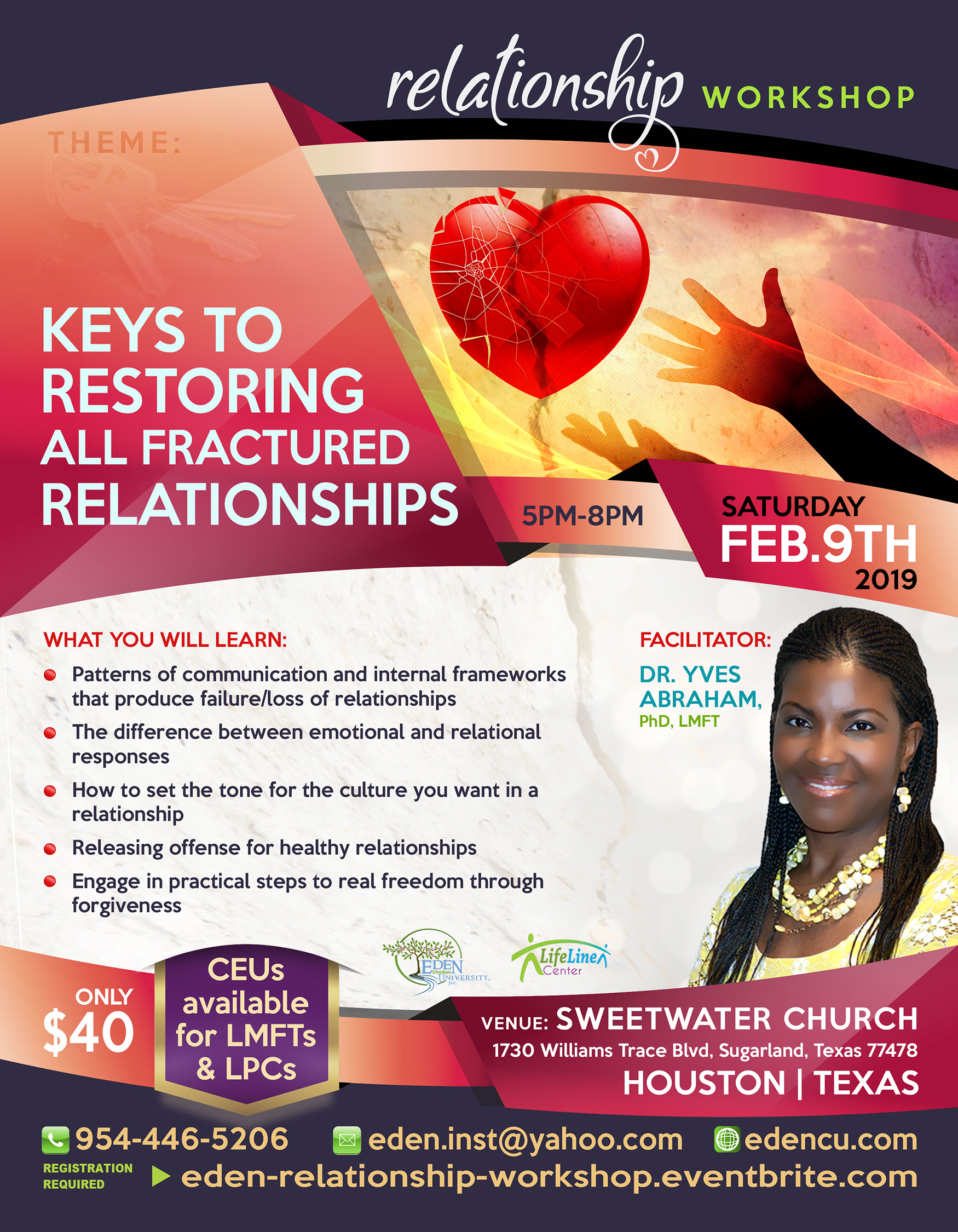 ECU in collaboration with LIFELINE CENTER
invite you to attend an enlightening
RELATIONSHIP WORKSHOP -
Theme: "KEYS TO RESTORING ALL FRACTURED RELATIONSHIPS"
SATURDAY, FEBRUARY 9TH, 2019
FROM 5PM TO 8PM
WHAT YOU WILL LEARN:
Patterns of communication and internal frameworks that produce failure/loss of relationships
The difference between emotional and relational responses
How to set the tone for the culture you want in a relationship
Releasing offense for healthy relationships
Engage in practical steps to real freedom through forgiveness
ABOUT THE FACILITATOR: DR. YVES ABRAHAM, Phd, LMFT, Chancellor & Founder, Eden Christian University and LifeLine Center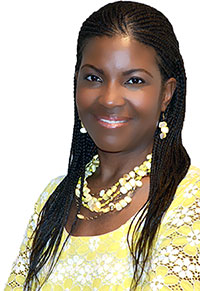 With over 20 years' experience of successful work for community health organizations, Dr. Yves Abraham–a licensed Psychotherapist–has helped a wide variety of adults, couples, children and families both from a psychological and a spiritual perspective. She holds a Doctorate degree in Fine Arts from Friends International Christian University, a Master's degree from Nova Southeastern University in Marriage and Family Therapy, a Master's in Human Resource Management & Labor Relations from New York Institute of Technology, and is a sought after internationally as a minister and speaker. In addition, Dr. Yves has received specialized training in Adult and Adolescent Anger Management and she holds a Facilitator's Certification in Domestic Violence and in Executive Coaching. Her background in Family Systems Theory enables her to help people connect and consider how multiple factors– including relationships, health, and spirituality–impact one's life.
While she is skilled in the treatment of emotional and behavioral issues–including depression, trauma, substance abuse and family stressors–what sets Dr. Yves apart is that she uses her spiritual insight and compassion in conjunction with her academic accomplishments and experience. This creates a uniquely effective theoretical orientation which allows the power and glory of God to use her tremendous experience and create an environment where individuals see miraculous therapeutic results.
Dr. Yves is also the Chancellor of Eden Christian University–an institution which focuses on educating students for life: Spirit, Soul and Body. ECU is a place where creativity flourishes and purpose is defined.