Relationship Talk Show-Topic: What if You Caught Your Mate Cheating? - @TGI...
Description
We're Back at TGIFriday's - Grown Folks Karaoke Day Party & Relationship Panel

Date: January 26th - Time: 12:30PM Starting Promptly at 1:15pm
Philly's First Single's Day Party & Live TV Taping sponsored by TGIFriday's - 4000 City Ave. Phila. PA
Great food and drinks, more entertaining performances, and more dope energy!!!
Guest:
Philly's Funny Man, Thomas "@Tizz_215" Ames. The film is producer by Nidir "Status" Muhammad.
Writer and Producer of: A Social Media Movie

For the first time in history, 25 of the biggest social media influencers and comedians in the United States collaborate to make a film about the new internet sensation. Tyrone (Naphil Hitson) is a simple decent working class citizen who loves his life and his woman. He decides he's finally ready to take their relationship to the next level by asking for her hand in marriage although his best friend, Tizz 215 (Thomas Ames), advises against it. As he comes home to propose, he finds his woman in bed sleeping with another man. Distraught & confused, Tyrone decides to go on a spree of sexual escapades with the wives of other men, hoping those men will share the same pain he's feeling. With his best friend Tizz by his side as his cameraman documenting it all, the adventure begins and is sure to make for a wild experience.
With over 15 million followers combined, the cast includes some of the most recognizable faces in the social media comedian/influencer space.
Topics:
What would you do if you caught your mate in bed with someone else?

FREE ADMISSION! DOOR PRIZES! FREE PARKING!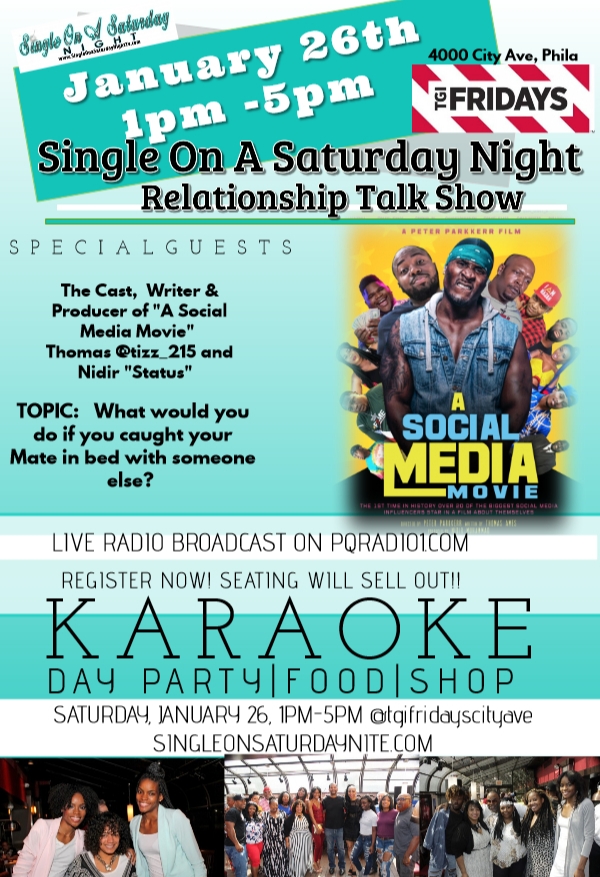 .
Show 2:
Guest:
21- Year Old Licensed Minister and Motivational Speaker - Minister Isaiah Thomas

Ordained and Licensed before age 20. Survived being locked up and being shot at however he has bounced back through the grace of God. He is a motivational speaker and founder of Stay Humble, Stay Hungry clothing Line and received the MVP Athlete Award Lincoln University.

Topics:
MASTERING SELF DISCIPLINE is key in RELATIONSHIPS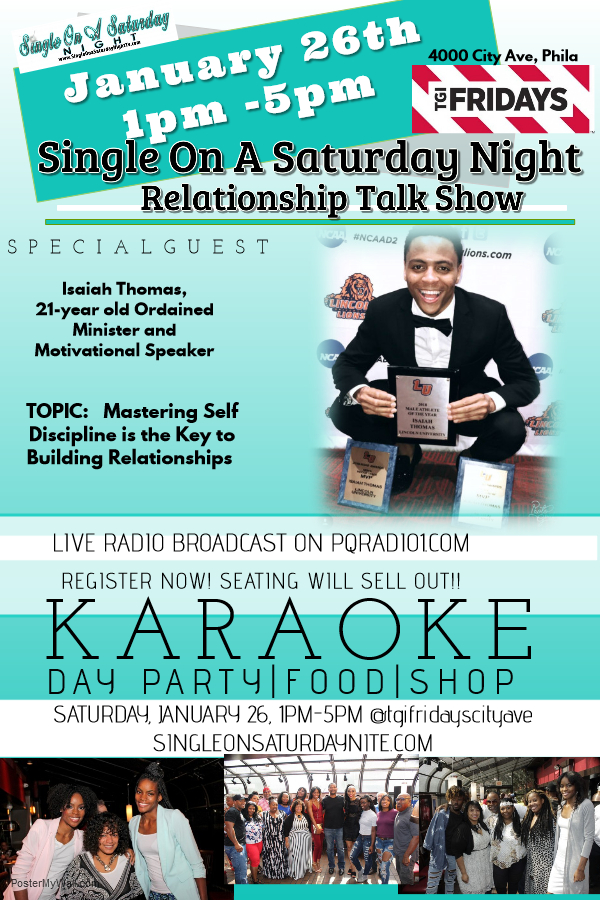 Single On A Saturday Night kicks off with music, conversations and after the conversation it's the Karaoke KICKing OFF at 3PM with a DAY PARTY vibe. Come partake in delicious grub and libations and great conversation. All Day DJ Smoove will be spinning R&B & Hip Hop….along with the Old School Mix.
Join us for the roundtable discussion:

Roundtable participants

Shelly Shell Williams, TV Producer, Serial Entrepreneur
Niki Felts - Human Sexuality Therapist
TC Caldwell, Actor, Youth Advocate

David Scott, Professor/ Entrepreneur
Katrice Bailey, Model/Author
Malisha Cheatham, Claims Processor/TV Personality
YOU ARE CORDIALLY INVITED TO BE A GUEST FOR THE TAPING OF "SINGLE ON A SATURDAY NIGHT" – Real Stories, Real Answers, Real People.

Relationship forum. Help, advice and questions on cheating, separation, love, abuse, marriage, jealousy and dating. SingleOnSaturdayNite.com

RSVP to chat, chew with excellent food specials. #SinglesKaraoke

Make sure you tell a friend to tell a friend…Single's Karaoke is poppin' Off!! The Best Single's Day Party in the City!

Single On A Saturday Night - the best Relationship Talk Show in Philadelphia and Beyond!

Each Month we get Bigger, badder and better than before! Each month we have a whole entire PARTAY!!!! So, bring your friends, you enemies, your frenemies and your Boos... and get ready to have a ball at TGIF,every 4th Saturday at 12:30 p.m. as SOSN hosts a Karaoke/DAY PARTY and TV Taping!!!!!

By registering and obtaining tickets to Single On A Saturday Night, you consent to be photographed by means of video recording and you grant the producer of the footage, the Company, and their successors, assigns, carrier stations, network station(s), sponsor(s) of the program and marketing and advertising agents (as well as their affiliated and related entities) the right to record and use your name, voice, and likeness worldwide in perpetuity for any purpose whatsoever. In addition you release the above parties from any and all liability for loss of damage to person or property while at or around the premises, and you agree to comply with all rules and regulations of Company and its parents, partners, subsidiaries and related companies.