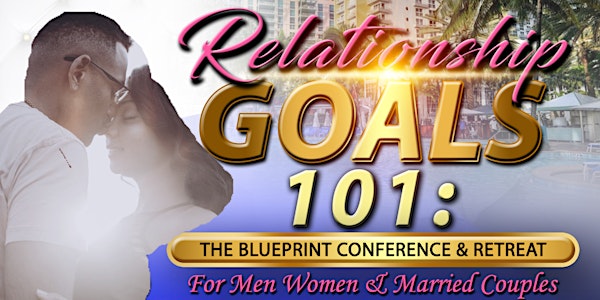 Relationship Goals 101:The BluePrint Conference & Retreat
"Building a tribe of kingdom men and women who do life , marriage and relationships righteously"
When and where
Location
Marriott Stanton South Beach 161 Ocean Drive Miami Beach, FL 33139
About this event
Relationship Goals 101: The BluePrint is a Conference & Retreat set to take it's territory in beautiful Miami, Florida September of 2020.
It's designed to give you the "BluePrint" for specific life areas of singleness and marriage. These "BluePrint" methods will foster a better understanding in building a solid foundation when it comes to Christian relationships & lifestyle.
Whether man or woman, single or married this conference will have some gems for you!
You will hear from and engage with high profile speakers & subject matter experts in the area of their topics. These men and women not only are experts and have studied these areas, they are living it!
Topics:
Singleness
Courting vs Dating
Marriage
Faith
Purpose
Self Love
Day 1: Foundation 6:30pm-10:30pm (All white attire)
General Session
All White Mixer & Reception
Day 2: Action 11:00am-5:00pm
Morning General Session
Lunch Break
Afternoon General Session
You will enjoy discounted spa services, the beautiful grounds and amenities at a luxury hotel with access Miami Beach and all it has to offer.
Why you should attend...
✔️You are in a season of singleness and just don't know why you are still single? Or you keep attracting the same type of man or woman?
✔️ You are single and you desire to be married.
✔️You are in a marriage and you just want to communicate better with your spouse. Or you want to work more effectively with your spouse. You need balance.
✔️You want to build a stronger relationship with God.
✔️You want to know how to build wealth for yourself and your family.
✔️You want to know your true function as a woman or man single or married.
✔️You want to learn self care and self love.
✔️You need a vacation and Miami would definitely fill the void.
****PAYMENT PLANS AVAILABLE****
Contact formherbluebrint@gmail.com for payment plan options. (Payment plans will not be offered if a sale is offered).
***Want to be a Vendor or a Swag Bag Sponsor ***
Hotel/Venue Marriott Stanton Miami Beach
Hotel Information and Room Block (Room is held, no charge to your card until check in)
Code: BluePrint Conference & Retreat
Reservations: 1-888-236-2427
Or
**You must be registered to receive the discounted room rate.