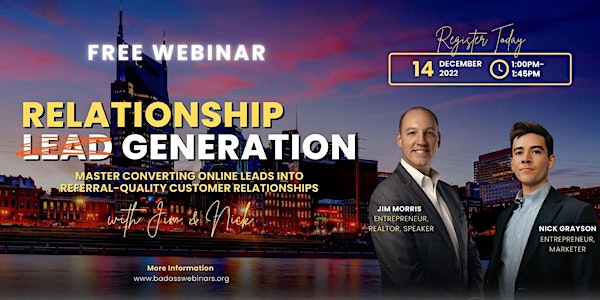 Relationship Generation for Business - Humans NOT Leads
A FREE value-packed webinar demonstrating the most effective prospecting, communication, and mindset strategies for your business.
About this event
IF YOU ARE LOOKING TO:
✔ Acquire Consistent "Leads"
✔ Nurture Prospects Correctly
✔ And Close More Business..
Then you're in the right place.
...But you're already failing your potential by calling them leads.
Entrepreneurs Jim Morris & Nick Grayson present "RELATIONSHIP GENERATION"
A FREE Live Webinar providing extraordinary value to all business owners on how to not only use proven strategies to build and maintain a jam-packed sales pipeline, but how to make a human connection the right way, while doing so with the right mindset.
IN THIS WEBINAR:
GENERATING PROSPECTS - Every successful business beings and ends with branding & marketing. Discover how to get your business pipeline jam-packed with potential customers or clients.
COMMUNICATION - Your first impression strategy with prospects over the phone and email is essential for business growth.
BUILDING RELATIONSHIPS - Implement our 3 simple pillars for proper prospect relationship building and you'll see a dramatic increase in conversions.
WHO WE ARE:
Jim Morris - Entrepreneur, Realtor, Guru of Events, Speaker
Jim Morris is an entrepreneur who has started, bought, and sold several highly profitable companies focusing within large growth markets related to solving common needs for our fellow Americans and community members.
Looking at adversity with a positive mindset and consistently seeking new ways to grow and give back to the community, Jim is focused on helping others reach their maximum capacity through awareness, skill set, and mindset.
Nick Grayson - Entrepreneur, Marketer
Nick Grayson is an entrepreneur and digital marketing expert who has experience starting profitable marketing-oriented businesses in both the Hospitality and Real Estate industries.
His favorite quote "Bet on Yourself" as been a consistent theme paving his own path early in his career. Nick believes a business owner's level of success is a direct output of how many problems they can solve for others, and plans to continue his goal of fueling businesses everywhere with effective marketing strategies.
We have limited seats for this training.
DON'T MISS THIS PREMIUM TRAINING ON DECEMBER 14th at 1PM!