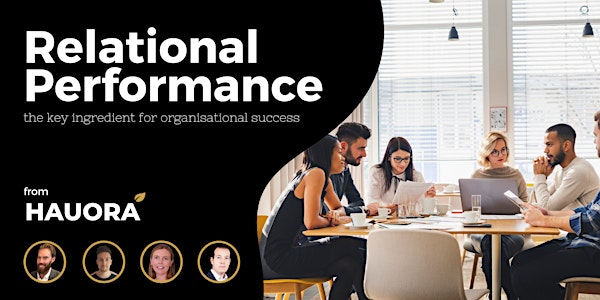 Relational Performance - the key ingredient for organisational success
Most orgs have invested time, energy, and resources into physical and mental wellbeing - what about social? Learn more about the S in ESG.
Refund Policy
Contact the organizer to request a refund.
About this event
How we interact with each other matters. How well we get along together matters. There is widespread awareness in the modern workplace of the importance of nurturing and enhancing employee wellbeing. A plethora of data point to the link between employee wellbeing and a host of positive outcomes, at both the individual and organisational level: decreased absenteeism, increased retention, lower medical costs, enhanced productivity, more innovation, boosted creativity, greater satisfaction, and higher engagement, among others. Prestigious publications like Harvard Business Review and McKinsey & Company are spreading the message far and wide that investing in wellbeing is not only worthwhile, but essential for organisational success, be that in the corporate or high-performance sports world.
Notably, most organisations have invested time, energy, and resources into two wellbeing pillars, namely physical and mental. Physical wellbeing was the earliest target in most organisations because it is tangible and, therefore, easiest to quantify. For example, there are clear metrics that can be attached to a weight loss or smoking cessation programme, thus allowing its success to be measured. In terms of mental wellbeing, societal dialogue around anxiety, stress, discontent, depression, and burnout has caused many employers to reconsider their role in creating an environment that nourishes, rather than depletes, the mind. As such, Mental Health Awareness Training, Green Ribbon Campaigns, and EAPs are commonplace in most sectors now.
As we emerge from the Covid-19 pandemic into a hybrid working world, there is much uncertainty around cohesion, collaboration, trust, and other social elements – that build connection and improve relationships. Important questions are arising – How do we rely on a colleague if they are working from home four days a week? How do we build our team for sustained success? Enter the often forgotten, but massively influential, social wellbeing pillar.
For us at Hauora, where wellbeing and performance are inextricably linked, social wellbeing means relational performance, which we define as "thriving and achieving through teamwork". Learn more about the specific domains and components here, and how we assess, develop and monitor each one - to increase relational performance and, subsequently, individual, team, and organisational performance.
This is the secret sauce you need for 2023. The next big thing. This is unique.
You won't want to miss this, for you and your teams and organisations.
We believe Relational Performance is the key ingredient for organisational success.
All ticket donations go towards the Children's Health Foundation in Ireland https://www.childrenshealth.ie/
© 2022 Hauora Ltd.
All rights reserved. Relational Performance and its content contains proprietary information and intellectual property of Hauora Ltd. Neither this nor any of the know how, or information contained herein may be reproduced or disclosed under any circumstances without the express written permission of Hauora Ltd. Please be aware that disclosure, copying, distribution or use of this content or intellectual property, concept and the information contained therein is strictly prohibited.