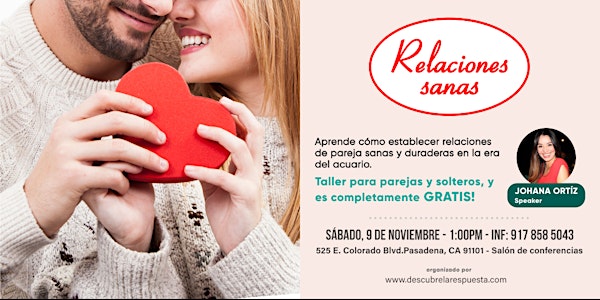 RELACIONES SANAS EN LA ERA DEL ACUARIO
Aprende como establecer relaciones de pareja sanas y duraderas en la Era del acuario.
When and where
Location
525 E Colorado Blvd 525 East Colorado Boulevard Pasadena, CA 91101
About this event
Relaciones Sanas - Era del Acuario
Aprenderemos cómo tener relaciones saludables y duraderas, basadas en la verdad, el amor y el respeto. También aprenderemos las reglas básicas de la biología para comprender lo que cada género quiere y lo que su pareja espera de usted. Además sabremos qué función cumple cada energía tanto la masculina como la femenina y cuál es el propósito de vivir en pareja.
Para solteros vamos a aprender como establecer una relación duradera en esta era tan express, donde los roles han cambiado y la energía por la que caminamos es tan diferente a la de nuestros padres. Cómo poder conseguir una pareja que este alineada conmigo? Este es uno de los puntos más importantes y donde todos fallamos, descubriremos la clave para encontrar una persona ideal para nosotros.
Además vamos a evaluar lo que serian las bases más importantes para sostener una relación duradera y poder construir esa relación duradera tan soñada.
El taller es completamente GRATIS! así qu te esperamos!
Acerca de la locacion: El evento se realizara en la prestigiosa escuela culinaria NEW SCHOOL OF COOKING, que esta ubicada en South Pasadena, cerca de muchas attraciones para que disfruten del domingo despues del taller, La escuela tiene su propio restaurante para los que quieran tener una experiencia culinaria.
Parking: Encontraras public parking al frente del lugar de la conferencia al igual que diagonal a cada lado hay parqueo publico por $ 5 dolares el día o puedes parquear en la calle, sin embargo es solo 1 hora d el parking y tendrás que mover tu carro, así que para que estes cómodo se recomienda el public parking.
Llegada 15 minutos antes, Vamos a cambiar nuestra costumbre latina de llegar tarde :)
Comenzamos a las 1:00PM!
Te Esperamos!
INFO: 917.858.5043 - 323.989-9612