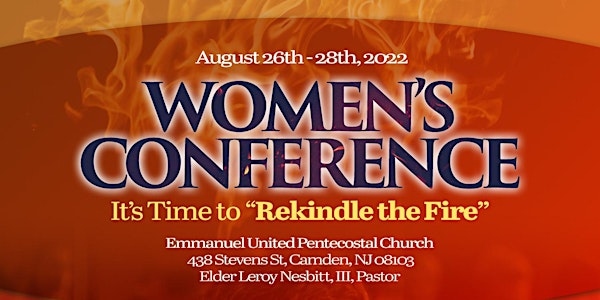 "Rekindle the Fire" Emmanuel UP Church Women's Conference 2022
Is your fire for the things of God on a low simmer? Has your light gone dim? Now is the time to ignite your faith and "Rekindle the Fire"!
When and where
Location
Emmanuel United Pentecostal 438 Stevens Street Camden, NJ 08103
Refund Policy
Refunds up to 1 day before event
Eventbrite's fee is nonrefundable.
About this event
After being in lock down for almost two years many Christians have lost their spark for the faith. In other words, many have lost their zeal and passion for Jesus and the church. The fire we once had for the things of God has waned. The church's fire is on a low simmer. It's time to "Rekindle the Fire!" It's time to excite, stir up, or rouse anew, to cause to begin burning again or ignite again the fire within.
Fire is a state, process, or instance of combustion in which fuel or other material is ignited and combined with oxygen, giving off light, heat and flame. In order for fire to occur oxygen, fuel and heat are needed. This is known as the fire triangle. Likewise, in order for there to be a spiritual fire we need the Father, Son and Holy Spirit. The Father represents heat, the Son/ Jesus represents wood or fuel, and the Holy Spirit represents oxygen. Once we accept Jesus as our personal savior we receive the Holy Spirit (oxygen). We now become the wood as Jesus stated in Matthew 10:38, "whoever does not take up their cross and follow me is not worthy of me." In the presence of the Lord, a reaction takes place producing heat, light, and flame or fire – a reflection of the Father. So what has happened to cause our fire to smolder? And how can we "Rekindle the Fire"? This year's conference will answer those questions and by the time you leave you will be a Firestarter.
Friday, August 26, 2022 at 6:00 pm
Escape Room "The Fiery Furnace"
This is a ticketed event included with the conference cost. It will depend on the number of attendees, if we will have more than one session. The session is exactly 60 minutes. The participants will have exactly one hour to escape the room. Immediately following the escape room will be ice cream by bonfire on the lawn.
CLASSES
Saturday, August 27th, 2022
1. How is your flame? Can you hold it in? Time: 10:15 am- 11:00 am
Speaker: Minister Cheryl Marion
Scriptures: Jeremiah 20:9, Acts 2:3
Fire departments use the fire alarm dispatch system to communicate the severity of a fire or intensity of the flames. The number of alarms from 1 to 5 indicates how many firefighters and emergency personnel are dispatched. When you hear God's Word does it ignite something inside you? Do you become eager to share His Word with others? Is your flame low grade or 1 alarm? Perhaps you're a blazing 5 alarm fire that cannot be contained.
2. Warning: Oxygen in use. I need air.
Time: 11:15 am- 12 noon
Speaker: Evangelist Carolyn Kinard
Scriptures: Job 32:8, 2Corinthians 12:9-10
There are times in our spiritual walk when we need to just spend time with the Holy Spirit: gaining wisdom and understanding of God's Word, seeking the Father in prayer, and learning of Jesus (the way, the truth, and the life). You may have troubles such as death of a loved one, divorce of a spouse, illness, or financial difficulties where it seems the very air has been sucked out of you. It is during these stressful and difficult periods in life when we need the very breath of God, the Holy Spirit, the Reach to breathe into us to revive us. 2Corin 12:10 says, "That is why, for Christ's sake, I delight in weaknesses, in insults, in hardships, in persecutions, in difficulties. For when I am weak, then I am strong." Without oxygen there is no fire. Therefore, in order to "Rekindle the Fire" you have to "Leave Room to Breathe" air.
3. Can you make a fire with wet wood?
Time: 1:15 pm- 2:00pm
Speaker: Dr. Shirley McDougal
Scriptures: 1Kings 18: 31-39
If you have ever gone camping outdoors you would know that making a fire is necessary for staying warm, having light, keeping away animals, and cooking to name a few reasons. With that being said, every seasoned camper knows that every day may not be sunny and that they should anticipate and prepare for possible rain which will make the wood wet. Therefore, they have extra kindling and timber, large logs or rocks, more timber and wood to dry out, and a Firestarter such as a lighter, oil, matches, or other combustible chemical. Even if it's damp, dark and gloomy they can still get a fire going with wet wood. It's the same spiritually, there will be seasons and times in our life when we will go through storms and rain showers and we will need the support of family, friends, and those special people who can help us light our fire even when we are wet with pain, sorrow, heartache, stress, sickness, or financial hardship. God can use you wet or dry.
4. Do not put your fire out!
Time: 2:15 pm- 3:00 pm
Speaker: Evangelist Sharon Anfield
Scriptures: 1Thessalonians 5:19, Song of Songs 8:6-7, 1John 4:18
An easy way to put out any fire is to smother it which means to suck out the oxygen that is a vital component. The Holy Spirit is the very breath of God, the oxygen, the air, the wind, the third person of the God triune, and the third element of the fire triangle. When we are unresponsive to the working and the leading of the Holy Ghost we now begin to walk in the flesh. When we walk in the flesh we allow fear and negative thoughts to creep into our mind. Hence, we no longer express the love, positivity, and power given to us.
5. It's a Refining Fire not a Forest Fire.
Time: 3:15 pm- 4:00 pm
Speaker: Bishop Dawn R. Brown
Scriptures: Daniel 3:13-27, Malachi 3: 2-3, Hebrews 1:7, Psalms 104:4, Psalms 12:6
In this life we will go through fires but as a born again believer the fires that we go through are to make us better, benefit others, and to always glorify God. A forest fire can be very destructive consuming plant vegetation and wildlife in its path; and if not contained can become a wildfire. A refiner's fire melts down metal such as gold or silver for purification purposes. Once a metal is in its melted down state the dross or smelted waste in the metal rises to the top and is then removed from the metal before it cools. A refiner's fire does not destroy the metal, rather it allows the impurities within to come to the surface so that it can be removed. Likewise, God allows us to go through situations to remove sin, shape our character, and mold our heart so that we may come out as pure gold and be vessels of honor, righteousness, and love.
Conference Schedule
Saturday, August 27, 2022
Registration and Continental Breakfast: 9 am- 9:45 am
Morning Worship: 10 am-10:15 am - Recording Artist Benita Farmer (Faith Tabernacle)
1st Class: 10:15 am-11:00 am
How is your flame? Can you hold it in? - Minister Cheryl Marion (Bethany Baptist Church)
2nd Class: 11:15 am- 12 noon Warning: Oxygen in use. I need air. – Evangelist Carolyn Kinard (Emmanuel UP Church)
Lunch Provided: 12 noon- 12:45 pm
Announcements & Giveaways: 12:45pm
3rd Class: 1 pm- 1:45pm
Can you make a fire with wet wood? – Dr. Shirley McDougal (Faith Tabernacle)
4th Class: 2 pm- 2:45 pm
Do not put your fire out! – Evangelist Sharon Anfield (Emmanuel UP Church)
5th Class: 3 pm – 3:45 pm
It's a Refining Fire not a Forest Fire. – Bishop Dawn R. Brown (Cathedral of Holiness Missionary Baptist Church)
Closing Remarks
Benediction
Sunday, August 28, 2022
Morning Service and Conference Close 11 am
Rekindle the Fire- Elder Leroy Nesbitt, III (Pastor, Emmanuel UP Church)