About this Event
Learn to perform advanced ROI-based optimisation for your digital campaigns such as Facebook and Google AdWords. This program will cover email marketing, Facebook marketing, Instagram marketing, and Google Search Engine Optimisation (SEO). Learn how to optimise your copywriting and landing pages to generate leads and grow your sales online.
Program Outcome:
Participants will be able to have in-depth understanding of ROI-based optimisation strategies and knowledge of tools they can use to move towards automating some of their marketing process flow.
This course also comes with a certificate of completion.
Program Syllabus:
DAY 1
• Customer Journey Mapping
o Tracking touchpoints online and offline
• Hack Case Studies:
o Foursquare
o Fitgear pre-order
o Reddit
o Email marketing
o Exercise: Think of unconventional ways
• Viral Loop
o Evergreen campaigns
• Product Growth
o UX and Onboarding
• Lead Prospecting
o Email Scraping
DAY 2
• Growth Systems/Routines
o Daily, Weekly, Monthly
• Communities
o Facebook Group
o WOM
o Offline communities
• Product Analytics
o Mix panel example
• Partnerships and Referrals
o Scaling word of mouth
o Referral engine & tools
Who should join:
Startups, Founders, SMEs, Technopreneurs, Marketing Executives, Managers
Program Fee: RM1000 per participant
- Original Rate: RM2500 per participant, RM1500 sponsored by Cyberview Sdn Bhd.
- Limited to 1 participant per company.
- The program fee inclusive of 2-day face-to-face classroom training, 10 hours mentoring support and an international certificate.
- This program is HRDF claimable (SBL scheme).
Trainer Profile:
Travis Lim
Training specialisation: Growth Marketing, Facebook and Google Marketing.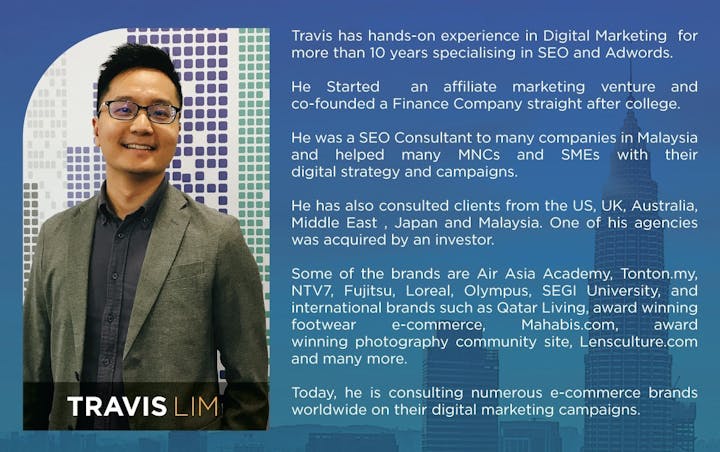 For Group Purchase or In-House Corporate Training, please contact us at hello@growthx.asia or +603-2022 3516.
For more info about us, visit us at www.GrowthX.asia.