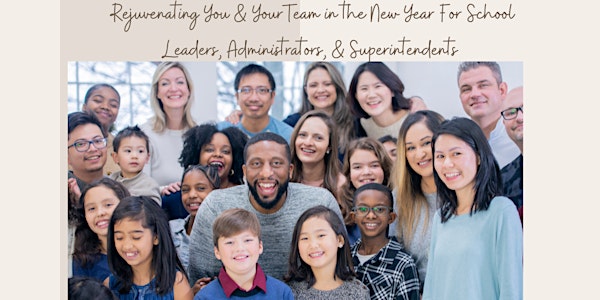 Rejuvenating You & Your Team for School Leaders
Join this interactive two hour workshop to refuel, recharge, and rejuvenate you and your team this quarter.
Date and time
Saturday, March 25 · 8 - 10am PDT
About this event
School Leaders, Administrators, and Superintendents, join us for our 2nd Annual Rejuvenation Workshop on Saturday, March 25 from 10AM- 12 PM CST/11AM-1 PM EST/8AM-10 AM PST.
The roles of school leaders, administrators, superintendents, educators, and school staff are all encompassing. You provide academic and social support for students, parents, staff, school, and surrounding community to ensure there's a shared vision around goals, policies, procedures, and student achievement.
With these benefits, there are also some drawbacks. If not addressed, they will cause our most valuable players--those leading our schools, those teaching our students, those providing social and emotional support to students--to begin "quietly quitting" or leaving their jobs. According to a survey conducted by K-12 Dive, 1:4 Superintendents are likely to quit their jobs and according to Forbes, one in six teachers will quit after just a year and a third of them will leave within six years.
This workshop was created to change this statistic.
As a former educator, instructional coach, and curator of appreciation and recognition programs in the 3rd largest school district, I know the importance of ensuring that individuals in every role, including yours, are seen, heard, and valued.
There is no better time than the present to refill your cup. If we don't take a moment to breathe and refuel, we will not be able to make it through the school year, lead our schools effectively, hear from those we serve, and keep ourselves at the top of our list. YOUR presence is needed not only for your team, staff, and community, but also for your own mental well being.
Rejuvenating YOU:
The first part of the workshop is dedicated to rejuvenating ALL things - YOU. Why? Because YOUR well being for our future generation of students and leaders is my top priority. I want to spend time with you in a safe space where it is totally focused on rejuvenating you and you won't be alone. You'll be with myself and other school leaders rewriting how YOU will spend the rest of your year. You'll be able to:
reflect on the awesomeness that you have done this year (yes, there will be some "Pat on the back"moments)
identify areas that drain and energize you
receive rejuvenation reminders based around your values
put a "rejuvenate you" plan together so that you don't fall to the bottom of your list
Rejuvenating YOUR Team:
The second half of the workshop is focused on rejuvenating your team. Year after year, educators say that the person they most want feedback and support from is their school leader. If they receive authentic feedback and support from you, they will be able to continue doing the work for the school community. Your feedback to them at this stage of the year is critical. We will:
identify where you and your team are emotionally.
share five (5) ways to take your rejuvenation reminders from the first part of the workshop to energize your team.
share three (3) activities you can do immediately to embed workplace wellness on your team.
identify the motivators and rejuvenators on your team and how to strategically keep them motivated.
determine three (3) ways that your team (and your colleagues) can partner with YOU to be motivators and rejuvenators to each other.
get feedback and support on your rejuvenation action plan to prioritize yourself and your team wellness from myself and other attendees.
I know we have lots of work to do and this workshop is the first step in getting it done! Can't wait to meet you!
Facilitated by Tamiko Nettles, Founder & CEO, Let Go-BeGreat
#LetGoBeGreat
#workplacewellness
#WeGotWorkToDo
Testimonials from Past Participants:
"The Rejuvenating YOUR Team and District in the New Year session proved to myself that my time is valuable. The opportunity to meet with others and the sharing of ways to support our staff was helpful. Session was worth every moment."
"The opportunity to connect with colleagues to discuss challenges was meaningful. The Rejuvenating YOUR Team and District in the New Year workshop was engaging. The facilitator had good energy."
"The Rejuvenating YOUR Team and District in the New Year session helped me remember why I wanted to be a school leader. We are stronger as a collective and the work we are doing is profound! "
Overview of Let Go-Be Great
Let Go-Be Great is an educational consulting firm that works with and empowers management, staff, and students in School Districts, Colleges, and other education related businesses to retain and engage their staff. We provide support services to retain staff, engage employees, and key performance indicators to create an inclusive culture. We use the power of storytelling with a touch of vulnerability to create a positive working environment based on collaboration, trust and teamwork, so that everyone works together to achieve common goals.
We do this by:
providing a personalized approach within each Phase of Letting Go™ that makes each of our clients feel seen, valued, and heard. (Team Consulting, Growth Training)
creating authentic ways to boost company and client morale (Team Consulting, Speaking Engagements)
providing #BeGreat Tools and Resources in a group consulting or 1:1 consulting model
Legal Agreements: By registering, you are agreeing to hold Let Go-Be Great harmless regarding liability, and also to affirm the indemnity of Let Go-Be Great regarding intellectual property.
Frequently asked questions
Who should attend this workshop?
What are the benefits of attending this workshop?
Is there any pre-work needed for this workshop?