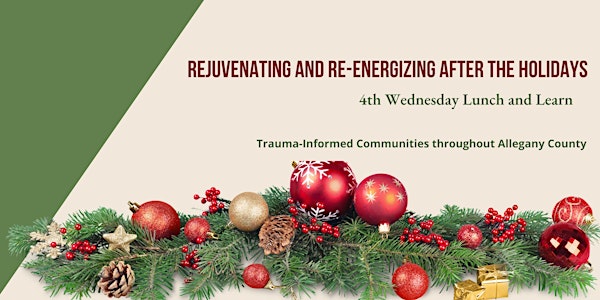 Rejuvenating and Reenergizing After the Holidays
Join Trauma-Informed Communities throughout Allegany County for its 4th Wednesday Lunch and Learn to explore self-care after the holidays.
About this event
"Today I didn't want to get out of bed. I thought about trying but changed my mind. When I got up, my feet dragged as I walked. I felt irritated at things and people. And before I could make a cup of coffee tears were rolling down my cheeks. I paused and stood there for a moment with my palms open wondering what was going on. An overwhelming heaviness weighed on me. I sat down and sunk deeper, feeling a pressure on my body and an awareness of chaotic thoughts swirling above me. Soon, the rolling tears were accompanied by whole body heaves and a mix between hyperventilating noises and repetitive short exhales hurling up from my gut. This is active grief. It's normal. It's natural. It's necessary. It's beautiful. It's uncomfortable and all consuming. We often do everything we can to avoid grief as it shows up for us and for those around us. Today, rather than wiping my tears and pushing grief away to carry on with the day to day, I'm embracing myself, welcoming mourning, and honoring that which has been lost. I'm hopeful this expression will help you embrace life, love, loss, and being human with courage, depth, gratitude, and wholeness."
Lisa Ralston December 1, 2022 #normalizegrief
Lisa Ralston is a Holistic Health Educator and a BodyTalk Practitioner, Massage Therapist, Yoga Instructor, and Zen Coach at The ME LIFE LOVE Healing Arts Center at 109 South Barry Street, Olean, NY 14760, phone number 786-475-4837, and on the web at www.melifelove.com.
Lisa will join TICTAC in January 2023 for a workshop entitled Rejuvenating and Reenergizing after the Holidays. Lisa is available for in-person sessions as well as online or phone sessions for BodyTalk and Zen Coaching. She teaches a weekly yoga class at The ME LIFE LOVE Healing Arts Center in Olean, NY, and works with schools and organizations providing holistic health courses, well-being exercises and techniques, and custom services. Please view Lisa's videos:
Introductory Video:
https://youtu.be/gNqwtvNrTzE
ME LIFE LOVE Breathing Practice for Soothing the Nervous System:
https://youtu.be/mouWCjUWFt0