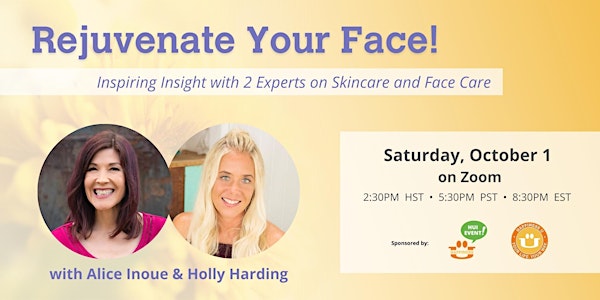 Rejuvenate Your Face!
Join us for inspiring insight with 2 experts on skincare and face care - with Alice Inoue and Holly Harding.
About this event
This is a FREE EVENT, however, if you miss it, access to the recording is limited to Happiness U Hui members only.
Happiness U Hui members, please RSVP here.
If you are not a member, and want to learn about all the Hui has to offer (and have access to many events like this), click here.
Rejuvenate Your Face!
Inspiring Insight with 2 Experts on Skincare and Face Care
Join Alice Inoue, founder of Happiness U, and Holly Harding, INHC, AADP, integrative nutrition expert and founder of nationally award-winning skincare line, O'o Hawai`i, as they share relevant and useful information about skincare, skin product ingredients, and the benefits of facial massage.
Holly is an expert in conscious, integrative skincare. She personally researched, tested, and formulated her skincare line with an emphasis on using UV damage repairing antioxidants grown in Hawai`i's nutrient rich, volcanic ash soil.
Alice is a certified facial yoga instructor and will share how to use simple facial massage techniques to boost collagen and elastin production to counter premature skin aging. Together, Holly and Alice will share their respective expertise in what is sure to be an interesting and informative hour.
Bring your favorite facial oil or moisturizer to learn best ways to apply your moisturizer and how to incorporate a simple, yet efficient evening facial massage for relaxation and renewal of your complexion.
When: Saturday, October 1, 2022 | 2:30pm HST
Where: Online (Zoom)
Fee: None - be our guest!
Questions/Contact: smile@yourhappinessu.com
About Holly
Holly Harding, AADP, INHC has studied over 100 dietary theories with the world's top experts in holistic health and nutrition. A highly sought out holistic health and nutrition coach and food for beauty expert, she is well known for her mind/body transformation program, The H Lyfe Method®. Based on her belief that beauty starts from within with a diet of nutrient rich, unprocessed and unrefined foods from nature, Holly also created O'o Hawaii, an integrative skincare line, as a way to accomplish beautiful, glowing, ageless skin through a combination of diet, supplementation and highly functional skincare.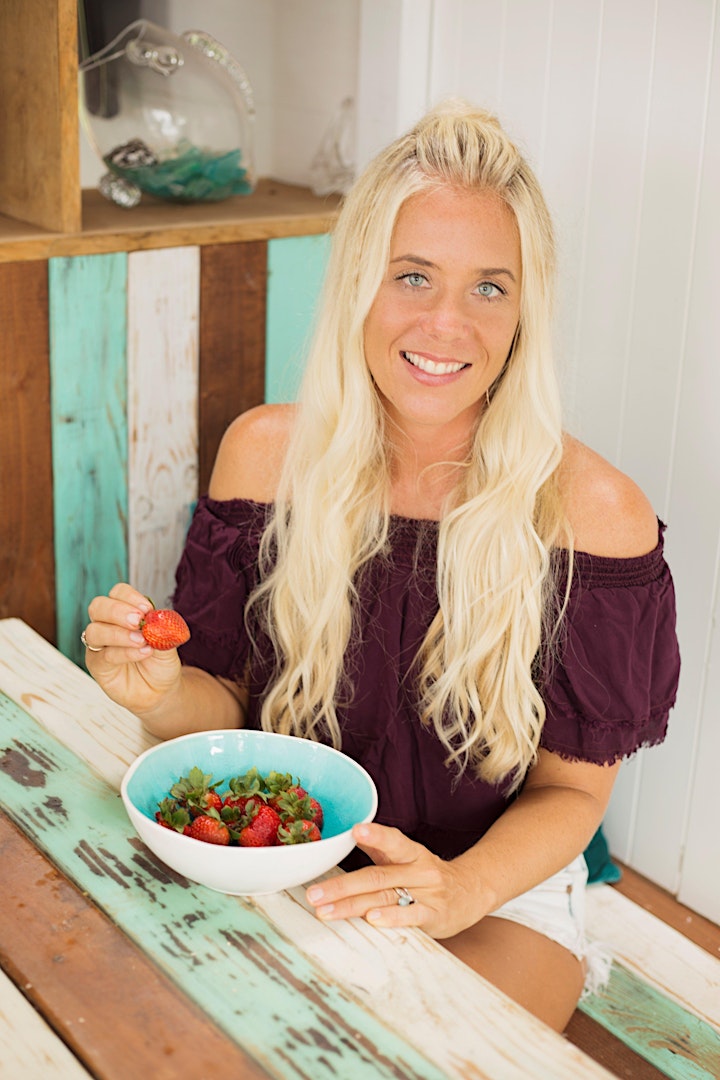 More About Alice
Nationally award-winning author and life expert, Alice Inoue, has dedicated her life to helping others find answers to life's challenges. As Hawaii's thought leader and celebrated expert, hundreds of organizations and thousands of individuals have found clarity over the past 20+ years through her work. Her unique brand of life wisdom is featured in her nine books on self-growth and happiness, as well as in her long-running column in MidWeek, Hawaii's largest publication. Combining her vast set of skills and talents with her entrepreneurial drive, she opened Happiness U, a business with a purpose to help both organizations and individuals find unprecedented clarity.