Location
RNN Conference Centre - Kyoto Training Room (Level 4) [Telok Ayer MRT - Exit A]
137 Cecil Street
Cecil Building #04-01
Singapore, Singapore 069537
Singapore
Real Estate Investment Trusts (REITs) are one of the most reliable way to invest as they generate steady and consistent tax free cash flow.
About this event
REITs to Riches: Everything You Need to Know About Investing Profitably in REITs workshop is now a SkillsFuture credit-eligible course.
Course Title: REITs to Riches
Course Reference No.: TGS-2020502468 ​
Course Duration: 18 hours ​
Full Course Fees: $988 ​
Training Provider: Trivelope Skills and Consultancy LLP
UEN No.: T18LL0531E
Mode of Training: Classroom
Eligible Singaporeans can now claim up to the full list price of $988 to attend this workshop. When signing-up, pay just $188 deposit via credit card and we will contact you to guide you on how to make your SkillsFuture credit claim.
Upon completion of the workshop and attendance-taking, we will contact you within 1 week to arrange for the refund of any deposits or overpayment (where applicable).
This is absolutely amazing value for this content packed and most comprehensive REITs investment workshop available in Singapore!
If you do not have the full $988 credit available, you will have to make the balance payment. Refunds for abuse and misuse of this promo-code will not be entertained, for more information on eligibility please see SkillsFuture Credit.
For further enquiries on REITs to Riches workshop using your SkillsFuture credits, do write to us at learn@trivelope.com.
Real Estate Investment Trusts (REITs) are one of the most reliable way to invest as they generate steady and consistent tax free cash flow. REITs also open up access for investors to participate in a diverse range of real estate assets with low capital outlay.
The course will be segmented into 3 major areas covering all aspects of REIT investing:
o Understanding:
Foundational understanding of REITs

Characteristics of various real estate sectors

Understand how REITs raise funds and expand

Benefits and Drawbacks of investing in REITs

Common investment traps and how to avoid them
o Evaluating:
Understanding the 4 core financial statements of a REIT

How to perform financial evaluation on a REIT

How to estimate fair value and buy REITs when they are undervalued

How to evaluate risk in REITs before investing especially in interest rates, exchange rates, capital management and occupancy risk

How to evaluate a REIT manager

Evaluating common corporate actions
o Managing:
How to build a balanced portfolio of REITs

Basic risk management strategies for REITs

Basic diversification concepts

How to leveraging on margins to boost income

Basic portfolio hedging strategies
We will cover the characteristics of what makes a great REIT; thoroughly analysing their Past, Present and Future.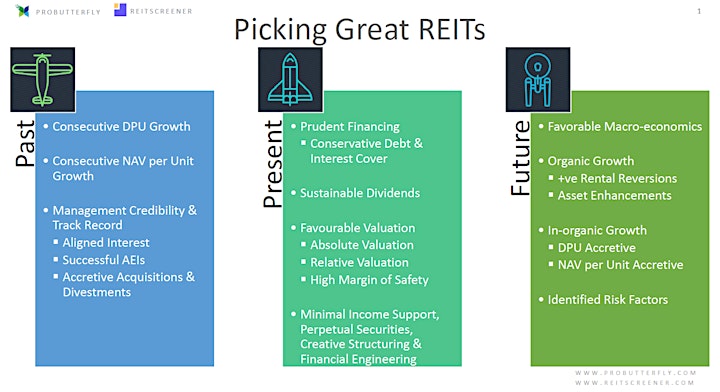 During the workshop, many case studies from Singapore and overseas listed REITs and Business Trust will be used as examples.
The course will offer sufficient breadth and depth to benefit both novice and seasoned investors alike.
2 Full Days Workshop with Hands-on Practical & Case Study Session.
The workshop is broken up into 2 days. The first day (9am-7pm) and second half-day (9:00am-12:30pm) will provide investors with a thorough understanding, evaluation techniques and portfolio management strategies for REITs.
A half-day Hands-on Practical & Case Study Session (1:30pm-7:00pm) is offered to help investors tackle practical aspects of REIT investing. Participants will run through a series over case studies of both local and overseas REITs or if requested by the class, vote on their choice of REITs/Business Trusts to analyse and will be guided step-by-step on the analysis process using the spreadsheets and tools provided. A laptop is highly recommended for the hands-on practical and case study session on the second day.
Limited to 25 seats only due to room size and social distancing requirements. Take action today and book your seat now. Registration starts 30min prior to commencing time.
To learn more about REITs, we recommend the article: What are REITs?.
Special Announcement Regarding Additional Measures due to COVID-19:
We certainly look forward to meeting all of you at the upcoming event. Amidst the COVID-19 situation, we have put in additional measures to safeguard the health and wellbeing of everyone:
Temperature-taking prior to entering the event venue
1-meter distance between seated attendees
Mandatory attendance taking for contact tracing use
If your temperature is >= 37.6°C you will be politely asked not to join the event. We would strongly advise that you seek immediate medical attention. We will reschedule you to the next available event at no charge.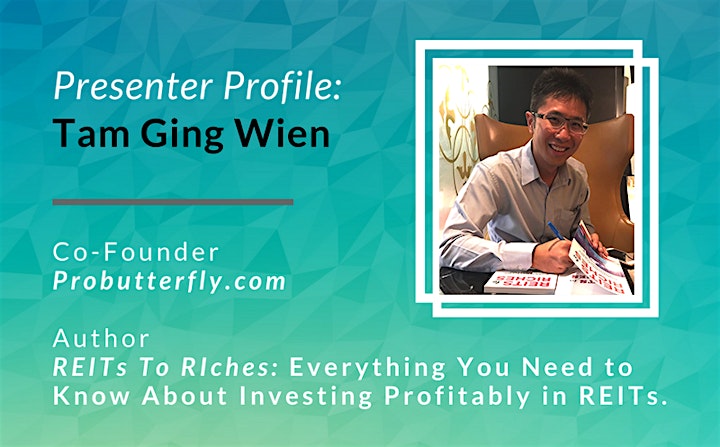 Find out what some of our past attendees are saying after attending the REITs to Riches Workshop:
"One of the best REITs courses I've attended. Wien is a passionate trainer, covering the content in detail and taking time to explain complex concepts clearly to us. I would highly recommend him to anyone who wants a comprehensive understanding of REITS investing."
- Sebastian Teo
"This course conducted by Wien is excellent. He teaches you how to identify high quality REITs based on leading indicators of performance (unlike other programs that I have attended where evaluation is based on lagging indicators that proved disastrous for my portfolio during the COVID19 crash).
Equally important, he teaches us when to buy REITs. He is clearly the best REIT trainer/teacher in Singapore. I wished I learnt from him years ago.
Wien has made learning much easier for non-finance trained individuals like me. He is patient, listens and explains concepts in such a way that it is easy to understand."
- Philip Ho
"Ging Wien is extremely knowledgeable in the subject matter and is very clear in his explanations about choosing the right REITs. He is very engaging and managed to illustrate his points through many real-life examples. I would highly recommend anyone who is interested in expanding their portfolio in REITs to attend this 2-day course."
- Jason Teo
"A must-attend course if you want to learn everything about REIT. Besides information about REIT, you will also learn how to obtain and interpret other financial knowledge about companies."
- Sim Hock Soon
"Wien is very knowledgeable in REITs and willingly imparts his knowledge to participants. He is meticulous in his teaching and uses case studies to reinforce his detailed analysis of REITs counters. I believe all the participants have benefitted from this course and should be able to apply the knowledge learnt."
- Jerry Lim
"Wien has a deep understanding of REITs and does not hold back in coaching his students. His course is intense, information-rich and relevant. The course is rich with real-life examples and approaches REITs in a different way from investing in other equities.
Wien encourages students to ask questions and takes the time to respond to them. Wien leaves his students much more confident in their REIT investing journey."
- Justin Lean
"In-depth information on course subject with detailed actual examples of case-studies shared with all students. Provides good support and follow up even after training. Very experienced instructor who is eager to share more and answer any questions that students have."
- Lee Yok Hock
"Instructor has strong expertise in REITs with lots of experience. Very dynamic and friendly. By the end of the course, we are very confidently able to invest and profit from REITs even for beginners with no knowledge."
- Ling Ting Poh
Conducted by: