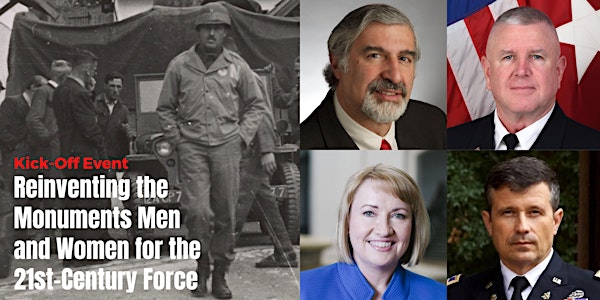 Reinventing the Monuments Men and Women for the 21st-Century Force
SCRI invites you to join us in celebrating the inaugural training of the next generation of Monuments Men and Women
About this event
A preeminent panel of military and museum experts will lead a program about the new Monuments Men and Women for the 21st Century Force that was inspired by the Monuments, Fine Arts, and Archives teams (aka "Monuments Men") of WWII. You will see a trailer from the documentary, "Stout Hearted: George Stout and the Guardians of Art" and learn why the "Monuments Men" of WWII have a special place in the collections of the Smithsonian Archives of American Art. You will also hear from some of the 21st-century Monuments Men and Women who have chosen to carry on this important legacy.
Running Time: 75 minutes.
Speakers:
Clockwise in photographs:
Richard Kurin, Distinguished Scholar and Ambassador-at-Large, Smithsonian Institution
Brigadier General Jeffrey C. Coggin, Commander, U.S. Army Civil Affairs and Psychological Operations Command (Airborne)
Colonel Andrew Scott DeJesse, 38G Program Director, Strategic Initiatives Group, U.S. Army Civil Affairs and Psychological Operations Command (Airborne)
Corine Wegener, Director, Smithsonian Cultural Rescue Initiative
Also: A short presentation by Liza Kirwin, Archives of American Art, Smithsonian Institution.
Photo Credit, far left: Archives of American Art, Smithsonian Institution
Background:
George Leslie Stout, a conservator at Harvard's Fogg Art Museum, a veteran of World War I, and an artist, saw first hand how modern weaponry damaged fragile cultural sites in Europe. As cultural colleagues faced a new worldwide conflict, Stout devised a plan to create a group of technical experts within the military to help save some of the world's most important art treasures from looting and destruction. Toward the end of the war, they became responsible for the cataloging and restitution of millions of works of art stolen by the Nazis. The work of the MFAA lives on in the international rules for protecting cultural property in armed conflict outlined in the 1954 Hague Convention. Stout's legacy continues to inspire today's military personnel who are training to comply with the law of war.
Last fall the Smithsonian Institution and the U.S. Army Civil Affairs and Psychological Operations Command (USACAPOC) signed a historic agreement to work together to recruit, support, and train the next generation of Monuments Men and Women. We are pleased to announce that the first cohort of cultural heritage expert personnel have been selected and that the Army Monuments Officer Training (AMOT) Phase I course will begin online this month. Phase II is scheduled to take place in 2021 at the Smithsonian Institution in Washington, DC.
This Event is for People Who are Interested in:
• protecting cultural heritage and global affairs
• art conservation
• military history and the important role of civil affairs
• non-traditional careers in arts and culture
• unique public-private partnerships for training and education
Why attend?
• Learn from military and museum experts who will be sharing their experience in the field and how that experience became this program
• Discover the historical collections of the Monuments Men at the Smithsonian
• Find out how to create an education program with partners
• Hear insights from the members of the first cohort about why they chose to pursue the program
• Ask questions of the panel