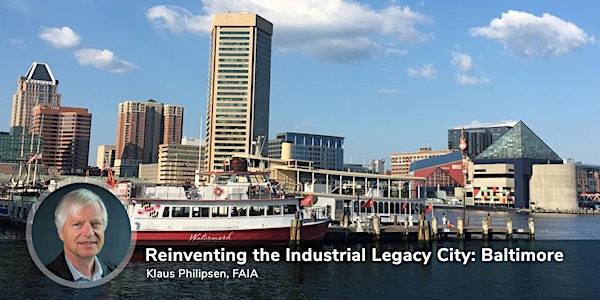 Reinventing the Industrial Legacy City: Baltimore
Online lecture by Klaus Philipsen on 8 February, 20.00 CET Netherlands time; 2pm ET Baltimore time. Free. Advance registration required.
About this event
This event is over. Video recording available at youtu.be/nTBox73wil8
________________________________________
Cities go through historical ups and downs. Legacy cities are cities which saw their prime during and after the industrial revolution and are now struggling to redefine themselves in a post-industrial world.
Using the example of his selected home town Baltimore, architect and urban designer Klaus Philipsen will explain Baltimore's struggles, successes, failures and challenges. Many of those are indicative of what cities have to go through around the world. Philipsen will address equity, transportation, sustainability, architecture and renewal with asides about "wicked problems", "smart cities", food, climate change, and the time after privately-owned cars and conventional employment.
Baltimore is a port city located in the state of Maryland in the U.S.A., about 1 hour drive from Washington, DC.
TIME & REGISTRATION
20.00 CET (8pm) Netherlands time, which is 2pm EST Baltimore time.
Open to the public. Admission is free. Advance registration required.
The webinar will be conducted in English language.
AUDIENCE
This lecture provides an overview of Baltimore's past, present, and future — it is a good way for people in the Netherlands and other countries (and even residents of Baltimore) to learn about its cityscape and the challenges and opportunities it currently faces, many of which it shares with other post-industrial cities in the U.S.A. and around the world. The lecture is geared towards architects, planners, and students, but is also accessible to a broader audience.
ABOUT THE AUTHOR
Klaus Philipsen, FAIA is principal at ArchPlan and an author of Baltimore: Reinventing an Industrial Legacy City, published by Routledge, available on Amazon.com and Bol.com. Klaus Philipsen is a prolific blogger about urban design on his Community Architect and Community Architect Daily blogs.
Klaus Philipsen is German trained, and has 40 years of "on-the-ground" experience as an architect, urban planner and community development advocate. Philipsen connects his work as an architect, transportation planner, preservationist and smart-growth advocate to advance an urban agenda that will propel legacy cities such as Baltimore into the 21st century and the "age of cities".
ABOUT THIS LECTURE SERIES
This lecture is one of a series of lectures in 2021 organized by Cristina Murphy with assistance from Baltimore-Rotterdam Sister City Committee (BRSCC). The lecture series includes speakers from the U.S.A. about Baltimore's cityscape and urban design, and speakers from the Netherlands about circular design in the built environment.
The Klaus Philipsen lecture on 8 February is hosted by Rotterdam Academy of Architecture and Urban Design (RAvB) in conjunction with Cristina Murphy, Assistant Professor Tenure Track at Morgan State University School of Architecture + Planning (MSU SA+P). It is part of an ongoing collaboration between RAvB and MSU SA+P. Both Rotterdam and Baltimore are dealing with the permanent transition of the fossil harbour economy that was once the cornerstone of the local economy. Where the struggle in Baltimore is to redefine itself in a post-industrial world, Rotterdam still needs to become aware of the struggle to redefine itself in a post-fossil world. The Rotterdam Academy of Architecture therefore sees designing for the Rotterdam Climate Challenge as it core agenda. In this context, students from both schools will explore how to contribute to the just city.
During the spring 2021 semester, a collaborative cross-Atlantic design studio for graduate architecture students takes place, coordinated by Assistant Professor Cristina Murphy & co-instructed by Jason Charalambides from MSU SA+P in collaboration with these persons from RAvB: Rowin Petersma (Bureau Rowin Petersma) and Wouter Veldhuis (MUST), with support from Daryl Mulvihill (Studio dmau), and Débora Schiltmans (Walkie Talkie). Cristina Murphy has collaborated with RAvB since 2018.
The 8 February lecture marks the start of the 2021 exchange.
Special thanks to Jeremiah Ekoja, Graduate Assistant at MSU SA+P, for his help with coordinating the lecture series.