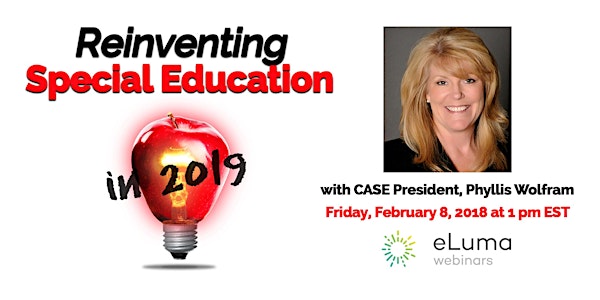 Reinventing Special Education in 2019
When and where
Location
eLuma Webinar Platform
Description
WEBINAR: Reinventing Special Education in 2019
eLuma Online Therapy invites you to a very special webinar, which will feature Phyllis Wolfram, the current President of the Council of Administrators of Special Education (CASE). In her presentation, she will discuss the current state of special education and what national organizations like CASE and the CEC are doing to reinvent it and make it better. This free webinar will be on Friday, February 8 at 1 pm Eastern Standard Time.
Event Description and Background:
With each passing year, the challenges within special education seem to become greater and greater. The overall number of students on an IEP continues to grow along with legal requirements and public expectations. Unfortunately, the budgets & policies have not kept pace with this growth, and personnel shortages have plagued programs all over the country. In the wake of these challenges, the Council of Administrators of Special Education (CASE) has emerged to provide leadership and support to special educators, while also working towards solving the biggest problems and moving it forward.
In this webinar, Ms. Wolfram will specifically cover some of the biggest challenges including:
building unity.

dealing with staffing shortages.

solving disproportionality.

keeping students safe (KASS).

developing standards.

addressing mental health issues.

improving overall advocacy.
If you work in special education and want to learn how to get involved in making it better, this is a webinar that you definitely won't want to miss. But space is limited, so register today!
PRESENTER: Phyllis Wolfram

Phyllis Wolfram is one of the most innovative and respected leaders in all of special education. With over 35 years of successful service as both administrator and educator, she is uniquely qualified to serve as the current President for the Council of Administrators of Special Education (CASE), where she works arduously to support administrators and move the causes of special education forward. She is also the current Executive Director for Missouri CASE (MO-CASE) and been a local special education director in three different districts ranging in size from a small rural district to the largest urban district in the state of Missouri. She has additional experience in the area of gifted education, Section 504, ELL and early childhood education. Prior to her tenure as President of CASE, she served as the Chair of the CASE Policy and Legislative committee for three years. She has also chaired the CASE Ad Hoc Committee on IDEA Reauthorization in 2010, and served as a member of the CASE Task Force, Design for the Future, 2005. In her home state of Missouri, Phyllis has served on the Governor's Commission on Autism Spectrum Disorders and has served on various state level committees including Early Childhood Special Education, Electronic IEP Development, Missouri's RTI initiative, Transition from School to Work and the Elementary English Language Arts Advisory Committee. Phyllis has also served on the Board of Directors for the Council for Exceptional Children and the CEC IDEA Reauthorization Workgroup. She is currently the Chairman of the Board for Burrell Behavioral Health.
MODERATOR: Jeremy Glauser, eLuma President


Jeremy is the Founder and President of eLuma. He earned a Bachelor of Arts for both Linguistics and Business Management from Brigham Young University, graduating with Magna Cum Laud honors along with a certification of native proficiency for the Spanish language. With his entrepeneurial spirit, passion for linguistics, and a desire to make a difference, he has been involved in mutiple ventures to provide relief to individuals struggling with speech and communication disorders. eLuma represents his most recent success where he has built the company into one of the nation's leading teletherapy providers for K12 schools and districts. To date, the company has provided over 350,000 hours of therapy (speech, occupational, physical, and counseling services) to over 8,000 individuals throughout the country. Not one to rest on accomplishment, Glauser remains committed to finding new ways to make essential therapies and technology better, more affordable and easy to access!