Actions and Detail Panel
ReinBeer Run 5K & Gelato Gallop
Sat, December 17, 2016, 8:45 AM – 12:00 PM EST
Description
Celebrate this holiday season in stride at the 2nd Annual ReinBEER Run 5K & Gelato Gallop on Saturday, December 17th in Tapestry Park!
RACE COURSE:
The 5K course will take two loops, starting and finishing in front of The Aloft Hotel at Tapestry Park.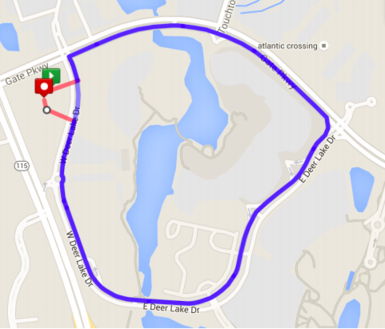 5K - $35 - November 1 - December 16
Gelato Gallop (Kids 12 & Under) - $15
RACE DAY: 5K - $40 and Gelato Gallop - $20
The 5K starts at 9 am and the first 300 5K finishers will receive a one-of-a-kind custom Reinbeer Run medal complete with a blinking red nose & glitter too! It wouldn't be the holidays without bling, right?! The custom race lanyard is detachable & reusable and the race medal itself is also a holiday ornament!
You will also receive a ticket to redeem your choice of 1 free beer (must be 21 years or older) or a free gelato!
All 5K participants are automatically registered for drawings for some amazing prizes - all courtesy of Tapestry Park area restaurants and retailers.
The Gelato Gallop Fun Run starts at 8:45 and is for little "Reindeers" ages 12 & under. Kids will run to the roundabout at Tapestry Park and back. Parents are welcomed to escort their little ones if needed. We will be providing official race leaders to escort the kids as well. Each participant will receive a FREE GELATO following the race and a voucher for a complimentary kids meal from Your Pie! Every Gelato Gallop participant is eligible to win the Grand Prize Drawing for a year's worth of Gelato!
Official "Reindeer Games" begin at the Aloft Hotel immediately after the run. Pick up your Finisher's Medal and enjoy live music, a sampling of tastes from Tapestry Park area restaurants (Flame Broiler, Another Broken Egg, Gandolfo's and more) and icy cold craft beer too! Prizes, surprises and even an ugly Christmas sweater contest is planned. We encourage you to dress in holiday inspired gear, red noses, and antlers!
AFTER PARTY ONLY
Don't want to run? Get an After Party entry ticket ($15) and we will see you at the Reindeer Games. Each After Party entry includes 2 pints of Bbeer, food and live music.
WHAT TO WEAR?
Your running shoes of course but red noses, antlers, jingle bells and teams of eight are all welcome!
The Aloft Hotel, Tapestry Park
Race Goodie Bag with discounts from local businesses
Medals, prizes, beer, gelato, and so much more!
Top three Overall male/female:
Custom gift baskets from Well-Oiled Fitness
Includes: raindrop technique session, gift card for services, deodorant, lip balm, beard oils, etc.
1st place - $200 value
2nd place - $125 value
3rd place - $75 value
Overall top masters male/female:
Custom gift baskets from Well-Oiled Fitness
Top three age groups male/female:
Signature pint glass and certificate OR
Your Pie gift card and certificate*
9 and under*, 10-14*, 15-19*, 20-24, 25-29, 30-34, 35-39, 40-44, 45-49, 50-54, 55-59, 60+
*Your Pie gift card prizes are designated for
age group finishers under 20 years of age.
Grand Prix Results and Awards:
This race marks the finale of the 2016 JRC race series. Results will be compiled and prizes handed out at the conclusion of the ReinBEER Run awards. This race will also mark the final race in the Sunny Runner Series Grand Prix. All series awards will be handed out at the conclusion of this event.
FOR RUN & FUN UPDATES, FOLLOW THE REINBEER RUN AT