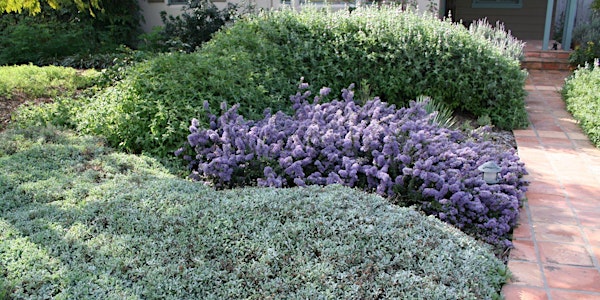 Reimagining the California Lawn - A Free Community Zoom Presentation
Join author Carol Bornstein, and the non-profit Poly/Ana for a presentation on transitioning from turfgrass to abundant habitat gardens
About this event
Reimagining the California Lawn with Carol Bornstein
THERE IS NO CHARGE FOR THIS EVENT. PLEASE DO NOT SIGN UP IF YOU DO NOT PLAN ON ATTENDING AS ATTENDANCE IS LIMITED. WE WILL BE ACCEPTING DONATIONS FOR OUR BUDDING NON-PROFIT.
THE ZOOM LINK WILL BE SENT TO YOU AT THE EMAIL USED TO REGISTER, 3 DAYS PRIOR TO THE EVENT AND AGAIN 2 HOURS PRIOR TO THE EVENT. PLEASE CHECK YOUR SPAM/JUNK FOLDERS.
Join Poly/Ana for our First Thursday evening webinars. Our mission is to educate and empower communities to honor and protect natural, living systems.
Thursday, December 1st, our guest Carol Bornstein and Poly/Ana invite virtual attendees to this look at how gardeners can reimagine the monotonous, resource-intensive lawns that continue to dominate landscapes throughout the greater Los Angeles area. We will touch upon ways to remove these water-guzzling lawns, how to sustainably manage a lawn if you must have one, and explore some design possibilities once the lawn is gone.
This event is free to attend. Donations are welcomed. thepolyana.org/donate All donations help fund the budding nonprofit Poly/Ana and its mission to educate and benefit the environment. Please only sign up if you plan on attending.
----------------------------------
BIO
Carol Bornstein is former Director of the Nature Gardens, a constructed habitat for urban wildlife at the Natural History Museum of Los Angeles County. For nearly 30 years, she was horticulturist at the Santa Barbara Botanic Garden, where she managed the living collections, retail nursery, and plant introduction program. She co-authored the award-winning books, California Native Plants for the Garden and Reimagining the California Lawn: Water-conserving Plants, Practices, and Designs.
In addition to tending her own garden, Carol continues to advocate for sustainable, regionally appropriate landscapes in harmony with nature and to share her knowledge of plants native to California and other Mediterranean climate regions through teaching, writing, consulting, and garden design work