Reimagining the American Dream: Housing + Economic Opportunity

Friday, February 9, 2018 from 7:30 AM to 3:30 PM (CST)
Event Details
 



Host organizations HousingWorks Austin and the Federal Reserve Bank of Dallas are bringing together diverse audiences - including the real estate and business industry, housing and community development practitioners, and financial institutions - to better understand challenges and opportunities around creating equitable economic opportunities for all.                                  
Economic opportunity and mobility are at the core of America's identity and values. These ideals are embodied in the American Dream, the unwavering belief that every American must have an equal opportunity to achieve success through hard work. Yet we know that the rates of intergenerational income mobility differ between cities and zip codes. How can we ensure that children from disadvantaged backgrounds have the same prospects for success as their affluent peers? How do we ensure that all children have equal access to economic opportunities regardless of the zip code they live in? What role can safe and affordable housing play in improving opportunities for all? The summit will attempt to answer these questions while focusing on Austin Texas and the Central Texas region. 


        Summit Agenda
Please note:  All speakers are confirmed unless otherwise noted.
Friday, February 9, 2018 at the AT&T Executive Education and Conference Center, Austin, TX  


7:30 – 8:15 AM             Registration 
7:30 – 8:15 AM             Breakfast 
8:15 – 8:30 AM             Welcome
Michael Gerber, Chair-Elect | HousingWorks Austin Board of Directors
Roy Lopez, Community Development Officer | Federal Reserve Bank of Dallas
Senator Kirk Watson | State of Texas (Invited)


8:30 – 8:50 AM           General Session Speaker: Rolf Pendall, Co-Director | Metropolitan Housing and Communities Policy Center, Urban Institute Washington, D.C


8:50 – 8:55 AM           Introduction of Keynote Session


9:00– 9:50 AM           Keynote Moderator:  Evan Smith, Editor-in-Chief and CEO | Texas Tribune, host of "Overheard with Evan Smith"
Keynote Panelists: 
Mayor Steve Adler

 | 

City of Austin
Mayor Ron Nirenberg, San Antonio, TX (invited)
Mayor Betsy Price, Fort Worth, TX (invited)
Mayor Mike Rawlings, Dallas, TX (invited)
Mayor Sylvester Turner, Houston, TX (invited)


9:50 – 10:10AM        Networking Break


10:.10 – 11:20 AM    General Session: Credit, Debt, and Intergenerational Wealth - Moderator: Mechelle Dickerson, Arthur L. Moller Chair in Bankruptcy Law and Practice, University Distinguished Teaching Professor University of Texas at  Austin School of Law 
Access to housing and credit is integral to building the American dream. Without access to credit and the ability to secure a mortgage, homeownership and building wealth through home equity remain a distant dream for many Americans. Racial disparities in credit scoring and credit reporting particularly lead to an economic racial divide that reflects past discrimination. This session will explore the basis of existing inequalities in accessing debt and explore opportunities for addressing this challenge. 
Panelists: 
Ann Baddour, State Director, Fair Financial Services Project

 | 

Texas Appleseed         
Garrett Groves, Economic Opportunity Program Director

 | 

Center for Public Policy Priorities, Austin
Joyce McDonald, Executive Director

 | 

Frameworks Community Development Corporation                               
11:20 - 11:45 AM    Networking Break


11:45 – 1:00 PM      Lunch
                                General Session: Reimagining Cities: Housing + Social & Economic Mobility
Moderator: Sherri R. Greenberg, Fellow of the Max Sherman Chair in State and Local Government, Clinical Professor | University of Texas at Austin, LBJ School of Public Affairs
Panelists: 
Paul Cruz, Superintendent, Austin Independent School District (invited)
Kim Nettleton, Director of Product Development, United Healthcare, Houston (invited)
Rob Spillar, P.E., Director, Austin Transportation Department 
1:00 - 1:15 PM        Transition Break


1:15 - 2:45 PM        Breakout Sessions


Track #1:  Digital Inclusion:  Access and Economic Opportunity - Moderator: Jordana Barton, Senior Community Development Advisor, San Antonio Branch | Federal Reserve Bank of Dallas
The boom in global broadband over the past two decades has changed the way we access financial services, job opportunities, education, healthcare and social networks. Yet this digital growth has not been even across communities. In Austin, access to the Internet lags behind for African-Americans, Hispanics, older residents, and those with lower incomes and education. This session will explore why closing this digital divide is essential for economic, social and political equity, as well as what tools and resources can be used to invest in broadband infrastructure and digital literacy in underserved communities.
Panelists:         
Catherine Crago, Strategic Initiatives and Resource Development | Housing Authority of the City of Austin
Parisa Fatehi-Weeks, Head of Community Impact Strategy | Google Fiber, Alphabet, Inc.
Dina Lehmann-Kim, Program Manager | U.S. Department of Housing and Urban Development, Washington, D.C


Track #2: Workforce Development and Economic Opportunity - Educational Initiatives - Moderator: Roy Lopez, Community Development Officer | Federal Reserve Bank of Dallas
Meaningful employment and access to education is key to addressing affordability issues in Austin. On average, college educated individuals have higher earnings and greater contributions to the local economy over their lifetimes. Affordable educational and workforce development programs focused on local needs can help connect employees to stable jobs and provide greater economic opportunities. This panel will focus on local efforts aimed at connecting potential employees with varying educational attainment to meaningful employment opportunities. 
Panelists:
Andres Alcantar, Chairman, Commissioner Representing the Public | Texas Workforce Commission
Nick DePorter, Senior U.S. Public Policy and Government Affairs Manager | LinkedIn and Councilmember |Town of Fountain Hills, AZ
Richard Rhodes, President and Chief Executive Officer | Austin Community College


Track #3:  Workforce Housing: Platform for Economic Growth - Moderator: Geronimo Rodriguez, Chief Advocacy Officer | Seton Healthcare Family and Trustee | Austin Independent School District
Federal guidelines contend that a household should pay no more than 30% of its income toward housing expenses.  Even though incomes have stayed relatively flat in the past decade, housing costs have increased dramatically over the same period.  With strong employment growth in low- and moderate-wage job sectors, it is crucial to develop effective strategies to adequately house the workers who make our community function.  In this session, we will define "workforce" housing and explore creative strategies to increase the supply of affordable housing to this sector.  Special topics will include Austin's "strike fund" for the preservation of workforce housing, as well as local efforts to develop employer-assisted housing.
Panelists:          
C. Kent Conine, Director

 | 

Federal Home Loan Bank, Dallas 
Erik Soliván, Executive Director

 | 

Mayor's Office of H.O.P.E, Denver CO 
David Steinwedell, President and Chief Executive Officer

 | 

Affordable Central Texas


3:00 PM     Closing Reception


For the latest information on the summit agenda, please visit  http://housingworksaustin.org/housingeconomicopportunity/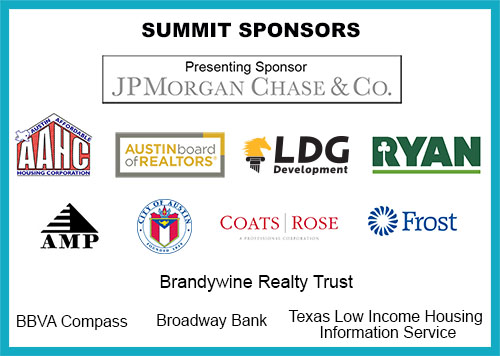 Save This Event
When & Where

AT&T Executive Education & Conference Center
1900 University Avenue
Austin, TX 78705


Friday, February 9, 2018 from 7:30 AM to 3:30 PM (CST)
Add to my calendar
Organizer
HousingWorks Austin | Federal Reserve Bank of Dallas
Reimagining the American Dream: Housing + Economic Opportunity