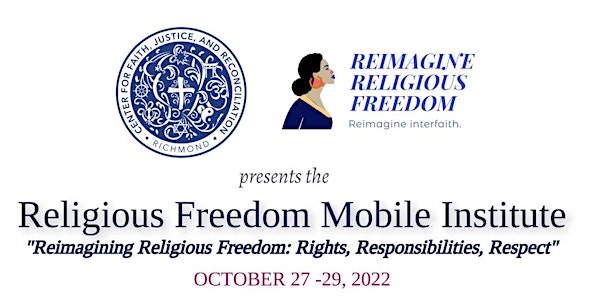 Reimagining Religious Freedom: Rights, Responsibilities, Respect
These public conversations will explore the politics of race and religious freedom by centering the experiences of marginalized communities.
Refund Policy
Contact the organizer to request a refund.
Eventbrite's fee is nonrefundable.
About this event
Reimagining Religious Freedom: Rights, Responsibilities, & Respect
These public conversations will explore the politics of race and religious freedom by centering the experiences of marginalized communities when it comes to public education, voting rights, and environmental justice, including housing reform and security.
In light of the Supreme Court's decision in Dobbs v. Jackson Women's Health Organization, the rise of both political violence and the emboldening of Christian nationalism and its various extremist elements, we will be looking closely at the role of religion and our understanding of religious freedom in the context of a crumbling democracy and our hope for the future. The rising threat of Christian nationalist driven political violence is central to our convening now, as is developing the resources for those who gather to quickly mobilize and take action. Attendees will have the opportunity to not only hear and learn from experts in the field, but to receive the training they need to respond in their contexts as appropriate.
During this program, participants will hear from scholars, policy advocates, and community leaders who are making invaluable contributions to these critical discussions. This program is designed to encourage participants to think through practical ways to take action on religious freedom issues in their community and context. Participants will engage in small group discussions, a community talkback session and explore opportunities to mobilize on these advocacy issues together.
This event is free and open to the public. Registration is required.
Event Schedule:
Thursday, October 27 | 7pm - 9pm ET
Opening Session and Keynote Address
"Christians Against Christianity?"
Description: This session will be center around Dr. Hendricks latest book, "Christians Against Christianity: How Right-Wing Evangelicals Are Destroying Our Nation and Our Faith" and will engage practitioners in a conversations on understanding the present threat of Christian Nationalism.
Keynote Speaker: Dr. Obery M. Hendricks Jr., Adjunct Professor, Departments of Religion and African American and African Diaspora Studies, Columbia University.
Opening Presenters: Dr. Sabrina Dent, public scholar, editor and contributing author, African Americans and Religious Freedom: New Perspectives for Congregations and Communities; Rev. Paul Raushenbush, President and CEO, Interfaith Alliance; Amanda Tyler, Executive Director, Baptist Joint Committee for Religious Liberty (BJC), Christians Against Christian Nationalism; Michael Vazquez, Public Theologian & Policy Strategist as moderator.
Friday, October 28th | 10am - 5pm ET
Session One (10am - 12noon ET)
"Rights"
Featured panelists include Elizabeth Reiner Platt, Director of the Law, Rights, and Religion Project at Columbia Law School; Rev. Alex Patchin McNeill, ordained Presbyterian minister and LGBTQIA+ activist; Mandisa Thomas, Founder and President of Black Nonbelievers Inc.; Andrea Miller, Executive Director, Center for Common Ground; and Dr. Sabrina E. Dent, president of the Center for Faith, Justice, and Reconciliation as the moderator.
Musical Performance (12:45pm - 12:55pm ET)
Session Two (1pm - 3pm ET)
"Responsibilities"
Featured panelists include Lauren "Lo" Reliford, Political Director at Sojourners; Nicole Li, former Youth Organizing Fellow for Americans United; Rabbi Danya Ruttenberg, Award-winning Author and Scholar-in-Residence at National Council of Jewish Women; Victoria Kirby York, Deputy Executive Director at the National Black Justice Coalition; and Rev. Jamar Boyd II, Justice Reform Organizer at the Virginia Center for Public Policy as moderator.
Session Three (3:45pm - 5:30pm ET)
"Respect"
Featured panelists include PJ Andrews, Race Discourse Office with the Baha'is of the U.S. Office of Public Affairs; Dr. Brad Braxton, President of Chicago Theological Seminary; Dr. Fallon Wilson, founder of Black Churches 4 Digital Equity Coalition and co-founder of #BlackTechFutures; Harmeet Kamboj, interfaith educator, public theologian, and performing artist; Becca Tyvoll, Operations and Administrative Associate at Shoulder To Shoulder Campaign; and, Dr. Corey D.B. Walker, Interim Dean at Wake Forest School of Divinity as moderator.
Saturday, October 29 | 10am - 12:30p ET
Advocacy Training and Talkback Sessions: "Ready to Take Action!"
Join us for an advocacy training facilitated by Andrea Miller with the Center for Common Ground. Followed by a presentation by Maxwell Nosbisch, Manager of Visitor Experiences at the First Amendment Museum in Maine.
Register today to attend!