Reimagining Religion 2018: New Stories, New Communities

Friday, January 26, 2018 from 9:30 AM to 7:00 PM (PST)
Event Details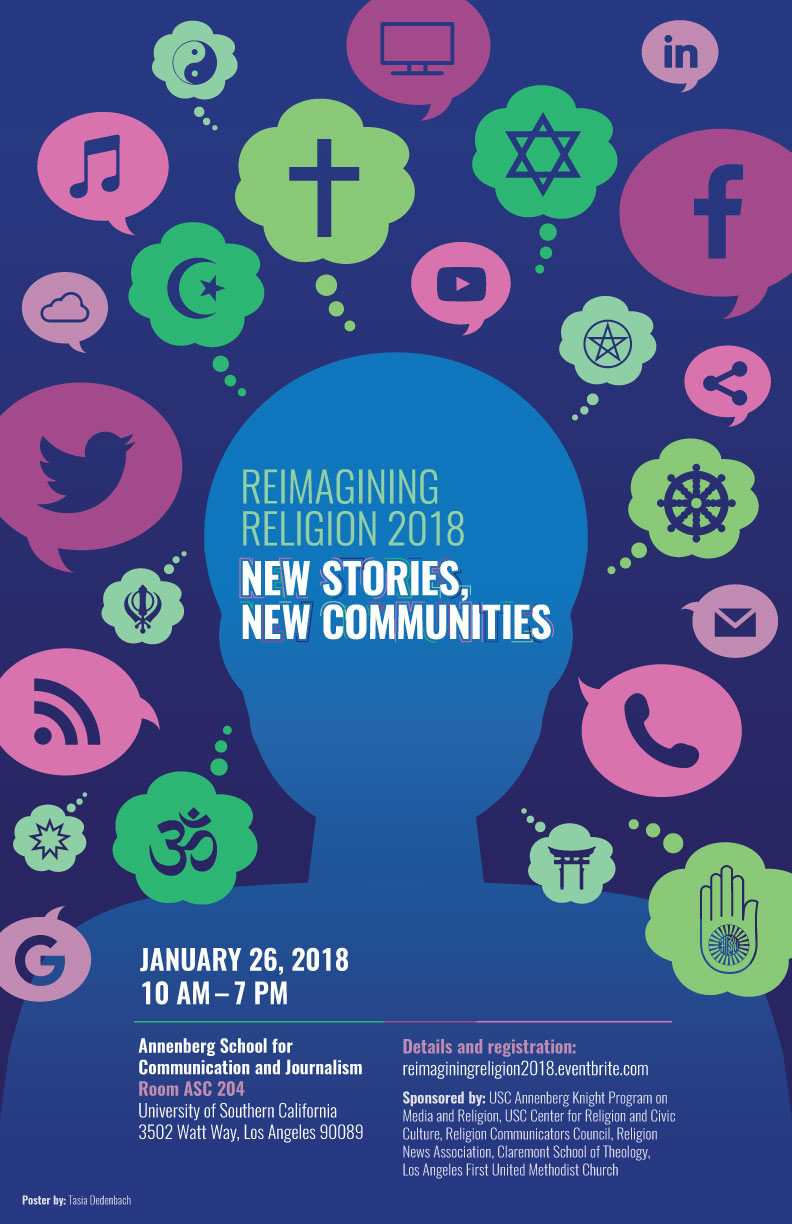 Reimagining Religion 2018: New Stories, New Communities
University of Southern California, Los Angeles, CA
Friday, January 26, 2018
A conference hosted by the Knight Program in Media and Religion at the Annenberg School of Communication and Journalism in cooperation with Religion News Association and Religion Communicators Council, as well as with co-sponsors: the USC Center for Religion and Civic Culture, Claremont School of Theology, and Los Angeles First United Methodist.

One of the biggest religion stories of today is the rising number of Americans who no longer identify with a particular religion. But disaffiliation is only one side of the story. The current period of flux also is characterized by people and congregations exploring spirituality and experimenting with new forms of religious expression. 
For communicators and journalists, today's religious creativity represents opportunities for more complex and compelling narratives of meaning, purpose, and identity that will engage audiences. At this one-day conference, we will explore "reimagined communities" and new forms of storytelling. 
We will hear from Hollywood creatives, religion reporters, communications and journalism academics, regional activists and pioneers in emerging communities and innovative storytelling.  We seek to highlight how, through storytelling, communicators are instigators for change.
Rev. Eddie Anderson

McCarty Memorial Christian Church




Casey Tom Baker

Seventh-day Adventist Church

General Manager, Faith for Today TV

Deepa Bharath

The Orange County Register & Southern California Newspaper Group

Religion Reporter

Rita Burgos

Rebuild | Recovery

President

David Craig

USC Annenberg School for Communication and Journalism

Clinical Assistant Professor

Laura E. Davis

USC Annenberg School for Communication and Journalism

of Professional Practice; Digital News Director of the Annenberg Media Center

Jason DeRose

NPR

Western Bureau Chief

Cathleen Falsani




Religion Journalist

Noah Farkas

Valley Beth Shalom

Rabbi

Richard Flory

USC Center for Religion and Civic Culture

Senior Director of Research and Evaluation

Thomas L Gallagher

CEO & Publishers, Religion News Service

President & CEO, Religion News Foundation

Rossella Gambetti

USC Annenberg School for Communication and Journalism




Susan Goldberg

Wilshire Boulevard Temple

Rabbi

Umar Hakim

ILM Foundation & INKERIJ

Director/ Founder

Barbara Hall

Independent

TV writer, TV producer, novelist, singer-songwriter

Aziza Hasan

NewGround: A Muslim-Jewish Partnership for Change

Executive Director

Bud Heckman

Religion Communicators Council

President

Rev. Zach Hoover

LA Voice

Executive Director

Jaweed Kaleem

Los Angeles Times

National Race and Justice Correspondent

Liz Kineke

CBS Religion and Culture

Executive Producer

Edina Lekovic

Pico Union Project

Board Member

Ian Lovett

Wall Street Journal

National Religion Reporter

Mandy Sloan McDow

Los Angeles First United Methodist Church

Senior Pastor

Nkem Ndefo

Lumos Transforms

President

Jody Hassett Sanchez

The Media Project

Documentary Filmmaker

Anthony Sparks

OWN

Writer/Producer

Nick Street

USC Center for Religion and Civic Culture

Senior Writer

Megan Sweas

University of Southern California

Editor and Director of Communications

Diane Winston

USC Annenberg School for Communication and Journalism

Associate Professor and Knight Center Chair in Media & Religion

Mira Zimet

University of Southern California

Chief Creative Content Officer | Founder: The Storyboard Project
When & Where

Annenberg School for Communication and Journalism
University of Southern California
3502 Watt Way
Los Angeles, CA 90089


Friday, January 26, 2018 from 9:30 AM to 7:00 PM (PST)
Add to my calendar
Organizer
USC Annenberg School for Communication and Journalism is a national leader in education and scholarship in the fields of communication, journalism, public diplomacy and public relations. With an enrollment of more than 2,200 students, USC Annenberg offers doctoral, master's and bachelor's degree programs, as well as continuing development programs for working professionals across a broad scope of academic inquiry. The school's comprehensive curriculum emphasizes the core skills of leadership, innovation, service, and entrepreneurship and draws upon the resources of a networked university located in the media capital of the world.
The Knight Chair in Media and Religion seeks to establish the Annenberg School for Communication as a pre-eminent location for the enhancement of religion coverage—not simply confined to the traditional realms of religion reporting but one which proactively illuminates the intersection of religion and all beats, whether politics, environment, education, or entertainment. The Chair will develop courses for journalism students, sponsor public events, and initiate venture projects with local constituencies. The program aims to serve the news industry by working with media corporations and professional journalism associations to create an environment conducive to the critical understanding of religion, spirituality, and moral values as fundamental elements of coverage.  In this capacity, the Chair will initiate continuing education programs that benefit journalists.
USC Center for Religion and Civic Culture (CRCC) explores how religions change and make change in Southern California and across the globe—and to help religious and civic leaders understand the shifts of the day.  

CRCC's work falls into four activities, with research grounding the other three areas:
  • Research: CRCC explores religious developments locally and globally from an interdisciplinary perspective;
  • Training: CRCC leads capacity-building programs for religious organizations, civic leaders and government agencies;
  • Evaluation: CRCC analyzes and assesses initiatives and programs focused on faith communities; and 
  • Strategic Consulting: CRCC illuminates trends in religion for foundations, government agencies and organizations to help them shape their strategy and maximize their impact.
Religion Communicators Council (RCC), founded in 1929, is an association of communications professionals who work for and with a diverse group of faith-based organizations in the areas of communications, public relations, advertising, and development.  The RCC provides opportunities for communicators to learn from each other. Together, RCC members promote excellence in the communication of faith and values in the public arena and encourage understanding among religious and faith groups.
Religion News Association (RNA) is the world's oldest and largest association for professional journalists writing about religion, faith, and values in the news media. RNA was founded in 1949 and it encourages coverage of religion that is accurate, balanced, civil, and fair. Over the last two decades, RNA has created the largest repository of tools and training guides about covering religion, found at ReligionLink.com and ReligionStylebook.com. RNA hosts 20 international contests on religion news and draws hundreds of journalists to its annual conference. It's collaborated in more than 100 trainings over the past decade.
Claremont School of Theology is United Methodist in origin and affiliation; and ecumenical and interreligious in spirit. Students are nurtured by Scripture, tradition, experience, and reason and are prepared for lives of ministry, leadership, and service. Graduates are prepared to become agents of transformation and healing in churches, local communities, schools, non-profit institutions, and the world at large.   
An official theological school of The United Methodist Church, CST enjoys close relationships with other Protestant denominations, especially the Disciples of Christ and United Church of Christ, the Episcopal Church, and the Evangelical Lutheran Church in America.  CST is pioneering an experiment in the future of religious education by desegregating it so students can better learn about others as they learn about themselves. Research shows that students gain a deeper understanding of their own faith when educated in the presence of religious diversity.
Los Angeles First United Methodist Church (also known as "City Beautiful • LA" in the expression of ministries and discipleship) is a Christian ministry and part of the global United Methodist denomination.  In 1854, the church was born in the converted El Dorado Saloon.  It was a leader in the abolitionist movement during the Civil War, and over the last 160 years, has helped to found the University of Southern California, Goodwill Industries, Methodist Hospital, the Chinese Mission, Children's Learning Center, Los Angeles Urban Foundation and several affordable housing properties in Los Angeles.