Multiple Dates
(Re)imagining & (Re)creating Our World
We are excited to explore this forum of change with you and (re)imagine and (re)create our world.
About this event
Throughout American history, young people have been a vital part of the social movements that have sought to bring our nation closer to realizing its democratic ideals of Life, Liberty and the pursuit of Happiness, not just for some but for all. Like you, we have been outraged and energized by this unprecedented moment of the colliding pandemics of public health and police violence that have elevated an awareness of the structural and systemic racism and anti-Blackness that pervades our society.
Even as we recognize the pain and weariness of the community, we acknowledge that there is also an opportunity to leverage the momentum for change and to mobilize people to reimagine and recreate the world around us so that racial justice is normative. While our youth have participated in the righteous protest marches that are taking place across our communities, we want to provide them with another space to continue to express, develop, and hone their activist voice through knowledge, conversation, and action. 
Towards this end, the Columbia University Collaborative of Youth & Family Programs, partnering with other New York City community-based youth serving organizations brings to you a virtual two-day community youth forum, (Re)imagining & (Re)creating Our World. The purpose of the forum is to engage youth in constructive dialogue about their experiences and feelings, and to help them move their ideas for change into action plans. 
Over the next two days, you will discourse with people vital to social justice activism and advocacy, as well as a variety of educators, all providing dynamic and robust workshops designed to engage your ideas for change and inspire action. In addition to workshops, space will be provided to network with peers and facilitators, and to start to develop action plans. Lastly, but not in the least minimized, is self-care. This forum will emphasize recuperation by providing a recuperation session focused on mindfulness activities.
This forum is for youth ages 13-19 years old.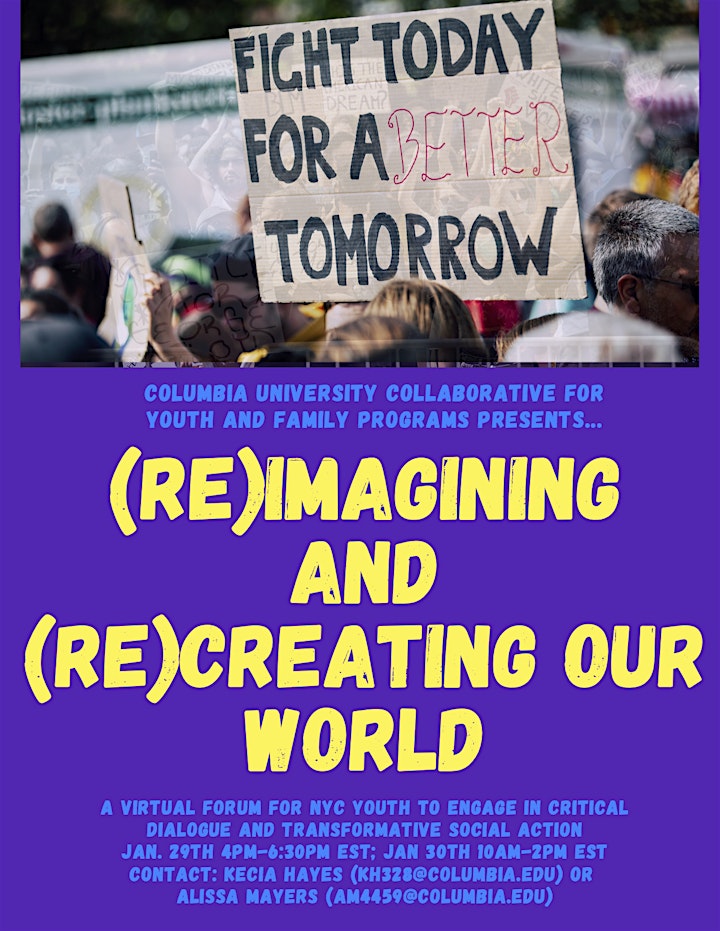 Organizer of (Re)imagining & (Re)creating Our World