Description
With the Cancer Moonshot project calling for a cure for cancer, the biotech industry is gearing up to develop the next generation of cancer killers. In recent years, a new wave of powerful tools has been developed by researchers and companies. Aided by the latest genomic and computational technology, innovators in oncology research are developing novel therapies to transcend the current treatment options.
Hemi Ventures Forum brings the experts in cancer-related research and development who will discuss utilizing bioinformatics to understand cancer treatments with next-generation sequencing technologies; using machine learning to help support medical decisions; implementing innovative technologies to improve drug discoveries. Hemi Ventures is a Silicon Valley-based venture capital firm that invests in seed and early-stage companies, Hemi Ventures is passionate about breakthrough bio technologies and has backed frontier biocompanies such as Cypre and Epinomics.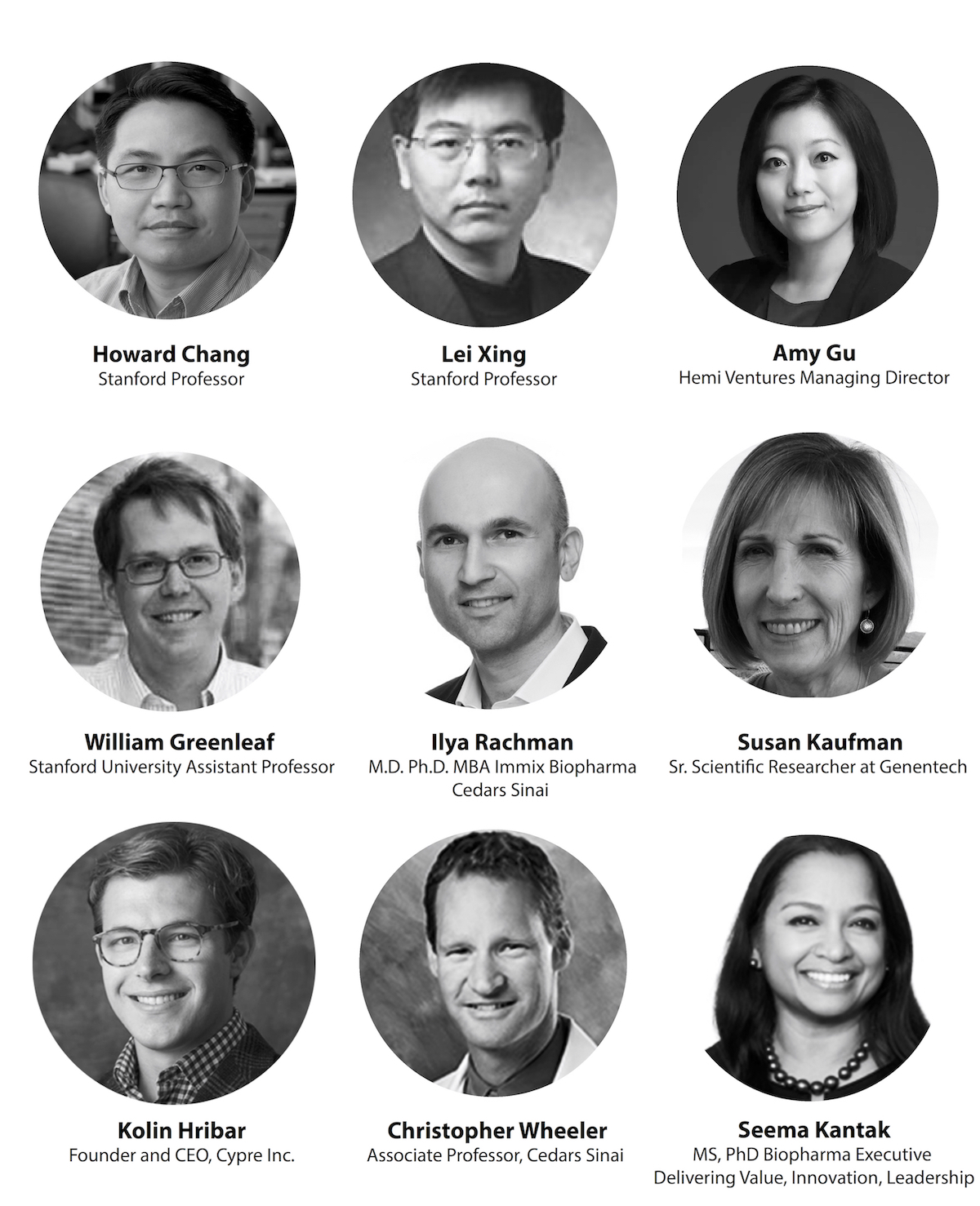 ---
Agenda:
Session 1: Key note, Dr. Howard Chang, Personal regulome navigation of cancer
Session 2: Key note, Dr. William Greenleaf, ATAC-ing single cell gene regulation
Session 3: Key note, Amy Gu
Session 4: Panel, Kolin C. Hribar, PhD, Dr. Chris Wheeler, Seema Kantak, PhD, Dr. Susan Kaufman,
Implementing Innovative Technologies to improve efficiency and Quality of cancer therapies

Session 5: Key note, Dr. Lei Xing
Session 6: Fireside Chat, Dr. Ilya Rachman, Taking a Drug From Concept to Clinic - What Every Biotech Investor and Entrepreneur Needs to Know
---
Speakers
Lei Xing, Professor, Stanford University
Dr. Lei Xing is currently the Jacob Haimson Professor of Medical Physics and Director of Medical Physics Division of Radiation Oncology Department at Stanford University. He also holds affiliate faculty positions in Departments of Electric Engineering (courtesy), Medical Informatics, Bio-X and Molecular Imaging Program at Stanford. He is also an affiliated faculty member in Stanford's Department of Electrical Engineering, Biomedical Informatics Program, Molecular Imaging Program at Stanford, and Bio-X program. His research has been focused on inverse treatment planning, tomographic image reconstruction, CT, optical and PET imaging instrumentations, image-guided interventions, nanomedicine, and applications of molecular imaging in radiation oncology. Dr. Xing is an author on more than 250 peer-reviewed publications, a co-inventor on many issued and pending patents, and a co-investigator or principal investigator on numerous NIH, DOD, NSF, ACS grants and projects from other funding agencies and corporates. He and his lab members have received numerous awards from ACS, AAPM, ASTRO, WMIC, and RSNA in the past decade. Dr. Xing is on the editorial boards of a number of journals in radiation physics and medical imaging.
Howard Chang, Professor, Stanford University
Dr. Howard Chang is a physician-scientist who has trained in genome science. His research has focused on mechanisms that coordinate the activities of a large number of genes in cell fate control. He made a series of discoveries that introduced the important and pervasive roles of long noncoding RNAs in biological regulation. His group has substantial experience in epigenetics and RNA biology, including the invention of new methods for epigenomic profiling, map RNA occupancy on chromatin, and define RNA structures genome-wide. The long-term goal of my laboratory is to decipher the regulatory information in the human genome for disease diagnosis and therapy.
William Greenleaf, Assistant Professor, Stanford University
Professor William Greenleaf is an Assistant Professor in the Genetics Department at Stanford University School of Medicine, with a courtesy appointment in the Applied Physics Department. Efforts in his lab are split between building new tools to leverage the power of high-throughput sequencing and cutting-edge microscopies, and bringing these new technologies to bear against basic biological questions of genomic and epigenomic variation.
Christopher Wheeler, Associate Professor, Cedars Sinai
Christopher J. Wheeler, PhD, investigates adaptive immunity and age-related immune dysfunction as it relates to disease, with particular focus on the central nervous system. Research areas include malignant brain tumor immunology and immunotherapy, the role of adaptive immune cells in neurodegenerative disorders such as Alzheimer's disease, and immune dysfunction in neurodevelopmental conditions such as autism spectrum disorders. A major focus is on the use of brain tumor patient vaccine trial data to inform bench research for the purpose of improving clinical immunotherapy outcomes.
Ilya Rachman, M.D., Ph.D, MBA Immix Biopharma, Cedars Sinai
Ilya Michael Rachman is a physician/scientist and clinical faculty at UCLA. He received both his MD and PhD from the University of Illinois, and his MBA from UCLA Anderson. Ilya founded a Clinical Research organization that conducted clinical trials of pharmaceutical drugs. He has completed several clinical trials as a Principal Investigator and is a co-inventor of Immix's cancer therapeutic platform technology.
Susan Kaufman, Sr. Scientific Researcher at Genentech
Accomplished bio-pharmaceutical research and early development professional with over 20 years of hands-on, supervisory, and project management experience in all phases of discovery and pre-clinical evaluation of small molecule therapeutics.
Seema Kantak, MS, PhD, Biopharma Executive Delivering Value, Innovation, Leadership
Visionary Biopharma R&D and Operations Executive, with a record of scientific and operational success discovering and developing new targets and applications, optimizing product-driven R&D operations, and delivering profitable revenue growth in biotechnology and pharmaceutical industries.
Kolin C. Hribar, Founder and CEO, Cypre Inc.
Kolin C. Hribar, PhD, is founder and CEO of Cypre Inc. Since its inception in 2016, Kolin has led a multi-disciplinary team in the development of their bioprinting platform and subsequent oncology collaborations with pharma and academia. The guiding mission at Cypre is to build a new set of 3D cell culture tools that enable scientists and clinical researchers in their pursuit of higher impact, complex phenotypic screening and patient-specific testing.