GW4W and A Hand Up To Success present the documentary, "New Normal" - highlighting real stories of mothers surviving the unimaginable.
About this Event
Mothers who have lost their children to violence have long gone unnoticed and remain invisible in our society. No one wants to imagine what it's like to lose a child to violence. Yet, devastated and grief-stricken mothers who have experienced the unimaginable are on the rise. Through shared support, it's possible to help other mothers heal and hold space in which to honor their child's memory.
Join GW4W along with Crystal Turner, founder of the non-profit organization, A Hand Up To Success and their Mothers in Healing initiative for an inspiring and engaging online event as a voice for positive change.
Join us for the livestream premiere of the documentary, New Normal - highlighting real stories of mothers who have lost children to gun violence. This new normal is what mothers and leaders must face as they learn how to live again after such tragedies.
The film viewing will be followed by a panel discussion comprised of leaders addressing this issue in meaningful and impactful ways.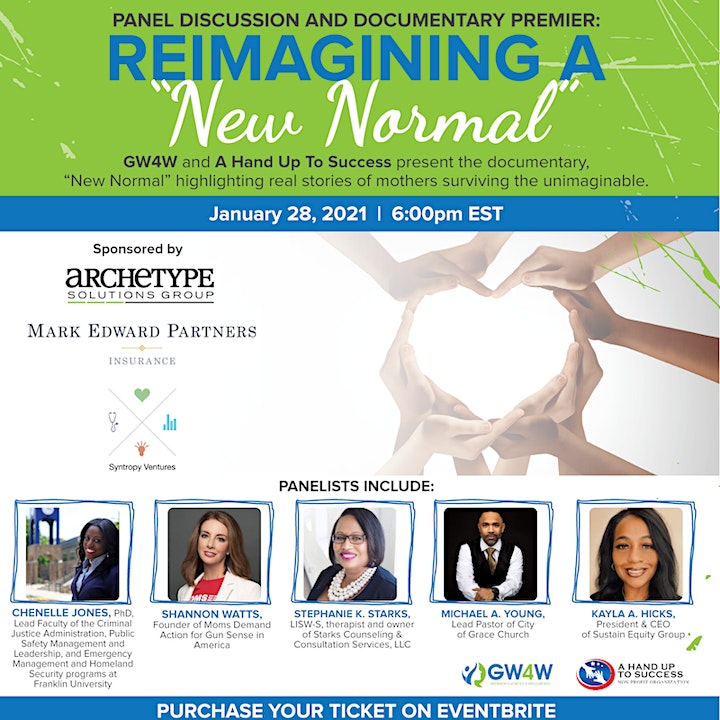 Our Panelists:
Chenelle Jones PhD, Lead Faculty of the Criminal Justice Administration, Public Safety Management and Leadership, and Emergency Management and Homeland Security programs at Franklin University
Shannon Watts, Founder of Moms Demand Action for Gun Sense in America
Stephanie K. Starks, LISW-S, Therapist and owner of Starks Counseling & Consultation Services, LLC
Pastor Michael A. Young, Lead Pastor of City of Grace Church
Kayla A. Hicks, President & CEO of Sustain Equity Group
Thank you to Our Sponsors:
Archetype Solutions
Mark Edwards Partners
Syntropy Ventures, Inc.
About our Hosts:
A Hand Up To Success is a nonprofit organization designed to equip families and communities with confidence, skills, and resources to create a chain reaction of success in personal, professional, mental, spiritual and academic pursuits.
The Mother's In Support initiative provides love and support to address the unfortunate experience of losing a child. The mission is to...REACH past individual pain to support other moms having lost a child. We DRAW from personal experience in losing a child, LEARN together to heal and LIVE a "New Normal Life" without your precious son or daughter. www.ahanduptosuccess.org
Global Women 4 Wellbeing (GW4W) empowers healthy female leadership at all levels for a more sustainable world.
We address gender equity through both a health and mental health lens and through the intersectionality of race, age, and diversity of all kinds. We respect what makes each woman unique and we lift one another up. We create a more intentionally inclusive world with our use of data, research and lived experiences. www.gw4w.org
Date and Time
Location
Refund Policy