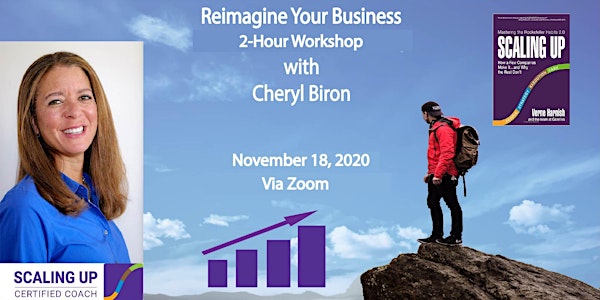 Reimagine Your Business, 2-Hour Workshop, Tampa Bay Area (Virtual)
Refund policy
Contact the organizer to request a refund.
Eventbrite's fee is nonrefundable.
Take a different look at your company in this newly transformed business world and get started on planning for a strong start in 2021!
About this event
How is this financial year looking in terms of revenue and profitability? Do you know what must you do differently to deliver stronger performance in 2021?
Join us LIVE for a VIRTUAL 2-HOUR business growth workshop where you'll learn some new ways of better positioning your company for a strong start in 2021
The world-renowned Scaling Up Organization has conceived a new way to Reimagine Your Business, empowering you to start planning for a better 2021 built upon results-driven methodology. Scaling Up Coaches have empowered more than 40,000 executives and their leadership teams with proven tools and strategies to scale up smarter. We are now offering this new perspective for the new business environment.
Leveraging Trends to find your position in the new marketplace: First, we'll introduce you to the Four Decisions (People, Strategy, Execution and Cash) are so important to grow your company and strengthen collaboration, accountability and effectiveness within your organization. Then we'll take a deeper dive into how to identify environmental trends and leverage your company's strengths to reimagine how your business can thrive in 2021.
Register today and leave with an actionable plan to build a stronger foundation for 2021!
About Your Coach
Cheryl Biron helps CEOs/Presidents align your leadership team to behind a differentiated strategy and create a culture of action and accountability. You'll achieve your goals, enjoy the ride and gain more freedom along the way.
How? Together we create: Your differentiated strategy and tie it to execution using: Leadership team alignment by co-creating your Plan so your whole team owns it; A culture of action and accountability giving line-of-sight so everyone knows how they contribute to your success and implementing metrics and meeting rhythms
These elements enable your leadership team to: Achieve growth and profitability objectives; Enjoy the ride together and stronger with the right people on the bus; Gain the freedom to have time to pursue what's important professionally and personally.
Why am I a business growth coach? It's my passion. It's what lights me up and makes me excited to get out of bed in the morning. It's the culmination of my career from Wharton MBA to corporate executive to entrepreneur. I earned Scaling Up and 3HAG Certifications, because they are proven systems to help you achieve your business goals. I've used these concepts and tools to grow my own business.
In 2005, I became an entrepreneur to gain more freedom and control over my life. After working "on" One Horn Transportation to grow and scale, I'm not needed "in" the business on a daily basis. Coaching enables me to have a positive impact while establishing meaningful relationships with like-minded leaders who love to learn and embrace change!
What does freedom mean to you? If you want a future where you achieve your growth goals, enjoy the ride, and gain more freedom, but don't know how to get there, please contact me: cheryl@lexagen.net.
Learn more about Cheryl and LexaGen Business Growth Coaching!