Reimagine Phoenix with Recyclebank Launch at the AZ Science Center

Tuesday, January 31, 2017 from 5:00 PM to 7:30 PM (MST)
Event Details
PHOENIX RESIDENTS!
Please join us at the AZ Science Center for an evening of learning and fun to kick off the Reimagine Phoenix/Recyclebank launch. This innovative program will help Phoenix meet its 40% by 2020 waste diversion goal!
Attendance is FREE but you must RSVP (as space is limited). 
Activities include:
States of Matter: Liquid Nitrogen: Come explore this out-of-this-world material and learn how it relates to our different states of matter. Don't miss out on our coolest demonstration yet! (Liquid Nitrogen Demo)
Great Balls of Fire: Come explore the science of fire in this demonstration that is sure to warm you up! (Combustion Demo)
Sea Star Dissection: Join us for a Sea Star Dissection and discussion of the Seafood Watch program to learn how climate change affects ocean life from around the world.
Plarn: Come learn how to make yarn out of one of the world's most thrown-out objects in this hands-on activity.
Water Roll: Become a sustainability scientist and learn about how we can save water so there is enough for all.
Urban Heat Island: Explore ways we can change our landscapes to make them more adapted to hot environments and conserve water.
Ocean Acidification: Come learn how our oceans are changing and ways we can help in this hands-on activity.
Learn more about Recyclebank and how you can start earning reward points for recycling and learning about sustainability by clicking HERE!
¡RESIDENTES DE PHOENIX!
Por favor, acude al AZ Science Center para disfrutar de una noche de aprendizaje y diversión durante la presentación de la campaña Reimagine Phoenix/Recyclebank. ¡Un programa innovador que ayudará a Phoenix a cumplir la meta de desviar el 40% de su basura para el año 2020!
La asistencia es GRATIS pero debes reservar tu lugar (cupo limitado).
Las actividades incluyen:
Los estados de la materia, nitrógeno líquido: ven y explora un material fuera de este mundo y aprende de qué manera se relaciona con nuestros diferentes estados de la materia. No te pierdas nuestra demostración más "padre" (la demostración de nitrógeno líquido).
Grandes bolas de fuego: ven y explora la ciencia del fuego en esta demostración con la que estamos seguros, entrarás en calor! (Demostración sobre la combustión).
Disección de estrella de mar: acompáñanos para la disección de una estrella de mar y una plática sobre el programa Seafood Watch que te permitirá aprender de qué manera el cambio climático afecta la vida de los océanos de todo el mundo.
Recicla con creatividad (Plarn): ven a aprender cómo hilar con uno de los objetos que más se tiran en el mundo, en esta actividad práctica.
Conserva agua (Water Roll): conviértete en un científico de sostenibilidad y aprende la manera en la que podemos conservar agua para que haya suficiente para todos.
Isla de calor urbana: explora las maneras en las que podemos cambiar el diseño de nuestros jardines para adaptarlos mejor a un medio ambiente caliente y conservar agua.
Acidificación del océano: ven a conocer la manera en la que nuestros océanos están cambiando y lo que nosotros podemos hacer para ayudar, en esta actividad práctica.
Aprende más sobre de Recyclebank y la manera en la que puedes comenzar a ganar puntos y recompensas por reciclar y aprender sobre sostenibilidad. ¡Has clic AQUÍ!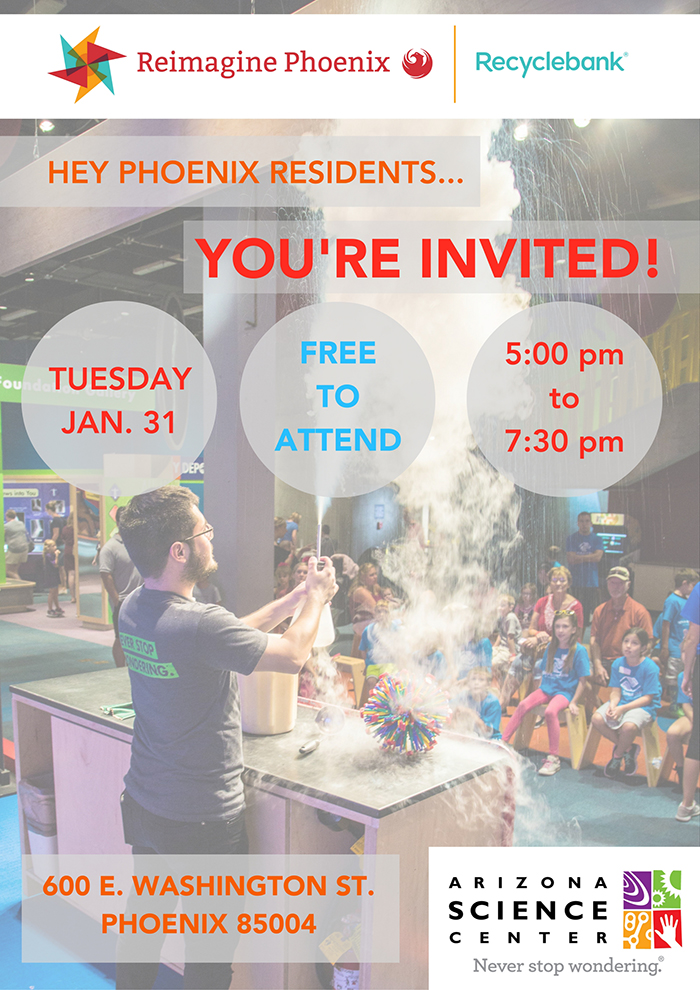 When & Where

Arizona Science Center
600 East Washington Street
Phoenix, AZ 85004


Tuesday, January 31, 2017 from 5:00 PM to 7:30 PM (MST)
Add to my calendar
Organizer
Recyclebank inspires and rewards smarter, everyday choices for a more sustainable future.
We know that it takes a group effort to make a positive impact, which is why we bring
together communities, businesses and people like you. www.recyclebank.com