Description
Conference Decsription
The reimagine conference is an opportunity for groundbreakers and community leaders to explore the truth about Adverse Childhood Experiences (ACEs), to forge new partnerships, to create actionable recommendations, and to build a resilient community.
Our experiences, both positive and negative, have a tremendous impact on lifelong health, opportunities, and social connectedness. ACEs undeniably link to risky health behaviors, chronic conditions, behavioral and mental health challenges, and early death.* As such, early experiences are an important public health and community development issue.
Adverse community environments compound the impacts of ACEs. However, ACEs are not destiny. Recent studies have found that community networks have been highly effective in reducing ACEs and their long-term impacts, illustrating the need for collaboration across every community sector. A thriving community with a common language and understanding has the power to reduce the impact of trauma and cultivate resilience. It is essential that all of us who care about the physical, social, and economic health of Lake County cooperate in the creation of caring, inclusive communities.
The reimagine conference promises to challenge our concept of community and shatter pre-conceived notions of who belongs. When we reimagine a community that cares, includes, and makes connections for all its members we will transform the places where we live and work.
Conference Emcee
Jesse Van Tol, Chief Executive Officer, National Community Reinvestment Coalition (NCRC)
Jesse Van Tol is NCRC's Chief Executive Officer. He has been with NCRC since 2006 and has held a variety of leadership positions, most recently as Chief Operating Officer, as well as senior positions in the organizing and membership, communications, policy and research departments. His work championing fair and responsible banking has resulted in nearly $90 billion in new investments in low- and moderate-income communities through Community Benefits Agreements with eight banking institutions. He is a popular speaker and lecturer, and has appeared on NPR, in the New York Times, Wall Street Journal, Washington Post and other outlets.
Jesse serves on the board of the Maryland Consumer Rights Coalition, and the executive committee of Americans for Financial Reform. He was a Senior Fellow with Humanity in Action, an international human rights group, and a communications institute Fellow with Opportunity Agenda. He also sits on a variety of advisory boards, including the Federal Reserve Board's Consumer Advisory Council, and Fannie Mae and Freddie Mac's Affordable Housing Advisory Councils. He is a member of the consumer advisory councils of Bank of America, Fifth Third, Huntington National Bank, IBERIABANK, JP Morgan Chase, KeyBank, Quicken Loans and Santander.
Jesse received his B.A. in History and International Studies from the University of Wisconsin-Madison, and is part of the current NeighborWorks Achieving Excellence cohort at Harvard's Kennedy school.
Keynote Speaker
Jennifer Walthall, MD, MPH, Secretary, Indiana Family and Social Services Administration
Jennifer Walthall, M.D., M.P.H. was appointed as Secretary of the Family and Social Services Administration by Governor Eric J. Holcomb effective January 9, 2017. Prior to this appointment, she served as the Deputy State Health Commissioner and Director for Health Outcomes at the Indiana State Department of Health. Dr. Walthall is currently a Professor of Emergency Medicine and Pediatrics at Indiana University School of Medicine. She served as the Division Chief for Pediatric Emergency Medicine and was the Program Director for the Emergency Medicine and Pediatrics Residency from 2007-2015.
Dr. Walthall works clinically in the Riley Hospital for Children Emergency Department. She earned her undergraduate degree from the University of Houston Honors College and her Master in Public Health at the Richard Fairbanks School of Public Health at Indiana University. She earned her Medical Doctorate at Indiana University School of Medicine and is board certified in Emergency Medicine and Pediatrics.
Dr. Walthall is dedicated to building effective and efficient delivery of health care and social services to Hoosiers. She takes a public health and wellness approach to policy decisions and is committed to strategic alignment across government and the private sector to improve health outcomes.
Northwest Indiana Reinvestment Alliance Celebrates 30 Years of Fair Housing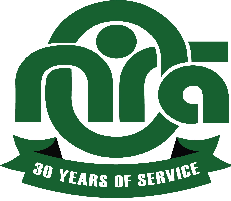 As we begin to explore ways that communities can address ACEs, it is important for us to address issues of discrimination, including Fair Housing. The Fair Housing Conference aims to ensure equal housing opportunities by eliminating housing discrimination through advocacy, enforcement, education, and outreach. Fair Housing education and CEUs will be offered at the conference.
The day will wrap up with a celebration of the Northwest Indiana Reinvestment Alliance 30th Anniversary. Please plan to join us for a celebratory reception!
Agenda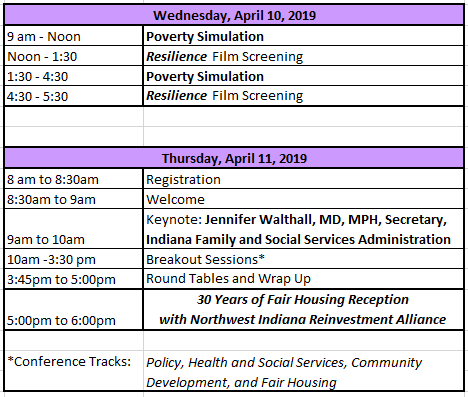 CEUs
- Category 1 CEUs available for LSWs, LCSWs, LMFTs, LMFTAs, LMHCs, LMHCAs, LACs, and LCACs