This is a limited seating opportunity where you can learn how to channel Reiki, Universal life force energy, for healing and empowerment.
About this Event
This workshop is an introductory course to self healing using the Usui Reiki healing system. By the end of the course you will be a certified Level 1 Reiki Practitioner. Below are some frequently asked questions. 
What is Reiki and how does it work?
In simple terms, Reiki is a Japanese stress reduction and relaxation technique that promotes the body's natural healing process. Reiki channels Universal life force energy to restore and revitalize the body through replenishing the Chi/Ki (life force energy) of the recipient. More specifically, Reiki is defined as Universal life force energy. The Reiki healing energy is channeled through a certified practitioner and given to a client (or themselves) using a series of hand placements or hovering techniques. From a medical or scientific standpoint, Reiki is an alternative homeopathic medicine, under the umbrella of Biofield Therapies, which means it heals physical, emotional, mental, and spiritual issues through healing the auric field and subtle energy bodies.
What is a Reiki attunment?
It is an awakening ceremony of your inner healer and establish a clear connection between you and Source. During the attunement ceremony your hand chakras are activated, your heart chakra is activated, and your upper chakra channels are more open and sensitive. The attunement is such a soft but powerful rite of passage. Everyone already has Reiki radiating within and around them but when we are attuned the power of Reiki we are opening direct channel of communication with Source and calling in a stronger flow of this energy to ourselves for the purpose of deep healing revitalizing our life force energy. Through receiving Reiki attunements we begin to relinquish control over the life we thought we had and allow for the Universe to show us the beautiful life we can create for ourselves when we genuinely heal and grow from our experiences. By practicing Reiki we learn to mindfully surrender and allow ourselves to be guided by the Universe, which is always conspiring to help us. We develop trust, faith, and intuition.
Unlock your inner healing potential and deepen your connection to your Self and the Universe through Reiki.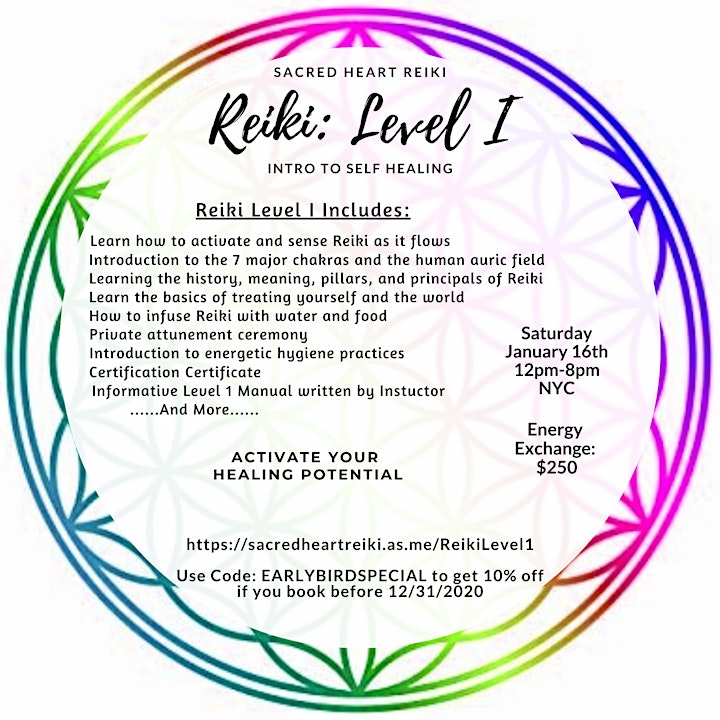 Everyone can benefit from getting certified in Reiki because everyone is in need of both healing and relaxation. With the world experiencing a global pandemic and civil unrest, having Reiki as a guide, source of protection, and form of healing has been incredibly useful. Reiki can keep you grounded, optimistic, and in a routine of self-care. Reiki aligns your life and radically propels you forward towards your personal greatness.
I provide a special approach to Reiki healing and combine this with other healing tools and modalities creating a one of a kind course and healing rite of passage. I want my students to feel prepared and empowered when they use Reiki on themselves or spread it out to the world so I provide as much information I possibly can for the level they're at.
My students get to learn how to activate and sense Reiki as it flows; learn the history, meaning, pillars, and principals of Reiki; how to give a treatment to yourself and others, How to infuse water, food, plants, and any object with Reiki; learn energetic anatomy (chakras and auras) and energetic hygiene practices. In addition, all students have a private attunement ceremony, receive an informative level 1 manual written by me, a certificate of certification, and several opportunities to practice and ask questions.
This class is an all day (8 hour) class with some small breaks in between. It will be held on Saturday January 16th from 12pm Noon to 8pm (class may run a little longer depending on how many students sign up). The energetic price exchange of the class is $250 but if students sign up months in advance they can use the coupon code: EARLYBIRDSPECIAL to receive a 10% off of the total class price. Coupon expires 12/31/2020
Everyone deserves to feel free and happy, but it is difficult to be your most authentic self when we insist on holding onto our past traumas and pain. When we begin to heal ourselves we inspire the world around us to do the same. Let me help you activate your healing potential and support through your journey.
Book through here or my page directly:
https://sacredheartreiki.as.me/ReikiLevel1
Also feel free to book any of my other services to see if we are good energetic fit together.
Looking forward to healing with you!