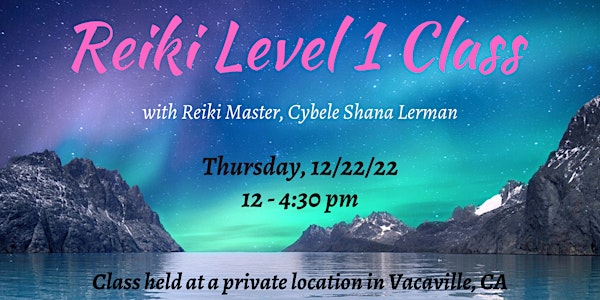 Reiki Level 1 Class
Learn the basics of energy healing, how to practice on yourself, friends & family, receive 4 attunements (spiritual blessings) & much more!
About this event
Join us for this Reiki Level 1 Class taught by Cybele Shana Lerman, Energy Medicine Practitioner and Reiki Master/Teacher. In this class you will learn about the History of this Japanese healing modality, about energy, meditations, how to practice on yourself, how to practice on others, practicing Reiki on plants, animals, children, elders and much more.
In class you will receive:
- 4 attunements (a spiritual blessing ritual that helps clear your energy channels to receive this high frequency energy and share it with others)
- a printed manual to take home
-a certificate of completion
- a 15 minute coaching call with Cybele the week after class to go over any questions you may have as you start your practice on yourself and friends and family.
Please bring snacks to eat on a short break, a large water bottle and wear comfortable clothing.
Class will be held at a private location in Vacaville, CA. Address will be shared upon registration.
Any questions? Email Cybele at awakentohealing444@gmail.com
Tuition is $222 and is non-refundable. To avoid Eventbrite fees please contact Cybele for links to payments made through Venmo, CashApp or Zelle.
Find more at www.awakentohealing.com
FB: facebook.com/awakehealing
IG: instagram.com/awakehealing