Description
Reiki l and ll are Weekend Certification Courses held at The Sophia Center for Wellness in Campbell, Ca.

Multiple Dates are available for your convenience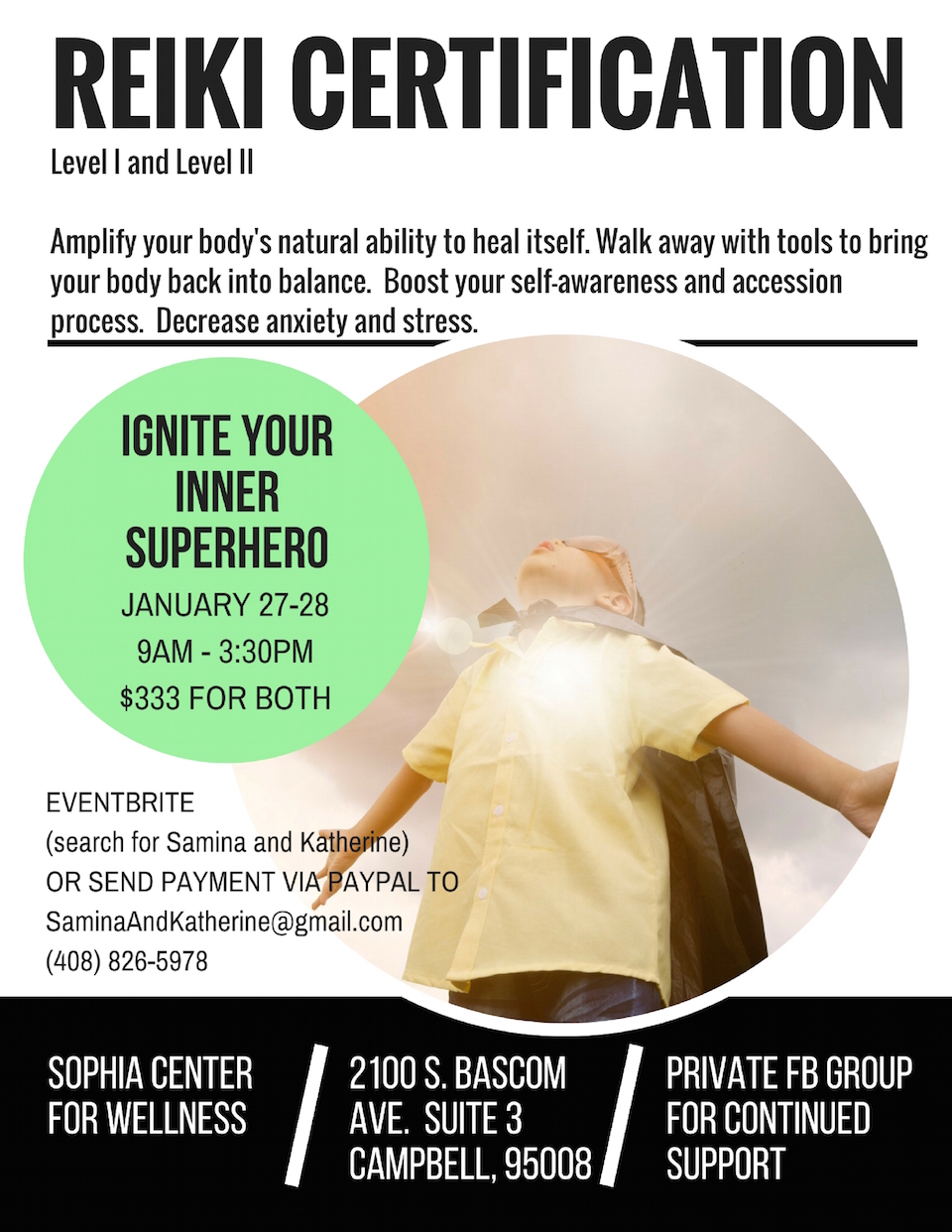 Reiki is taught traditionally in 3 levels - Reiki l is an Introduction to Reiki Energy Healing. In Reiki l you will learn the history of Reiki, it's origin and basic hand positions accessible soon after your Attunement (now called Ignition), and how it can help you in your day to day life.
We are all equipped with universal healing energies to help us heal our bodies, to help with our life situations and to help others. I am here to introduce you to this wonderful Healing Tool.
What is Reiki?
Reiki energy is a subtle energy. It is different than electricity or chemical energy or other kinds of physical energy. Reiki energy comes from the Higher Power, which exists on a higher dimension than the physical world we are familiar with. When viewed clairvoyantly, Reiki energy appears to come down from above and to enter the top of the practitioners head after which if flows through the body and out the hands. It appears to flow this way because of our perspective. However, the true source of Reiki energy is within ourselves. This does not mean that we use our personal energy when we do Reiki, but that the energy is coming from a transcendental part of ourselves that is connected to an infinite supply of healing energy. http://www.reiki.org/faq/questions&answers.html
Is Reiki Religion?
Although Reiki energy is spiritual in nature, Reiki is not a religion.Practitioners are not asked to change any religious or spiritual beliefs they may have. They are free to continue believing anything they choose and are encouraged to make their own decisions concerning the nature of their religious practices. http://www.reiki.org/faq/questions&answers.html
What I offer as your Teacher
Hands on healing from your peers.

Individual and personalized attention.

Advanced techniques in Level II.

A valid REIKI l Practitioner Certificate with traditional Reiki Usui Stamp and Seal.

Continuous support from me as your teacher and access to a Private Facebook Group.
REIKI LEVEL l and ll Cost: $333.00
What to expect at this Workshop:
Fun time meeting like-minded individuals.

Lots of practice.


Easy-going environment to have fun and laugh as we learn.
REIKI LEVEL l is a pre-requisite to REIKI LEVEL ll. Seating is limited, reserve your spot today for this weekend workshop event.
Refunds:
We will not be offering refunds for any events offered by the organizers of Samina and Katherine's Healing Essence. For more information Call: 408 874 6307