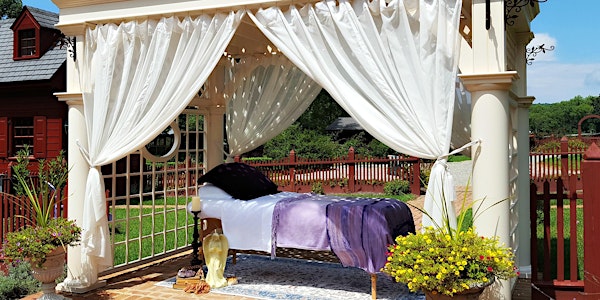 Reiki at Orchard View Lavender Farm
Reiki at the Orchard View Lavender Farm
When and where
Location
101 Karrville Road 5/25/2019 Port Murray, NJ 07865
Refund Policy
Refunds up to 7 days before event
Eventbrite's fee is nonrefundable.
About this event
Relax with the Healing Arts of Reiki and the beautiful calm serene Orchard View Lavender Farm.
I am so excited to bring you this unique opportunity.
Lavender and Reiki creates the perfect combination for harmony and balance.
Schedule your therapeutic session to facilitate an experience of peace and deep relaxation.
45 minute Reiki sessions
This event is taking place outside please dress appropriately for the weather in comfortable clothes.
Please be on time. Space is limited if you have any questions I am available before the event.
Reiki translates from Japanese to 'Universal Life Energy'. It is a harmonizing, high vibration, purifying energy that has its own natural intelligence. This energy works on the physical, emotional, mental, and spiritual levels, helping to bring us back to our natural state of peace and well-being. Transmitted through gentle touch, Reiki has the ability to comb out the kinks of the energetic body: balancing, soothing, and calming.
The experience of Reiki is subjective, changeable, and sometimes very subtle. People often experience heat in the practitioner's hands, but sometimes the practitioner's hands feel refreshingly cool. .
People often comment how comforting they find the experience of Reiki to be. Recipients frequently feel that they are hovering in a threshold state of consciousness, simultaneously aware of their surroundings and deeply indrawn. Some people fall into a deep, sleep like meditative state. Sometimes the experience of Reiki is dramatic, while for other people, the first session in particular may be uneventful, although they feel something. The most common experience is an almost immediate release of stress and a feeling of deep relaxation.
Our bodies are made up of seven energy centers called Chakras which our energy flows. If one of the seven Chakras becomes blocked by negative energy, an emotional imbalance exists.Lavender helps releases energy blockades.
Lavender is used in aromatherapy as a way to relieve body tension and stress.
Reiki and Lavender a perfect combination for Harmony and Balance.Space is Limited: To schedule your appointment please prepay. This guarantees you a space.
Please arrive 5 minutes early as all appointments will run in a timely fashion. Arriving late will only reduce your session time.
Cancellation policy: Attendees can receive refunds up to 7 days before the event start date.
If you have any questions about the event, such as making reservations, payments, or directions to the farm please email belleamerocks@yahoo.com with the subject line: Reiki at Orchard View Lavender Farm.
Please do not call, message, or email the farm. Thank you.
💜Some of the Lavender varieties will be in bloom.  However, keep in mind that Mother Nature determines the bloom times as well as the duration of the blooms.
Disclaimer: Unless otherwise trained or licensed, Reiki practitioners do not diagnose medical or psychological conditions, nor do they perform medical treatment or prescribe controlled substances. Reiki is frequently used to supplement or complement medical or psychological treatment—but it is not designed to substitute for such treatment. If you are experiencing physical/psychological symptoms, please see a licensed physician or mental health care professional.
Upon booking an appointment, you acknowledge to have read the disclaimer and agree to take full responsibility in accepting these services. You agree to hold Belle Ame Rocks LLC free from any liability when receiving reiki, coaching, intuitive consulting, workshops, classes and any services listed.