Description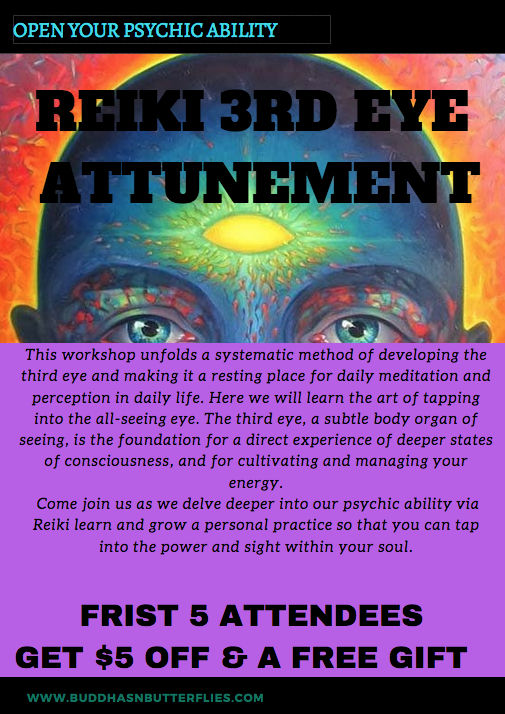 Development of psychic talents has been closely associated with the pineal gland of higher vision. Considered the most powerful and highest source of ethereal energy available to us, the pineal gland has always been important in initiating supernatural powers.
When awakened, the third eye acts as a 'stargate' that sees beyond Space-Time into Time-Space.
To activate the 'third eye' is to raise one's frequency and moving into higher consciousness, all is a consciousness experience perceived through the Eye of Time or Third Eye. The true activation of the 3rd eye is by our thoughts a personal choice accompanied with a wide range of exercises that can help increase your abilities.

However, by attuning the 3rd eye we feel that it can quicken the process to achieving your personal psychic ability.
Meditation, Visualization, Yoga, Reiki, chanting, sound meditation and all forms of Out of Body travel, open the Third Eye and allow you to 'see' beyond the physical.
Third Eye Activation is a result of message receiving, gathering, interpreting and applying. Activating your third eye will enable YOU to better receive and understand these messages and signs.

Some of the benefits of Third Eye activation are:
* Increased intuition
* Better direction in life (GPS so to speak…)
* Knowing your life/soul purpose
* Psychic awareness
* Better health & well-being
* Clearer and more vivid dreams, astral projection, lucid dreaming
* Knowledge of self (spiritual being in a physical reality)
* Connecting with non-physical beings (creator, god(s)/goddess(es), spirit guides, ancestors, angels etc.)
* Increased overall knowledge
* Reduced risk of danger

It's important to know that the Third Eye is not just a "visual tool". We all have different spiritual gifts. These gifts are delivered through your Third Eye. By attuneing your Third Eye, you will see if you are a healer, psychic, medium, teacher, counselor, clairvoyant (seeing beyond the physical), clairaudient (hearing beyond the physical), clairsentient (feeling beyond the physical), prophet, seer, etc. These spiritual gifts will help you tremendously in this physical world.
Join
Grayce Felton Reiki Master, Plexus Gold Level Consultant & Self-proclaimed Food Guru
Lee Ann Irizarry Reiki Master, Certifed yoga teacher, Happiness life coach & Metamorphosis Me Life Coach
For an afternoon of healing your Stargate and deepening into your soul.
One free gift for everyone that attends!
First 5 tickets get $5.00 off there energy exchange as well.
Wear loose comfortable clothing. Bring a yoga mat. light snacks provided
Those that can not afford the energy exchange but still want to participate please contact us at
856*517-*yoga
Namaste