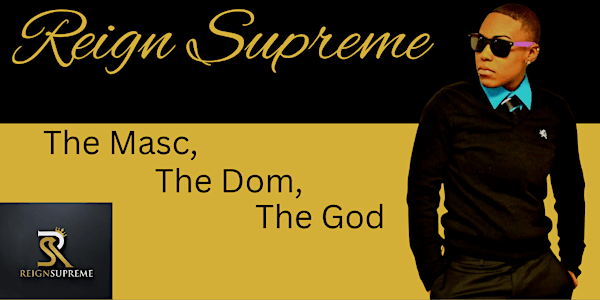 Reign Supreme The Masc, The Dom, The God
Reign Supreme is back with their Holistic Health & Wellness event centered around Masculine-Centered women & the women who love them!
Date and time
Thursday, June 22 · 4:30 - 6:30pm PDT
Refund Policy
Contact the organizer to request a refund.
Eventbrite's fee is nonrefundable.
About this event
Reign Supreme LLC is collaborating with Real Bois Talk, Inc to bring our first virtual event for our The Masc, The Dom, The God workshop event!
This event is a Holistic Health & Wellness event that caters to Masculine-centered women and the women who love them and we are excited to be working with Real Bois Talk, Inc! This session we will be tackling topics like emotional intelligence, health Self-Care routines, stress management, unity instead of competition, relationship taboos, and making sure that we are always checking in with ourselves while creating necessary space for others in the community.
Healing is not one size fits all. There are so many ups and downs, hills & valleys, and no matter where you are in your journey, you are right where you need to be. Allow Reign Supreme to create a safe space for you to network, find resources, and connect with your tribe!
Events like these are so important to all communities however when starting Reign Supreme, I wanted to create spaces for sub sections of communities that don't get the amplification and visibility they need. This series tackles concerns in the LGBTQ+ community specifically for the Masc/Butch Lesbians and their partners!
Location: The comfort of your own home
Virtual Event: Link will be sent prior to event
Date & Time:
Thursday, June 22nd (Session opens at 7 pm, Event starts at 7:30 pm):
The Masc, The Dom, The God
Hosted by the Founder of Reign Supreme Brittany S. This workshop brings together some dynamic speakers and facilitators that are eager to do the work and create a space for Masculine-Centered women. The Speakers and Facilitators for the workshop are Bahdori Ase Oyanna Founder of Holistic Healers & Creative Collective as well as Bahdori's Botanica that presents Honey & Hot Sauce (FB: Bahdori Ase Oyanna) and her Wife A'la Omie. We also have a few more professionals coming by to share their stories and insight. Also joining us is JT from Qing Capital and founder of Qing Capital LLC. She has a blossoming TikTok (@jiliantoree) where she discusses a wide range of topics from relationships to financial investment advice and is a new additional to the Reign Supreme Workshop series (WS: QingCapitalLLC.com)
There will be a Q&A panel discussion after the speakers as well as a Business Spotlight for participants to share with everyone.
Cost: $10 Donation
This is a limited spacing event! The suggestion is to get your tickets early to secure a spot.
Frequently asked questions
Do I have to be local to attend the event?
Why are you asking for a donation?
How can I keep up with all of the upcoming events and programs?