Reid Temple AME In-Person Sunday Worship Service
About this event
Greetings Reid Temple Family,
Effective December 26, 2021 proof of vaccination and registration is required to attend worship service and events in person.
Reid Temple AME COVID-19 In-Person Safety Guidelines will be enforced.
In-person worship service is at 9:30 AM ET.
Worship service is also ONLINE at 7:15 AM , 9:30 AM, 11:15 AM and 6:00 PM ET.
The following activities will not be provided in-person/onsite until further notice: Nursery, Teen Church, Children's Church, Sunday School and the bookstore.
Registration opens via Eventbrite at reidtemple.org.return
In-person attendees must follow the Reid Temple AME Church COVID-19 Safety Guidelines.
Visit reidtemple.org/return for more info.
Stream online at www.reidtemple.org/watch
Facebook Live and Youtube Live by following @reidtempleame
Have Faith in God
Reid Temple, Let's go. Together
Register to Attend In-Person Worship Service via Eventbrite
IMPORTANT REGISTRATION NOTICE FOR ASSIGNED STAFF AND MINISTRY SUPPORT:
If you have been assigned to serve at an in-person worship service as a Steward, Trustee, Minister, Musician, Choir Member, Usher, Greeter, Parking, Security, First Aid, etc. Please select the ASSIGNED STAFF AND MINISTRY SUPPORT REGISTRATION option when registering. Everyone is required to register and provide proof of vaccination. More instructions on entry and attendance will be provided to you once you register.
If you need assistance registering to attend an in-person service please call the church at (301) 352-0320 M-F 8:30 AM - 5:00 PM ET.
For more details visit www.reidtemple.org/return
Please follow the COVID-19 Safety Guidelines as we work to develop a worship experience in a safe environment that is pleasing to God and our online worshipers.
By registering to attend you agree to you agree to follow the COVID-19 Safety Guidelines
COVID-19 Safety Guidelines
To keep your family and attendees safe, Reid Temple AME Church continues to follow COVID-19 Safety Guidelines. Please follow the guidelines below:
If you are attending a funeral, worship service or event that requires online sign-up or registration, please complete this requirement online prior to arriving.
Please arrive 30 minutes prior to complete pre-entry screening for COVID-19 symptoms at the front lobby entrance.
Pre-entry screening will include temperature checks, sanitization of hands and sign-in if you haven't completed it electronically.
Enter and exit through the front lobby entrance only.
Sanitize hands and sign in at the front lobby entrance.
Wear a face mask that covers your nose and mouth while in the building. (Attendees must cover their nose and mouth with an approved face covering when around others with exceptions for children under two, persons with breathing issues, or someone who is unconscious, incapacitated, or unable to remove their face cover independently.)
Sit socially distant in every other pew with the exception of family designated seating assigned by ushers.
Use sanctuary and designated bathrooms only.
Extend grace and cooperation to Reid Temple AME Church Staff and volunteers on duty if/when reminded of protocol and guidelines.
Physically disabled accessible parking, seating and bathrooms are available. If you need assistance let our staff and volunteers know.
If you are visually and hearing impaired and need assistance let our staff and volunteers know. ASL signers and close captions may not always be available. We will work diligently to accommodate to the best of our ability.
For more info contact info@reidtemple.org
COVID-19 SAFETY INFORMATION: While participating in events held or sponsored by Reid Temple AME "social distancing" must be practiced and face coverings worn at all times to reduce the risks of exposure to COVID19. Because COVID-19 is extremely contagious and is spread mainly from person-to-person contact, Reid Temple AME has put in place preventative measures to reduce the spread of COVID-19. However, Reid Temple AME cannot guarantee that its participants, volunteers, partners, or others in attendance will not become infected with COVID-19.
BY COMPLETING THIS REGISTRATION I ACKNOWLEDGE ASSUMPTION OF THE RISK. I acknowledge and understand the following:
1. Participation includes possible exposure to and illness from infectious diseases including but not limited to COVID-19. While particular rules and personal discipline may reduce this risk, the risk of serious illness and death does exist;
2. I knowingly and freely assume all such risks related to illness and infectious diseases, such as COVID19, even if arising from the negligence or fault of the Released Parties; and
3. I hereby knowingly assume the risk of injury, harm and loss associated with the Activity, including any injury, harm and loss caused by the negligence, fault or conduct of any kind on the part of the Released Parties.
BY COMPLETING THIS REGISTRATION I ACKNOWLEDGE LIABILITY WAIVER AND RELEASE OF CLAIMS: I acknowledge that I derive personal satisfaction and a benefit by virtue of my participation and/or voluntarism with Reid Temple AME, and I willingly engage in Reid Temple AME events and/or other activities (the "Activity").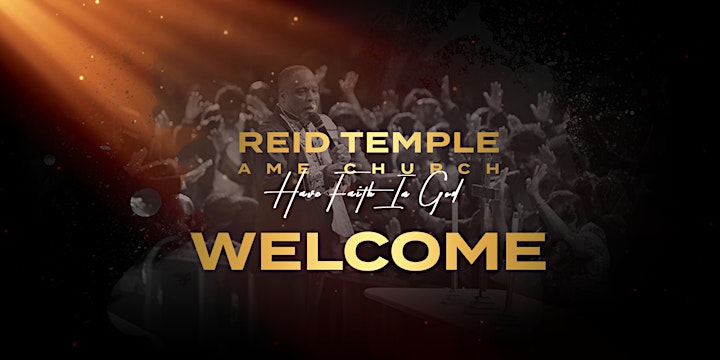 Organizer of Reid Temple AME Church Sunday Worship Service
About Reid Temple AME Church
Founded in 1964, Reid Temple AME Church is located in Glenn Dale Maryland, Prince George's County, with one of the largest AME congregations from all walks of life, Reid Temple hosts 80 innovative ministries designed to provide comfort from the many challenging social issues facing God's people. Reid Temple's affiliated, 501c3 organizations include Reid Community Development Corporation, Reid Temple Christian Academy, Reid Temple Bible College, Reid Temple Glad Tidings bookstore and the Reid Temple Senior Services Center. For more about Reid Temple AME visit www.reidtemple.org or follow @reidtempleame on Facebook, Twitter, Instagram and YouTube.