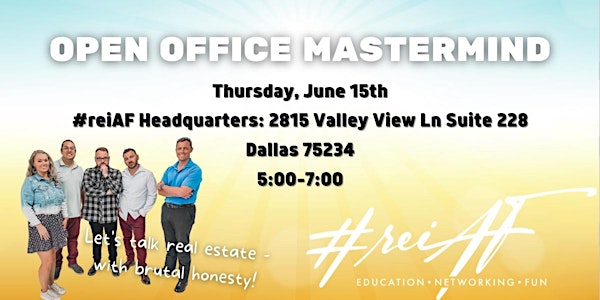 Multiple dates
REIAF "Open House" Mastermind
Join us in our office every month for the most brutally honest real estate talks in Texas. We'll talk about what's working and what sucks!
Date and time
January 26 · 5pm - December 21 · 7:30pm CST
Location
2815 Valley View Ln 2815 Valley View Lane 228 Dallas, TX 75234
About this event
The get together will bring a group of like-minded individuals who are interested in learning more about real estate investing around the conference table in our office so we can discuss what's been working and what hasn't in our marketing, acquisitions, dispositions, exit strategies and financing.
Attendees will have the opportunity to network with each other, share their experiences and knowledge, and learn from industry experts.
The event will be held at the REIAF HQ. The atmosphere will be relaxed and casual, encouraging an open exchange of ideas and perspectives. The event is a great opportunity for anyone interested in real estate investing to learn from others and gain valuable insights into the industry.
This is a free event.
About the organizer
REIAF is the Premier networking, mentorship, and real estate investment community in North Texas. We host weekly livestreams and zoom calls and monthly in person events. Like-minded investors coordinating and building each other up, doing deals, and swapping valuable actionable information happen everyday in this community.