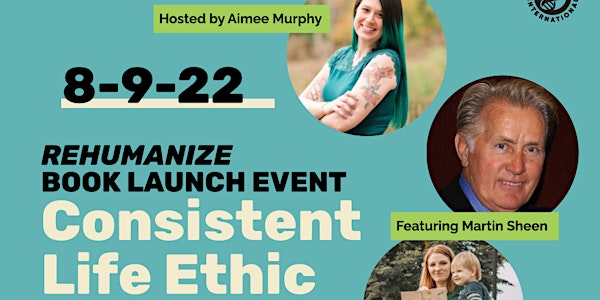 Rehumanize Book Launch: Consistent Life Ethic in Action, ft. Martin Sheen
Join us for this online book launch, where Aimee Murphy will break open her newest book "Rehumanize," with Martin Sheen & Savannah Ackerman.
About this event
At this online book launch event held via Zoom, Aimee Murphy will crack the spine on her newest book, Rehumanize: A Vision to Secure Human Rights for All. During the evening, she will share about her motivations for writing the book, read a brief excerpt, and host a spirited conversation (and Q&A) on the Consistent Life Ethic with Emmy- and Golden Globe-winning actor and activist, Martin Sheen, alongside powerhouse grassroots activist and co-founder of Rehumanize DMV, Savannah Ackerman. Join us for a memorable evening celebrating human dignity with advocates from all over the world, all working together to build a culture of life— a world beyond violence.