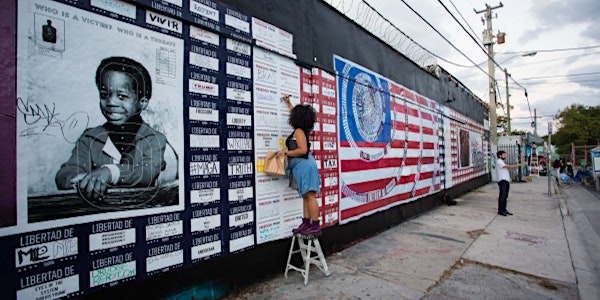 're:home'—a For Freedoms Town Hall
Location
Minnesota Street Project
1275 Minnesota Street
Atrium
San Francisco, CA 94107
Description
In conjunction with the exhibition + community action re:home, and as part of the For Freedoms 50 State Initiative, a For Freedoms Town Hall will be held in Minnesota Street Project's atrium on Saturday, December 15 from 6-8pm. Moderated by Marc Bamuthi Joseph, spoken-word poet, dancer, playwright, and Chief of Program and Pedagogy at the Yerba Buena Center for the Arts, the event will invite community dialogue regarding how creatives show up as humanitarians within the context of democracy—particularly on issues of immigration, homelessness, and displacement of the creative class in the San Francisco Bay Area.
The Town Hall will begin with a reading by students from Oakland International High School (OIHS) featured in the book I AM HOME: Portraits of Immigrant Teenagers (foreword by author + artist Thi Bui, photography by Ericka McConnell, edited by Rachel Neumann, published by Parallax Press). Following the reading, Joseph will perform a poetic response to Douglas Saunders' 'eight theses' on what constitutes an 'arrival city,' posed in his book Arrival City: How the Largest Migration in History Is Reshaping Our World, which became the basis for the original Making Heimat exhibition, curated by the Deutsches Architekturmuseum (DAM). Other key Town Hall participants include Katie Annand, Esq., Managing Attorney, San Francisco, Kids in Need of Defense (KIND); Doniece Sandoval, Founder and CEO of Lava Mae; Taylor D. Duckett, Graduate Teaching Associate, Department of Africana Studies, M.F.A. Candidate: Creative Writing + Poetry; Terence Lester, Founder of Love Beyond Walls + The Dignity Museum; artists and activists Rodney Ewing, Ana Teresa Fernández, Alison O.K. Frost, Jasko Begović, and Thi Bui; Deborah Rappaport, Co-Founder of Minnesota Street Project; Sharon Maidenberg, Executive Director of Headlands Center for the Arts; and speakers from Community Arts Stabilization Trust (CAST).
For more information and updates on planned events and programming, visit www.rehomesf.org​ and follow @collectforchange @forfreedoms @sfgoethe @akartimage @re.riddle @minnesotastreetproject #rehomeSF #WeAreAllImmigrants #SanFrancisco #CollectForChange #ForFreedoms #ForChange #ArtAsActivism #MakingHeimat #ArrivalCity #SanctuaryCity #Immigration #Homelessness #Refugees
Developed in cooperation with the Goethe-Institut San Francisco, with generous support provided by Minnesota Street Project, Facebook Art Department, and Pamela + David Hornik. To support as a Sponsor or Collaborator, or please visit www.rehomesf.org or contact info@collectforchange.org.
IMAGE: Bayete Ross Smith and Stuart Sheldon x For Freedoms, Miami, 2016, Courtesy of For Freedoms