About this Event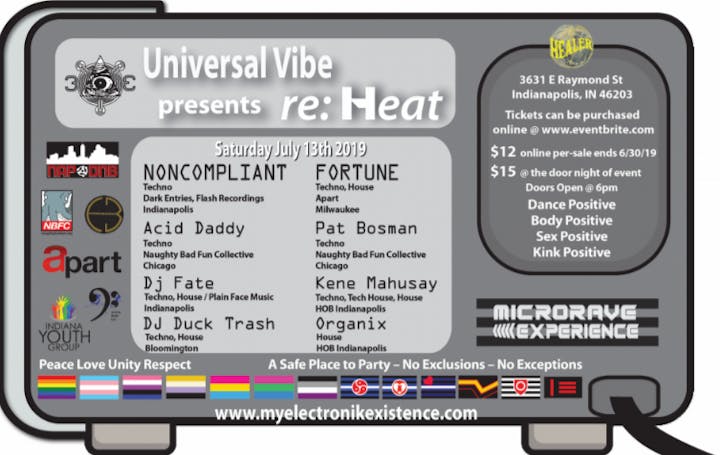 re:Heat a microrave experience:
Pre-Sale tickets are limited to 200
Noncompliant -"As her moniker implies, she takes no prisoners, channelling the fury instilled by worldly injustices into blistering, defiant sets." - Mixmag 2017
Fortune - A dedicated force in the midwest music industry. With almost 20 years as a professional DJ, and 13 years coordinating electronic music events, promoting, talent buying, facilitating an artist collective and mentoring future promoters and DJs via her company Apart. Widely recognized and respected as a key player through out the region.
Pat Bosman- A member of Chicago's Naughty Bad Fun Collective and former resident of Smart Bar's Planet Chicago night with Sassmouth and Jarvi. Hailing from Metro Detroit and relocating to Chicago in 2013,Pat's influences combine the major sounds of both cities. He lives in the grey area between house and techno, sometimes jackin', sometimes head-down slammin' with an acid flavor throughout. Having cut his teeth in clubs and house parties in Detroit and Lansing, relocation to Chicago sucked Pat right into the still thriving vinyl culture. He instantly found a common thread with fellow NBFC members Sassmouth and Jarvi, both in vinyl digging work ethic and commitment to having a vision with each event NBFC produces. Wanting to respect the history of his new home Pat adopted a 'give back before taking' attitude, starting with schlepping gear and working door at events and eventually proving himself as another mind in the many-headed (or tentacled) beast that is NBFC. Working behind the scenes and behind the decks has given him an extensive understanding off all the elements that go in to a great party and a deep connection with both the dance floor and the dancers that populate it.
Jarvi aka Acid Daddy - a trans, non-binary, DJ and producer residing in Chicago. Hailing from Metro Detroit, they were introduced to the music at a young age. DJing has always been a dream and in 2013 with the help of mentor, Sassmouth, that dream became a reality. They are a member of Chicago's Naughty Bad Fun Collective, who throw the Industry Brunch parties (along with Sassmouth, Pat Bosman, and Leesh), curator of the DIESELcast mix series, and can be found on the dance floor jacking to proper beats.
DJ Ducktrash -Duck Groves is a house & techno DJ based in Bloomington, IN. A DJ of 3 years, they ran the notorious queer dance party called HedoniQue with Starka & Ethan Brown. Now, they run a DIY artspace called Powerplant, a gallery that showcases the creative works of primarily queer people. They are a vegan cook by trade. If they are missing, you can usually find them in their garden :-)
Dj Fate- The Indianapolis electronic scene manifested DJ Fate in April of 2000. She landed her first residency, mixing house music, in 2006 at Therapy Nightclub and Lounge with OnTrack (formerly SideTrack) promoting Thursday nights. She's also held residencies at Casba and Metro in Indianapolis. Fate performs at various other clubs and festivals, (including Indy Pride) in Indiana and Ohio. She repeatedly performs for entities such as Newfields,The Junior League of Indianapolis, Ronald McDonald House, and Scratch Events.In 2017, Fate was signed to Guerrilla Noise Records (Indianapolis) with her first house release, "Kitt". She was then signed to Plain Face Music (Chicago) in 2018 for her second release, "Energize", which is just as bouncy as her energy!
Kene Mahusay -From humble beginnings as a local partykid, to DJ more than capable of holding the dance floor captive. And now, a producer, dropping tracks that make floors quake and booties shake. With 20+ years Kene has been a staple in the Indy's underground Rave and Club scene for nearly from the beginning. If you haven't seen him showing his love to the music and sweating on the dance floor, then you've likely been the one dancing to his DJ sets. Mahusay has played all across the Midwest, DJing with an infectious style that's reminiscent of those who have come before him (Derrick Carter, Mark Farina, Traxx), but with a distinct flavor that's all his own. Funky. Chunky. Groovy.In 2018, Kene turned his attention to production and dropped the percussive floor-filler "Body Language" on Professional Rockstar Records, followed by his "Big Badda Boom EP" on Serapis. Most recently, Mahusay delivered an NY House-styled remix for Matt Black's "Temporal Shift," filled with shuffled beats and blistering piano stabs.Kene Mahusay's DJing is all-killer no-filler, with all the lean elements of House, Techno and Electro and none of the fluff. Part of the House of Babylon's New Boogie Coup, here to make you dance your ass off.
More TBA ........
A portion of the net proceeds from this night will will go to Indiana Youth Group (IYG)