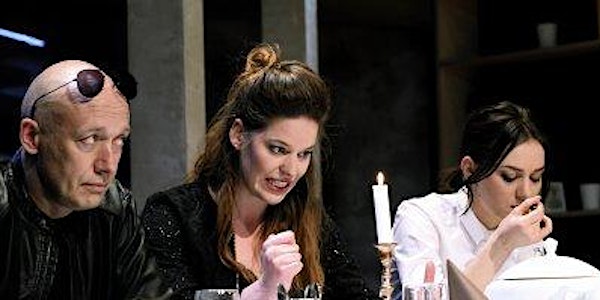 Rehearsal for Truth Festival: Night Before the Funeral/Pohreb az zitra
When and where
Location
Bohemian National Hall 321 East 73rd Street New York, NY 10021
Description
The Vaclav Havel Library Foundation (VHLF), together with the Bohemian Benevolent and Literary Association (BBLA), will partner with Czech, Hungarian, Polish, and Slovak performing arts and cultural institutions to host the second year of a unique festival presenting the best in contemporary Central European theater. While paying homage to Vaclav Havel's legacy as a playwright, dissident, and political thinker, the selected performances will address current political and social trends in Central Europe and offer New York audiences a rare opportunity to experience the artistic and cultural atmosphere of the region.
The 2018 REHEARSAL FOR TRUTH festival will present four performances in the original languages with English supertitles, followed by talk-backs with the artists and after parties hosted by the countries cultural institutes and consulates general in NYC. There will also be one staged reading presented by an American Theater Company. All productions will take place at The Bohemian National Hall (321 East 73rd Street). All REHEARSAL FOR TRUTH productions are free to the public.
THE NIGHT BEFORE THE FUNERAL/ POHREB AZ ZITRA (Staged Reading)
Tuesday, September 25, 2018
7:30 PM
Presented by Untitled Theater Company No. 61 and Svanda Theatre
Script by Natalie Kocab
Translated by Alex Zucker
Directed by Edward Einhorn
Cast: Michael Bertolini, Tad D'Agostino, Timur Kocak, Ann Moller, Alyson Leigh Rosenfeld, Sandy York

Night Before the Funeral is a new Czech play, originally produced in 2017 by the Svanda Theatre in Prague under the direction of Daniel Hrbek. A death in the family brings everybody home, but a brief peace is broken by family squabbles, politics, and life crises. The mother's new Iranian boyfriend and a spectacular public breakdown just increase the tensions. An examination of life, in all its complexity, in the modern Czech Republic.

Untitled Theater Company #61 is a Theater of Ideas: scientific, political, philosophical, and above all theatrical. Their shows mix tragedy and comedy in a manner inspired by classic absurdism, while often incorporating music, technology, and physical theater. Early defining events include their Havel Festival and Ionesco Festival, in which they produced their full works (with the participation and attendance of President Havel and with Ionesco's daughter, Marie-France, respectively). They now produce only original work, their responses to the absurd and terrifying moments of their history are a continuing inspiration as they try to navigate a contemporary response to our time.

Other Czech projects include The Velvet Oratorio, which told the story of the Velvet Revolution (at Lincoln Center and the Bohemian National Hall); the original play Rudolf II(also at the Bohemian National Hall); the English-language premiere of Vaclav Havel's The Pig, or Vaclav Havel's Hunt for a Pig (At 3LD); and their ongoing show Cabaret in Captivity, songs and sketches from Terezin (performed in New York, Washington DC, and London). They have received Critics Picks for their work from The New York Times, Time Out, and The Village Voice.

Svanda Theatre is one of the oldest drama theatres in Prague. It's focused on contemporary plays and also on the bold adaptation of classics. Besides its own repertoire Svanda Theatre also offers a wide range of supporting events such as concerts, talk shows, independent theatre group productions, stage readings and also the best of Czech regional theatre work. The theatre also produces public workshops and productions for children, which per year comes to more than 450 events. The politician Vaclav Havel, musician Lou Reed, writer Robert Fulghum, singer Suzanne Vega, actress Annie Girardot, actor Dennis Lavant, photographer Oliviero Toscani, cameraman Miroslav Ondricek, costume designer Theodor Pistek and artist Klaus Voorman have appeared as guests of Svanda Theatre in recent years. Almost all productions of Svanda Theatre are accompanied by English subtitles. Svanda Theatre has been succesfully represented at theatrical festivals in USA, Great Britain, Russia, Belarus, Hungary, Poland or Slovakia. It was also awarded the prestigious Alfred Radok´ award for its dramaturgy.
The following productions at the festival are also available on Eventbrite. All (Rehearsal for Truth productions are free to the public):
PROTEST/DEBT: Havel's mini-drama PROTEST will be presented by Prague's Svanda Theatre, followed by DEBT, a short play written by the young Czech playwright Marek Hejduk and commissioned by the VHLF. Portraying Havel's characters in a setting moved from the totalitarian period to the era of democratic renewal, Hejduk poses thought-provoking questions about the writer's role and citizens' responsibilities in different political situations.
The Hungarian company HoPPart will bring the alternative musical show SCALE 1:5 to the streets of New York by using a portable sound system and headphones to take the audience for a walk around Yorkville, the BNH neighborhood. The players will follow the traces of the Czech, German, and Hungarian communities that formerly inhabited this part of the Upper East Side.
The Astorka Korzo'90 Theater from Bratislava, a company committed to pioneering dramaturgical and directorial works related to modern world classics, will perform EVE OF RETIREMENT /PRED ODCHODOM NA ODPOCINOK by Thomas Bernhard. One of the most important German-language authors of the postwar era, Bernhard pushes his contempt for Austria as a nest of unregenerate Nazis and anti-Semites to an outrageous extreme in the play.
In the Polish performance CEZARY GOES TO WAR/ CEZARY IDZIE NA WOJNE, four male performers and a woman pianist perform a music-dance-theater-performance-art deconstruction of patriotism and its values, the meaning of love for one's homeland, and, last but not least, the social, psychological, and cultural repercussions of war.