REGRETTABLY THIS EVENT HAS BEEN NOW CANCELLED

Friday, March 25, 2011 from 10:00 AM to 5:00 PM (JST)
Event Details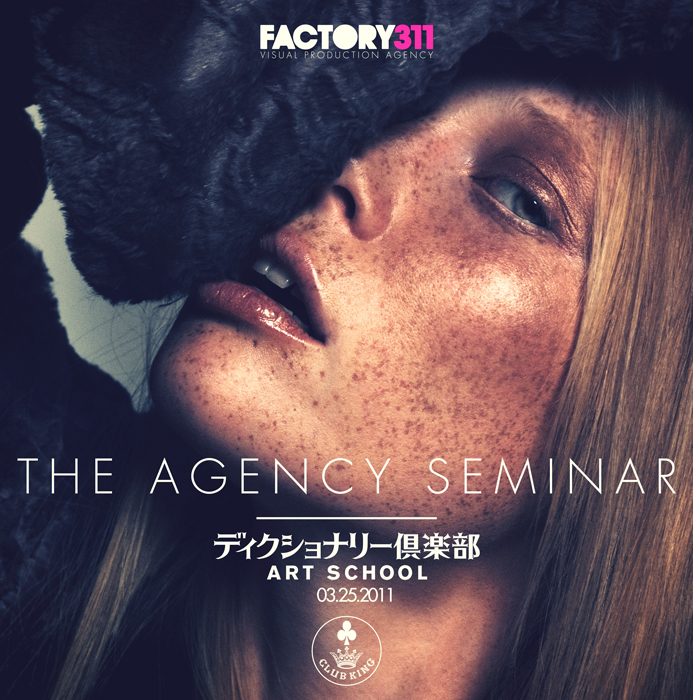 REGRETTABLY THIS EVENT HAS BEEN NOW CANCELLED
Friday, March 25, 2011
SEMINAR 1 10:00am - 12:00pm
SEMINAR 2 12:30pm - 14:30pm
SEMINAR 3 15:00pm - 17:00pm
PRICE / ¥1,500
チケットの予約はこちら
TO REGISTER FOLLOW THIS LINK :
http://form1.fc2.com/form/?id=637886
JAPANESE
東京ファッションウィークの最終日となる3月25日。
ロンドンのヴィジュアルプロダクションエージェンシーFACTORY311が、CLUB KINGの「ディクショナリー倶楽部 ART SHCOOL」にて、セミナーを開催致します。
セミナーは同日25日に3回開催され、セミナーでは、FACTORY311の代表であるNicholas Hardyより、過去や現在のプロジェクトと共に、ヨーロッパでのフォトグラフィー&イラストレーションマーケット事情をお伝えさせて頂きます。
また、FACTORY311の所属フォトグラファーであり、i-DやConfused, Vogue Nippon, Numero Tokyo, Harper's Bazaar Japan, Vanity Fairなど、UKと日本のファッション誌を中心に活躍されております、亀井隆司氏をスペシャルゲストに迎え、亀井氏の素晴らしい作品の数々に付いてや、どういった経緯でFACTORY311と出逢ったのかなどをお話頂きます。
他にも、受講者参加型の質疑応答タイムをもうけ、今後海外での活動を希望される方、ファッションマーケットでの事業をお考えの方にとっても、実際に海外で活躍するアーティストやエージェンシーの生の声を聞ける貴重なチャンスですので、是非お見逃しなく!!
ーチケットご購入に関してー
当日、セミナー会場の受付にてお支払い頂きます。
また、入場時の混雑を考え、セミナーの30分前より受付開始になります。なるべく早めのご来場にご協力お願い致します。

ENGLISH
On the 25th of March 2011, with the hype of Tokyo Fashion Week still in the air, the Factory311 team will be at the Club King Studio for three inspiring seminars, giving an insight into the Factory311 way of life. Amongst the thriving Shibuya district, Nicholas Hardy, Factory311's Creative Director will be discussing and exposing the secrets of the European Photography and Illustration Industries. 
He will also be giving a presentation of Factory311's work, both past and present, and revealing his seasoned knowledge of the do's and don't's for making it in the industry.

As a special guest to the seminar, Factory311 have also invited one of Tokyo's brightest photographers, Takashi Kamei to talk about his vast portfolio, encompassing shoots for i-D, Dazed and Confused (UK & Japan), Vogue Nippon, Numero Tokyo, Harper`s Bazaar Japan and Vanity Fair, whist also discussing how he joined the London Factory's team.

On top of this, there will also be an open question and answers session with the Factory311 team, and a portfolio review and workshop with Nicholas, where you can ask any other questions you may have one on one.
Snacks and drinks will also be provided at the event.
This is an opportunity not to be missed, at one of Sibuya's favorite art and design destinations, Club King Studio.
To secure your place at the seminar REGISTER and take your ticket to the Club King on the 25th of March, 30 min earlier than the time your seminar starts!!!
FACTORY311 
CLUB KING ART SCHOOL
Special Guest
Takashi Kamei 
www.takashikamei.co.uk


For more info :
www.tokyo311.com
Communication Manager Japan 
ayumi@factory311.com
Event Manager
When & Where

CLUB KING ディクショナリー倶楽部 ART SCHOOL
1-2-5, Jinnan
Shibuya-ku
Tokyo, 150-0041
Japan

Friday, March 25, 2011 from 10:00 AM to 5:00 PM (JST)
Add to my calendar
Organizer
FACTORY311
international visual production agencyとして、Londonをベースに、LA, New York, Copenhagen, Rome, Madridなど、世界各国で幅広く活躍しております。

photography, design, graffiti, illustration, motion graphicなど、ヴィジュアル全般を業務内容とすると共に、 photography, design, illustrationの境界を超える事で、今までにもNike, JD Sports, Will-i-am, Arsenal Football Club, Ray Ban, 19 Entertainment, Vanity Fairなど、多くのクライアントとご一緒させて頂きました。

シンプルではありますが、常により良い作品制作の為、クライアントと作品に向き合い、様々なジャンルを融合させる事で、私達にしか創造する事の出来ない作品を制作して参りました。

 

FACTORY311

FACTORY311 is an international visual production agency that builds brands through uniting a broad style of work; photography, design, graffiti, illustration and motion graphics. We have allocated creative teams across the following territories London, LA, Tokyo, New York, Copenhagen, Rome and Madrid.

FACTORY311 is wholly independent with an impressive and interes- ting client list that encompasses brands such as Nike, JD Sports, Will-i-am, Arsenal Football Club, Ray Ban, 19 Entertainment, and Vanity Fair, to name but a few. We see ourselves as images specialists with a relentless creative focus that produces outstanding work.
We deliver a magic formula. It's not what we offer; it's how we do it... We resist the usual. We take a bespoke approach to each brief. We bring a fresh outlook to every project.
We harness your idea and amplify it. We love what we do....
REGRETTABLY THIS EVENT HAS BEEN NOW CANCELLED