REGRARIANS OPEN CONSULTANCY (RAC+RAP): Regenerative Agriculture Farm Planning Experience

Friday, September 26, 2014 at 9:00 AM

-

Sunday, September 28, 2014 at 5:00 PM (PDT)
Event Details

Course Description
The Regrarians Open Consultancy (RAC+RAP) is a dynamic 2+1 day program designed to involved participants directly in the delivery of an integrated farm planning and development consultancy. Led by one of the world's most renowned & experienced farm planners, Darren J. Doherty (AU), the RAC+RAP is all having participants work to understand the 10 step process logicinvolved with the Regrarians Platform which methodically covers each and every element of farm planning and development. In short the RAC+RAP is a Professional Development (PD) for primary producers & land managers when it comes to production landscape & enterprise planning & development. The RAC+RAP experience will result in participants understanding some of the process behind re-booting their own farming enterprises with a step by step approach that is highly adaptable to their own circumstances.
WHAT is a 'REGRARIAN'?
Regrarian, a portmanteau of 'Regenerative Agrarian', is a term first coined by Darren J. Doherty in 2013 to describe those who are actively undertaking the serious & timely process of regenerating, restoring, rehabilitating, rehabitating, rekindling (etc.!) & rebooting production landscapes across this planet.
Regrarianism as a philosophy and methodology per se is ultimately an expansionist and self-determined reflection of theRegrarians Charter and is therefore not just about regeneration, but also rehabitation, rehabilitation, restoration, recolonisation (not neocolonialism!), recycling and so on.
REGRARIANS PEDAGOGY
For any methodology to be successfully transferred it needs to have pedagogy that is locally adaptive, strategic, incremental & capability-building in its output whilst being participatory and self-determined in its approach. Humans have always been creatures who have been guided by stories and the wisdom of those past whilst being infused with the adaptive creativity of those current to take them and their communities forward. In our 'reboot' we have developed an initial set of learning models to address the current challenges and opportunities.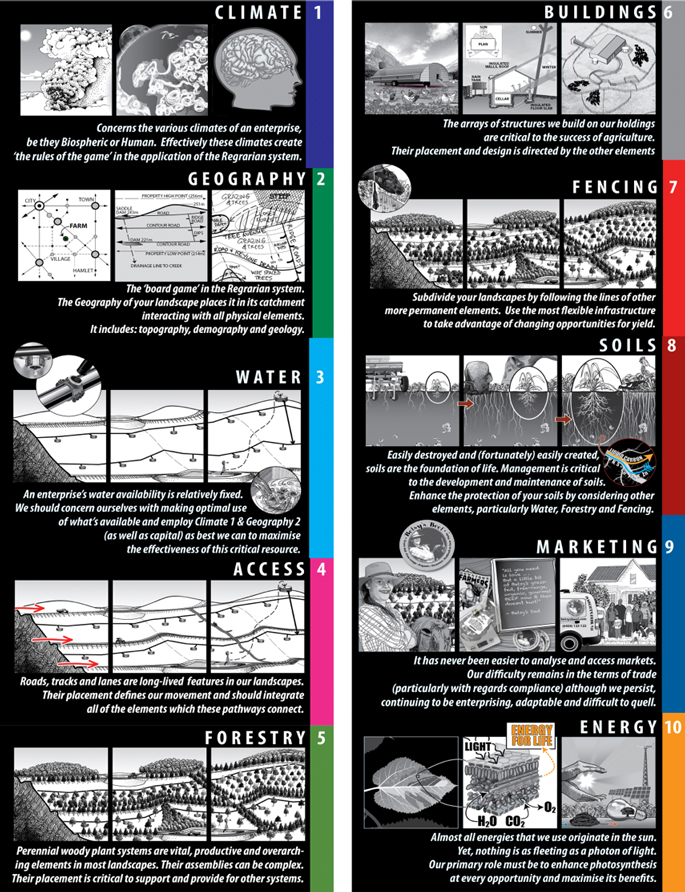 OREGON RAC+RAP 2014 PROGRAM
DAY 1
A - 1. Climate (25 mins)- Discuss the client's Holistic Concept (including Financial Plan)

A - 2. Geography (20 mins) - Go over their pre-prepared Aerial Photo/Contour Base Map pointing out specific geographic features

B - Farm Walk n' Talk - Walk the farm and point out specific areas of concern

C - 1. Debrief from the morning (15 mins)

2. Geography (10 mins) - any additions to the Base Map from the walk?

3. Water (65 mins) - Design the Water layer - A. Catchments, B. Harvesting & Storages (continue session D)

D - 1. Water (45 mins) - Design the Water layer (continued) - C. Reticulation D. Irrigation

2. Access (45 mins) - Design the Access layer - A. Roads B. Tracks
DAY 2 
A - 1. Debrief from the Day 1 (20 mins)

2. Forestry (70 mins) - Design the Forestry layer - A. System Identification B. System Layout

B - 1. Buildings (45 mins) - Design the Building layer - A. Building types B. Placement

1. Fencing (45 mins) - Design the Fencing layer - A. Fencing types B. Placement

C - 1. Debrief from the morning (15 mins)

2. Soils (90 mins) - A. Determine the various soil treatments for respective systems B. Introduce the HM Grazing Plan & Aide Memoire

D - 1. PolyMarketing (60 mins) - Discuss the options for A. Processing, B. Logistics, C. Marketing

2. Energy (30 mins) - What energy production systems are appropriate and where?

3. - Closing (30 mins) - A. Overview of the process and outputs B. Where to from here?
DAY 3 - Regrarians Practicum (RAP); Keyline and Fertility Farming 
Learn Keyline Geometry in the field

Survey and Layout Keypoint and keyline patterns

Identify strategic placement of dams/ponds

Learn how to set up & use a Yeomans Keyline Plow

Two days of Professional Development Training PLUS one full day of Regrarian Practicum (RAP)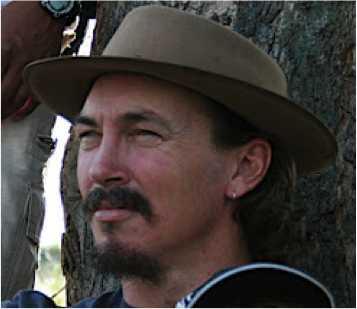 Darren J. Doherty: has delivered over 190 Regenerative Agriculture & Living courses & seminars to more than 12,000 people since 2001, including more than 40 Permaculture Design Courses. Darren has also completed nearly 2000 property development plans since 1993 in 47 countries and is widely recognised as a leader & pioneer in the Regenerative Agriculture & Permaculture movements.
WHAT TO BRING 
Open Field Camping is available

Camping mug/cup/plate & (refillable) water bottle

Torch/Head Lamp (campers only)

Day bag or small backpack

Sturdy boots

Long-sleeved shirt & pants/shorts

Wide-brimmed hat & sunglasses

Notebook, Laptop/Tablet & Video/still camera

A great attitude for participatory learning

If you want to have a portable chair for those times when we are stopping for a while around the farm, then bring one (though this is Sherpa-free event !)

Anything that you need to make your stay as comfortable and pleasant as possible
We will supply garbage bins though please limit the amount of packaging & non-compostable items you bring
WHAT'S INCLUDED? 
2+1 day Regrarian Open Consultancy (RAC) + Regrarian Practicum (RAP) Tuition

4 x 90 minute sessions per day, 0900-1730, 2 x 30-minute morning/afternoon breaks, plus 1-hour lunches.

 
Your participation in this event includes morning/afternoon tea & snacks, and lunch. These locally sourced meals & beverages are supplied Free of Charge for everyone attending this event and it is your choice to eat that which is provided. Participants are on their own for breakfast and dinner, however, group gatherings for either breakfast and/or dinner at eatery locations in the vicinity. 
If you don't want to consume any of the locally sourced, processed and supplied food & beverages, you can supply and bring your own food & beverages at your own expense. 
If you have strict dietary requirements then either bring some of your favourites or let us know ASAP, otherwise your options will be limited. Regrarians Breaks are generous to allow you plenty of time to catch up with old and new friends. You'll be contacted by email once you've made your booking and also close to the event giving any final instructions and information.
Questions about the venue or logistics?
 Please contact Andrew Millison: amillison@gmail.com 
Have questions about REGRARIANS OPEN CONSULTANCY (RAC+RAP): Regenerative Agriculture Farm Planning Experience?
Contact Permaculture Rising
When & Where

Corvallis Valley

Corvallis, Albany, OR


Friday, September 26, 2014 at 9:00 AM

-

Sunday, September 28, 2014 at 5:00 PM (PDT)
Add to my calendar
Organizer
Permaculture Rising
http://www.permaculturerising.com/
REGRARIANS OPEN CONSULTANCY (RAC+RAP): Regenerative Agriculture Farm Planning Experience