(I) Classes with Esther Online in English / Clases Virtuales con Esther en...
Información sobre el evento
Ubicación
Your Computer / Tu computadora
(I) Classes with Esther Online in English / Clases Virtuales con Esther en Español
Acerca de este evento
Classes with Esther online:
Esther clases online (virtual):
Topics you can request / Themes you can request:
- Math / Mathematics
- Physics / Physics
- Chemistry / Chemistry
- Learning how to study / Learn how to study
- Learning to be organized / Learn how to be organized
- Learn to optimize your time and energy / Learn how to optimize your time and energy
- How to choose your career / How to choose what you want to study
- Prepare for tests / Prepare for your exams
- Review specific topics / Check specific topics
- Prepare for University exams / Prepare for university exams
I teach students at all levels ... from all backgrounds
Experience at all levels of education
RESERVE YOUR SPACE AND BENEFIT FROM ESTHER 'S CLASSES
 RESERVE YOUR SPACE WITH CLASS AND BENEFIT ESTHER
Education is an important pillar of the evolution of a society. For this reason we educate those who must be aware of this role and have the needed tools to train students who will forge the future of individuals through whatever they decide to do.
Teaching for me is an art, as sculpting a stone or paint a picture through providing our students, whatever the subject we teach, the needed tools to learn, as well as grow and evolve as individuals, becoming happy and fulfilled individuals who inspire and motivate others in their environment, from their own experience in all areas of their life.
The classes will provide them the tools that allow, to understand and advance, keeping you safe and confident and obtain satisfactory results.
What students and parents say?
Diego Fernandez Mariaca - Ing Comercial Universidad de Chile.
The penultimate school year my grades began to fall, school requirements were higher than previous years and I had attention deficit disorder. Clearly needed a solution. By studying the possibilities I decided to try a class where Esther. At first I was very skeptical but several of my friends recommended me blind and I was told that she was definitely the person who could help me. I just got where Esther started changing not only taught physics, mathematics or chemistry me if not to same time taught me how to study. After a few weeks I decided to analyze what he had learned; I realized that I had learned to make efficient resumes, pose problems correctly, knew the tricks of the exercises, I faced better than before exams, took advantage of my much better than before and the main time, my grades had gone up considerably . All this motivated me to continue studying and concentration problem became minimal since enjoyed what he did. It was then I decided to take classes with Esther regularly since although had learned much much remained to be perfect. In addition the study environment was very nice to her and time yielded much more. If someone asked me as a class with Esther I would say, " It will be an extremely productive time, where you will be required order and rigor and best of all , you will leave with the confidence of knowing exactly what she wears. " Since I have mentioned the skills I learned with Esther that strangely enough are serving me even more now that I'm in college when I was in school. That's why I recommend blindly Esther as recommended my friends. Surely, if I know someone that's virtues to teach Esther.
-------------------------------------------------- --------------------------------------
Catalina GONZALEZ DECKER - Institut d'Etudes Politiques de Paris Collège Universitaire d'Etudes et Latinoméricaines Iberiques
When I looked at Esther, I thought I would just take math classes. To my surprise, it was not. I knew it was not an ordinary from the first class slogans: "All you need is a pencil, an eraser, be ordered with your calculations and fun." 
I had never had problems in any subject in school, and for the first time I was unable to understand. That frustration was solved quickly. When school started with Esther, my math grades were immediately upgraded. I made notes which I had already given up. But regardless of the notes, I managed to understand and enjoy what I studied. I was grateful to Esther until the day I left high school, because with it had overcome the first obstacle that I was confronted academically.
However, it took some years for me to realize that what really I thank Esther is not just the grades achieved in mathematics. I think how different the experience with Esther, is that she does not only immediate effects but also planting their students things that are made ​​tangible once they have already left. Today, and university, the bases I work with are those that I acquired in those math classes for college. The simple fact of being orderly in my notebooks and skip lines between each calculation, make today is organized when work and study in any subject. I am now able to study with rigor, but also dynamically and especially with pleasure. Learning from the hand of Esther, made ​​me also be aware that there is always a paste to rewrite on paper, because if mistakes by learning are committed , there is always a throwback: I lost my fear to dare to accomplish things more risks run. I am also sure that today there are obstacles on our way to overcome them and not to give up ... That and much more Esther, I'll be eternally grateful!
-------------------------------------------------- --------------------------------------
Macri Bastos. Mother and clinical psychologist.
Macri Bastos - Bolivia Cultural Exchanges
"Esther Iberkleid, is not only an extraordinary teacher of exact sciences, especially mathematics, is a teacher who knows how to instill in their students, love so exact, numbers, logical reasoning. She is very respectful of the constraints which their students come, work on them self-confidence, the joy of learning what they have always feared or disliked. I had the pleasure and privilege of Esther is the teacher my children. Both waited eagerly attend their classes, and came with the joy of having learned new things. Not only my kids have been recommended to take classes with her, also the sons and daughters of my friends. One pays the time in Gold, because their classes are priceless because of the experience that kids get to develop a taste for science and logic. ----------------- -------------------------------------------------- ---------------------
Sergio Hernán Rovira - La Paz, Bolivia :
Thank you Esther know that anything is possible in this life and sometimes we look with our eyes and not with the heart and will in the near future. I changed life from the first class. I sientí and I feel invigorated, great that I can do things I thought were literally impossible, but a talk with you is a change of universe. A reality (this) where nothing is unachievable, where everything is possible and especially: WHERE THERE ARE NO LIMITS thanks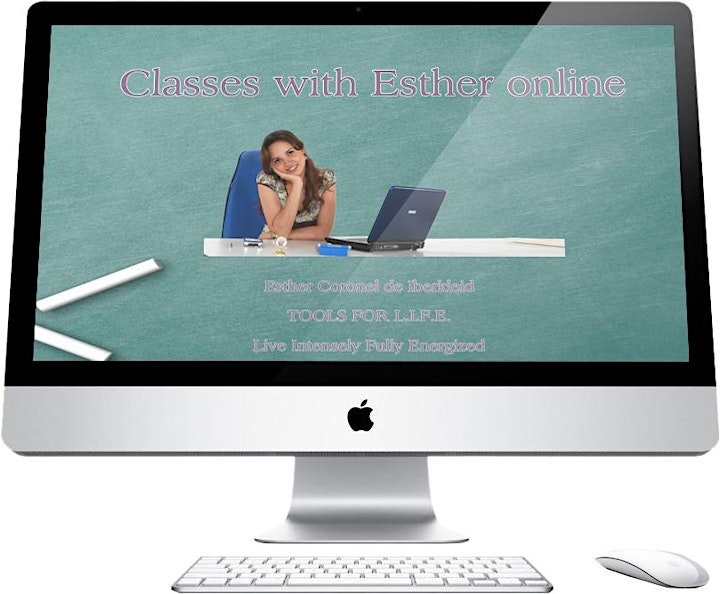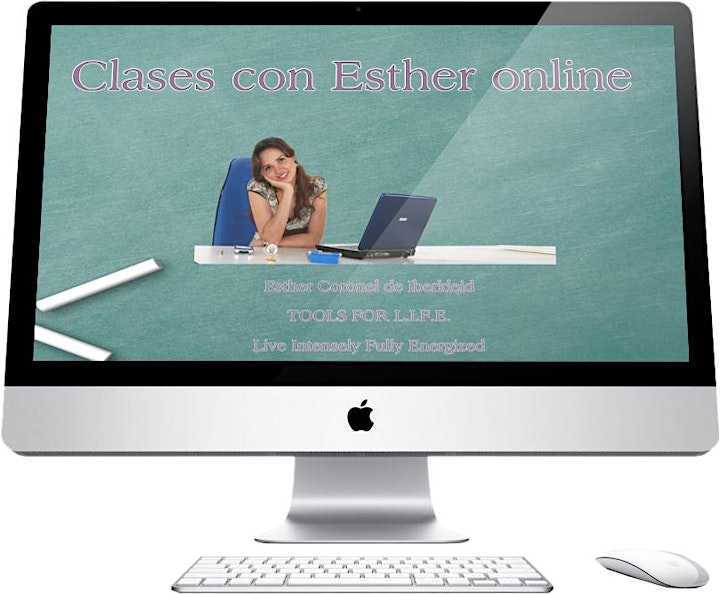 Fecha y hora
Ubicación
Your Computer / Tu computadora