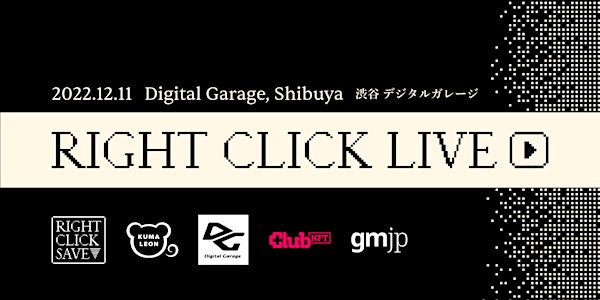 Registration: YouTube Livestream for Right Click Live @ Tokyo w/ KUMALEON
The event aims to highlight the best from the Japanese NFT Art world by featuring artists and other figures in domestic Japanese scenes.
About this event
The event hosts a number of key figures from the emerging Japanese NFT scene, featuring conversations between artists, builders, and Web3 thought leaders from Japan and around the world.
Register to receive updates about future events - 2023 is shaping up to be a BIG year!
Date & Time
December 11, 12:30 - 18:00
Speakers
Alex Estorick (RIGHT CLICK SAVE) / Alexis André (Ph. D, Artist, researcher and designer) / Emi Kusano (Galverse) / hasaqui (Artist, Researcher.) / Hirohisa Tamonoki (NFT ART TOKYO) / Rock No.6 (¥u-Gi-¥n 遊戯苑) / Saeko Ehara (Artist and VJ) / Seth Goldstein (Bright Moments) / Shunsuke Takawo (Creative Coder) / Sputniko! (Artist) / Taihei Shii (Startbahn) / Toshi (KUMALEON) / ykxotkx (creative coder) / Yukiko Shikata (Curator / Critic) / Yusuke Shono (Massage Magazine)
Location
Online (Youtube Live)
Schedule
12:30- Open
13:00-13:05 Introductory Lead-In
13:05-13:55 Session 1 The Future of NFT & ART
14:05-14:55 Session 2 Tokyo / Anime Culture & NFT
15:00-15:55 Session 3 Generative Art & NFT
16:05-16:55 Session 4 Potential of NFT ART
17:00 CLOSE
Organized
RIGHT CLICK SAVE
https://www.rightclicksave.com/
Management
TART K.K. (Generativemasks, KUMALEON)
Supporter
Digital Garage: https://www.garage.co.jp/
gmjp: https://gmjp.lol/
Japan Generative Art Foundation: https://docs.generativemasks.io/jgaf
NFT ART TOKYO: https://twitter.com/NFTArtTokyo
NEORT: https://twitter.com/neort_io
Rising Birds Japan: https://twitter.com/risingbirds_xyz